Tourist Attraction Cherngtalay, Phuket, Thailand
Kashmir Emporium in Cherngtalay is just 17.2 km (or 30 minutes) away from Bismarcks Paradise Phuket luxury villas resort.
While Phuket is not in short supply of Thai silks that have been woven into beautiful pashminas, ties, scarves and other neat souvenirs, they are also not in short supply of places to find them. With every market, gift shop and boutique store offering some form of Thai silks, it really is one of the most popular commodities on the island. For those of you who want that oriental feel but have had their fill of Thai silk, then we suggest making a trip to the Kashmir Emporium for a different kind of silky woven souvenir.
Located at the entrance to Laguna and close to Layan Beach,  this one of a kind textile shop offers customers the very best in handmade Kashmir and silk products. The colourful displays of hand woven silk product will surely delight the senses as you browse through the delicate and intricate carpets, pashminas, shawls, stoles, scarves, bed covers and pillow cases.
The Kashmir Emporium imports all its Kashmir from India where it is then brought to their factory and fabricated into some of the most elegant and exotic pieces you'll ever lay your eyes (and hands) on. Encase your bed in the softest most delectable Kashmir bedding for a truly comforting and peaceful nights sleep. For those who are only in Phuket for a short time, why not break the cycle of the boring fridge magnet and bring your loved ones back a unique and decadent souvenir!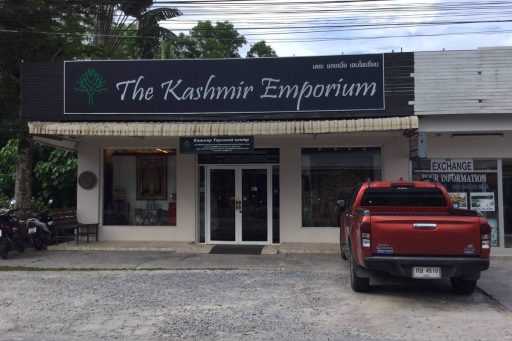 Kashmir Emporium Information
Distance From Bismarcks Paradise:17.2 km (30) minutes
Distance From Central Phuket:21 km (28) minutes
Opening Hours:10.00 - 22.00
Address:56 Laguna Road, Cherngtalay, Thalang, Phuket 83140
Telephone:076 325 272
 
Kashmir Emporium
While Phuket is not in short supply of Thai silks that have been woven into beautiful pashminas, ties, scarves and other neat souvenirs, they are also not in short supply of places to find them. With every market, gift shop and boutique store offering some form of Thai silks, it really is one of the most popular commodities on the island. For those of you who want that oriental feel but have had their fill of Thai silk, then we suggest making a trip to the Kashmir Emporium for a different kind of silky woven souvenir. Located at the entrance to Laguna and close to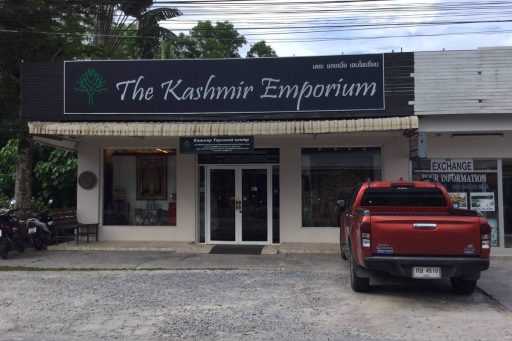 Travelers visited also these Cherngtalay Tourist Spots