Your dedicated Phuket Villa team consists of a villa housekeeper, a personal villa butler, and a villa caretaker. The entire villa team strives to make your holiday stay a truly unforgettable and pleasurable experience without any compromises.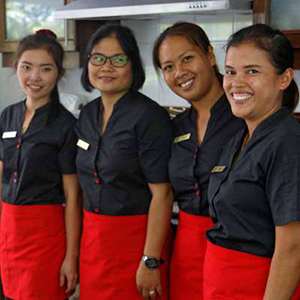 Villa Housekeeper
Your villa housekeeper will take care of all cleaning and maintenance work the villa requires. She will also prepare your breakfast and the rest of your meals the time you request, seven days a week. You can check out a selection of dishes in the Menu section (download).
Villa Butler
Your villa butler can be reached on a 24-hour basis via the house phone and will be available to provide service upon request. He will organize all errands, trips, diving trips, parties and barbecue nights. Furthermore, your butler will be there to take care of specific requests, as well as emergencies during your stay in Phuket.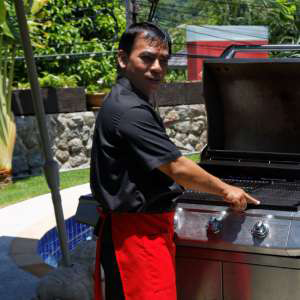 Villa Caretaker
Your villa caretaker will handle the pool service starting at 9.00, as well as take care of the garden and procure supplies, while he will also be able to help with minor repairs to keep the villa fully functional.
Of course, your Phuket villa team will only be at your pool villa when you desire their presence, allowing you to enjoy a hassle-free, peaceful stay. Plus, the pool area and patio do not have direct lines of sight to your villa, to preserve your privacy.
The reviews of our guests, regarding our employees, make us proud. Here's just one example – you can read more on the guest reviews page:
You May Also Be Interested In