Tourist Attraction Cherngtalay, Phuket, Thailand
Lemongrass House in Cherngtalay is just 17.1 km (or 25 minutes) away from Bismarcks Paradise Phuket luxury villas resort.
With huge clumps of fresh lemongrass growing across the front of the Lemongrass House store in Cherngtalay, you know they're serious about it. This is a beauty shop started in 1996, and dedicated to all sorts of products with lemongrass as one of the prime ingredients. They have forty retail outlets in twelve countries around the world and their products are in more than 30 countries worldwide.
If you haven't ever smelled lemongrass, it's a very fresh and clean sort of smell. Besides beauty products, it has been a flavor enhancer for Thai soups and other Thai food dishes for millennia. Order some spicy and sour lemongrass soup next time you visit a Thai restaurant, and you can smell it. Or, better yet, just ask the restaurant to let you smell some raw-cut lemongrass. Chances are, you're going to love it. Most people do.
The Lemongrass House is a specialty shop for selling lemongrass creams, bath and shower products like soap, shampoos and body scrubs. They have body care oils and other toiletries, even mosquito spray. They serve special groups like kids, mommies and pets. The whole idea of the shop is to sell products made from naturally occurring plants and herbs like lemongrass, jasmine and citronella. The products they have in stock make excellent gifts. If you're not sure what to buy for someone, the essential coconut oil gets consistently top ratings.
The store has thirty-two Google reviews and a rating of 4.5 out of 5 stars. Items are reasonably priced and can be shipped easily in boxes, from the Thailand Post Office in Phuket, at several locations.
The Lemongrass House is located conveniently in Cherngtalay on the left side of the street, on the way to the Two Heroines Monument east of Laguna Beach on Phuket's northwest side.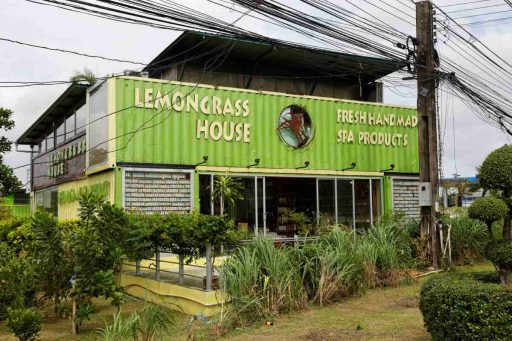 Lemongrass House Information
Lemongrass House
With huge clumps of fresh lemongrass growing across the front of the Lemongrass House store in Cherngtalay, you know they're serious about it. This is a beauty shop started in 1996, and dedicated to all sorts of products with lemongrass as one of the prime ingredients. They have forty retail outlets in twelve countries around the world and their products are in more than 30 countries worldwide. If you haven't ever smelled lemongrass, it's a very fresh and clean sort of smell. Besides beauty products, it has been a flavor enhancer for Thai soups and other Thai food dishes for millennia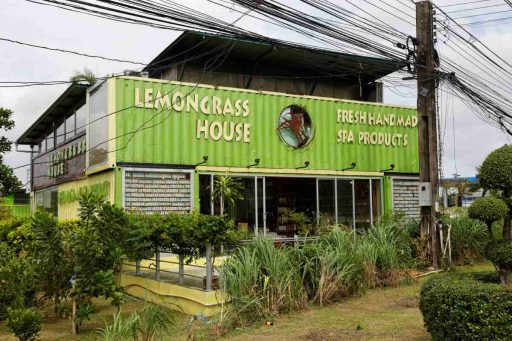 Travelers visited also these Cherngtalay Tourist Spots