Lagoon Traditional Thai Crafts
Tourist Attraction Cherngtalay, Phuket, Thailand
Lagoon Traditional Thai Crafts in Cherngtalay is just 15.8 km (or 25 minutes) away from Bismarcks Paradise Phuket luxury villas resort.
Everyone who goes on holiday hears the same thing from their friends and family "bring me back a souvenir" and while there are many souvenir shops selling the same old key-chains, magnets, elephant purses etc. there are still a few places that sell real hand made authentic Thai crafts like Lagoon Traditional Thai Crafts Shop.
Located on Lagoon road in Cherngtalay, this intriguing little shop offers the very best in hand made souvenirs crafted right here in Thailand. With a wide selection of wooden carvings, brass statues, porcelain teapots and dishes and other unique artifacts, you'll be sure to find the perfect gift or souvenir of your holiday here.
Lagoon Traditional Thai Crafts has recently extended their product line and amenities; they now offer a gift shop with the usual small souvenirs for those looking for the classic kitschy gifts to bring friends and family as well as car rentals. They now also offer tour services around Phuket to see the neighbouring Phang Nga Bay, Phi-Phi and James Bond islands.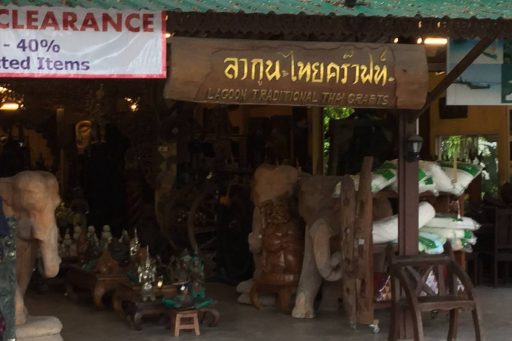 Lagoon Traditional Thai Crafts Information
Distance From Bismarcks Paradise:15.8 km (25) minutes
Distance From Central Phuket:19.6 km (25) minutes
Opening Hours:09.00 - 20.00, closed Sunday
Address:74 Lagoon Road, Cherngtalay, Thalang, Phuket 83110, Thailand
Telephone:076 271 584, 081 979 0949, 098 016 4159
Contact Email:lagoonthaicrafts@outlook.com
 
Lagoon Traditional Thai Crafts
Everyone who goes on holiday hears the same thing from their friends and family "bring me back a souvenir" and while there are many souvenir shops selling the same old key-chains, magnets, elephant purses etc. there are still a few places that sell real hand made authentic Thai crafts like Lagoon Traditional Thai Crafts Shop. Located on Lagoon road in Cherngtalay, this intriguing little shop offers the very best in hand made souvenirs crafted right here in Thailand. With a wide selection of wooden carvings, brass statues, porcelain teapots and dishes and other unique artifacts, you'll be su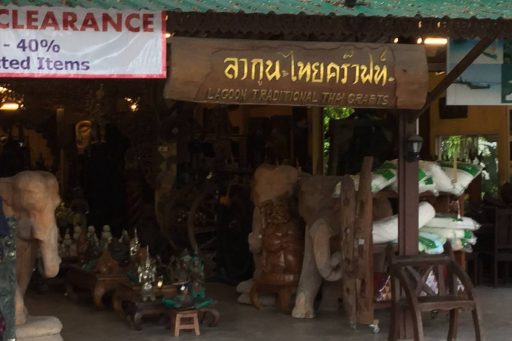 Travelers visited also these Cherngtalay Tourist Spots