Tourist Attraction Cherngtalay, Phuket, Thailand
99 Art Studio in Cherngtalay is just 14.8 km (or 27 minutes) away from Bismarcks Paradise Phuket luxury villas resort.
There is certainly a nice selection of art studios in the Cherngtalay area of Phuket. 99 Art Studio is one of the best, and if you're in the market, you should plan some time to browse around the shops here for a couple of hours some day during your vacation.
With a number of artists, 99 Art Studio has a wide selection of different artistic styles to choose from, and all artists represented are masters in their own discipline. You'll certainly find something interesting, no matter what you're looking for.
One of the artists, Praseart Kongwutthawet, who often focuses on traditional Thai and ages old Buddhist themes, is driven by what is real and eternal – the essence of life – and that is what is reflected in his paintings. Some of his oil paintings are three meters wide by one-hundred sixty centimeters high. Another artist, Tom Pugh, focuses on the human form in oil on canvas, sometimes nude, but always in graceful, timeless poses. He also has a series of Marilyn Monroe, paintings of Elizabeth Taylor and other famous personalities. Napaphat Niamkhunthod paints impressionistic surreal landscapes that evoke dreamy flashbacks to Thailand of old.
Whatever your preferred artistic style, there is probably something of interest for you at 99 Art Studio. Packages are shipped by EMS or Fedex with tracking. There is free shipping within Phuket.
99 Art Studio is located in Laguna Beach, on Phuket's west side, just south of the Phuket International Airport (HKT), a short drive from Patong Beach.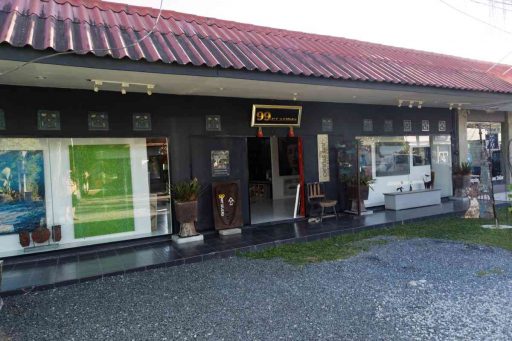 99 Art Studio Information
99 Art Studio
There is certainly a nice selection of art studios in the Cherngtalay area of Phuket. 99 Art Studio is one of the best, and if you're in the market, you should plan some time to browse around the shops here for a couple of hours some day during your vacation. With a number of artists, 99 Art Studio has a wide selection of different artistic styles to choose from, and all artists represented are masters in their own discipline. You'll certainly find something interesting, no matter what you're looking for. One of the artists, Praseart Kongwutthawet, who often focuses on traditional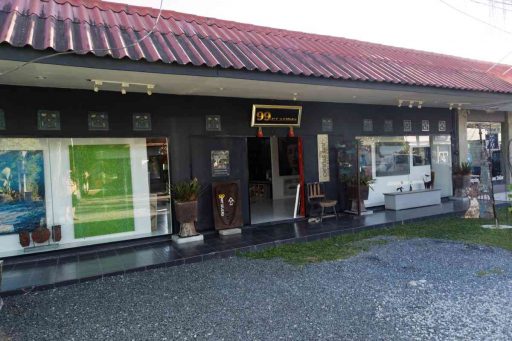 Travelers visited also these Cherngtalay Tourist Spots