Tourist Attraction Nai Yang, Phuket, Thailand
Sunset Bar Restaurant in Nai Yang is just 3.5 km (or 7 minutes) away from Bismarcks Paradise Phuket luxury villas resort.
If you find yourself on Phuket's northern coast and are looking for some tasty farer or just a place to drink cocktails and hang out, then Sunset Bar Restaurant is the place for you. With a wide array of appetizers, meals and well established drinks menu, it's no wonder Sunset Bar has been dubbed "an expats retreat".
Located on the Beach Road on the sunny shores of Nai Yang sits this great little bar and restaurant. Its upbeat atmosphere and personable and attentive staff make you want to stay for hours while you make your way down the drinks list. The menu boasts a wide array of pub like food and starters as well as a vast drinks menu, as you might have already guessed. The bar is fully stocked with all kind of wine, beer and spirits while the dinning area consists of comfortable seating and upbeat music that you can really sing along to. The food is all very well done and tasty with a mix of both western and Thai. The best part is that this is where all the expats flock, so even if you are alone you are guaranteed to meet some interesting people.
As the sun goes down and the walking street becomes more alive, so does the atmosphere at Sunset Bar Restaurant, with the crowds of tourists looking for a comfortable and cool place to enjoy meal or sip a drink. Whether noon or night, one thing is for sure: Sunset Bar is the place to be.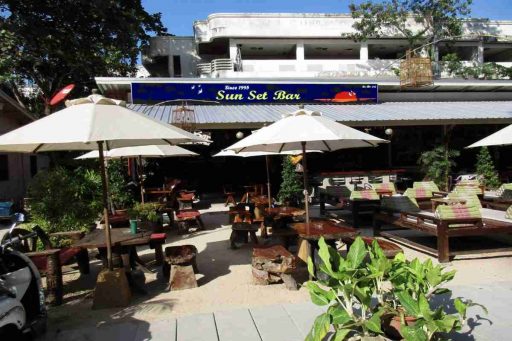 Sunset Bar Restaurant Information
Sunset Bar Restaurant
If you find yourself on Phuket's northern coast and are looking for some tasty farer or just a place to drink cocktails and hang out, then Sunset Bar Restaurant is the place for you. With a wide array of appetizers, meals and well established drinks menu, it's no wonder Sunset Bar has been dubbed "an expats retreat". Located on the Beach Road on the sunny shores of
Nai Yang
sits this great little bar and restaurant. Its upbeat atmosphere and personable and attentive staff make you want to stay for hours whil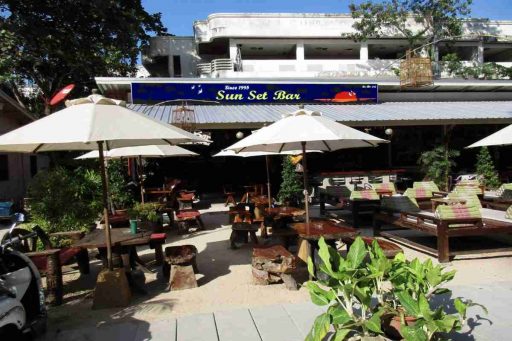 Travelers visited also these Nai Yang Tourist Spots