Tourist Attraction Nai Yang, Phuket, Thailand
Marina Seafood in Nai Yang is just 3.7 km (or 7 minutes) away from Bismarcks Paradise Phuket luxury villas resort.
Marina Seafood is a modern Thai style restaurant located central at Nai Yang beach. Around Marina Seafood are many restaurants and bars. Kitchen is clean, tables are decorated with table cloth( red/white), candles and flowers. Only Tourists visit this place. waiting time is about half an hour. The waiters work good. fruits for desert free of charge.
we tested following food/drink:
Fried rice with chicken      120 Baht
Green curry with chicken  150 Baht
Squid garlic and pepper     200 Baht
Papaya salad thai style        100 Baht
fish per 100 g    60 Baht
Chang beer small    70 Baht
WiFi available, no website and not in Facebook.
From our experience: this is the cheapest restaurant in Nai Yang beach, music to loud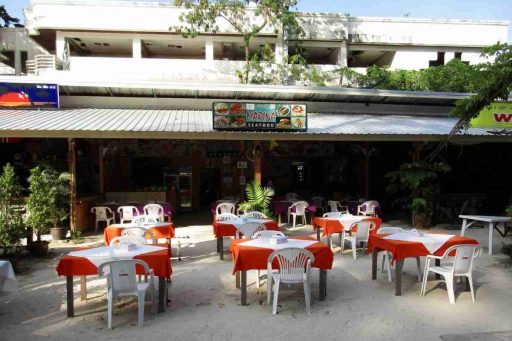 Marina Seafood Information
Distance From Bismarcks Paradise:3.7 km (7) minutes
Distance From Central Phuket:32 km (43) minutes
Price Range:120 - 200 THB
Number of Tables:11
Opening Hours:10.00 - 22.00, daily
Telephone:080 531 5983
Food: Service:   Ambiance:
Marina Seafood
Marina Seafood is a modern Thai style restaurant located central at Nai Yang beach. Around Marina Seafood are many restaurants and bars. Kitchen is clean, tables are decorated with table cloth( red/white), candles and flowers. Only Tourists visit this place. waiting time is about half an hour. The waiters work good. fruits for desert free of charge.

we tested following food/drink:
Fried rice with chicken      120 Baht
Green curry with chicken  150 Baht
Squid garlic and pepper     200 Baht
Papaya salad thai style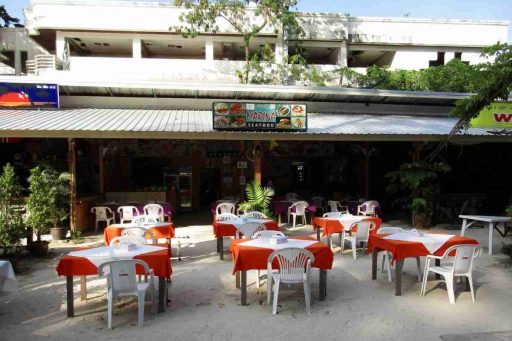 Travelers visited also these Nai Yang Tourist Spots