Tourist Attraction Nai Yang, Phuket, Thailand
Khwanta Seafood in Nai Yang is just 3.5 km (or 7 minutes) away from Bismarcks Paradise Phuket luxury villas resort.
For those who find themselves along the north western coast of Phuket around lunchtime and are looking for a nice quiet seafood restaurant to enjoy a freshly cooked meal with a view at, then we suggest making your way to Khwanta Seafood. Situated right across the street from the beach, this little Thai restaurant boasts a great selection of fresh seafood caught daily as well as fantastic views out over the Andaman.
Located on the corner of the beach walking street in Nai Yang, Khwanta Seafood offers customers an open air dining experience with a vast menu filled with well prepared and tasty Thai and seafood dishes. The warm friendly staff go out of their way to make you feel welcome, as well as ensure you food arrives hot and with a smile. Out front is a seafood boat where the daily catches are displayed on ice, so you can choose your favourite crustacean while ensuring its freshness. Although the menu is vast, rest assured the prices are not high but rather fairly represent the dishes you get.
The drinks menu is not as large as their food but they do have some really great choices on it, from popular cocktails to imported beers, there is something for everyone and, unlike most places on the island, the beer comes ice cold! So whether you are looking for lunch or just want to sip a cocktail from a coconut and watch the sun go down over the beach, Khwanta Seafood has got you covered.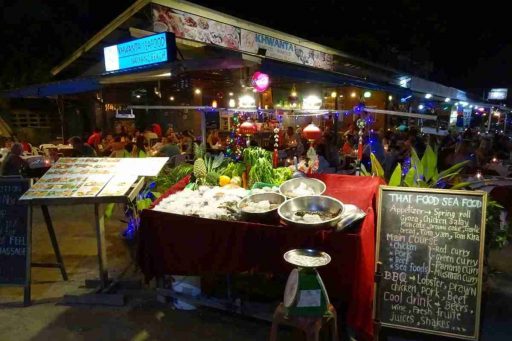 Khwanta Seafood Information
Distance From Bismarcks Paradise:3.5 km (7) minutes
Distance From Central Phuket:32 km (43) minutes
Price Range:100 - 250 THB
Number of Tables:27
Opening Hours:10.00 - 22.30
Address:Thep Krasat Tri-Nai Yang Road, Nai Yang, Sakhu, Phuket 83110
Telephone:081 270 7501 or 081 271 5434
Food: Service:   Ambiance:
Khwanta Seafood
For those who find themselves along the north western coast of Phuket around lunchtime and are looking for a nice quiet seafood restaurant to enjoy a freshly cooked meal with a view at, then we suggest making your way to Khwanta Seafood. Situated right across the street from the beach, this little Thai restaurant boasts a great selection of fresh seafood caught daily as well as fantastic views out over the Andaman. Located on the corner of the beach walking street in
Nai Yang
, Khwanta Seafood offers cus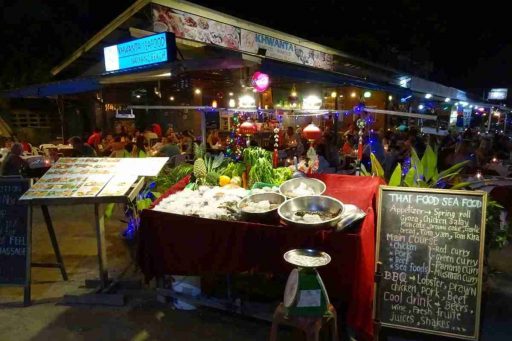 Travelers visited also these Nai Yang Tourist Spots