Tourist Attraction Nai Yang, Phuket, Thailand
Mr. Kobi Restaurant in Nai Yang is just 3.5 km (or 7 minutes) away from Bismarcks Paradise Phuket luxury villas resort.
Mr Kobi Restaurant Nai Yang: 
Mr. Kobi restaurant serves standard Thai food and seafood. It is located in the center of Nai Yang beach.The restaurant is clean and modern, tables have table cloth, floweres and candles. No music. manuals are old and really a impertinence. Seafood is presented on ice. The waiter speaks english. waiting time is about half an hour. WIFI available.
we ordered:
Thai seafood salad with glass noodle: good
Spring rolls: excellent
Tom Yam seafood: good
prices:
Fried rice with chicken      120 Baht
Green curry with chicken  180 Baht
Squid garlic and pepper     180 Baht
Papaya salad thai style        120 Baht
fish per 100 g    60 Baht
Chang beer small    70 Baht
Generell: one of the best restaurant of Nai Yang beach.
Please be careful with chili, some times they cook really spicy. Order with less chili, (mai pet) or "no chili"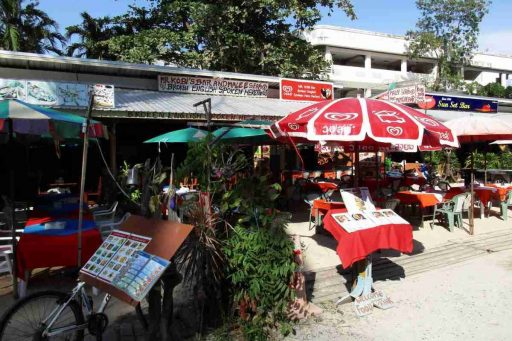 Mr. Kobi Restaurant Information
Distance From Bismarcks Paradise:3.5 km (7) minutes
Distance From Central Phuket:32 km (43) minutes
Price Range:120 - 350 THB
Number of Tables:14
Opening Hours:10.00 till 22.00, daily
Address:Nai Yang Beach, Nai Yang, Sakhu, Phuket 83110
Telephone:087 894 1913
Food: Service:   Ambiance:
Mr. Kobi Restaurant
Mr Kobi Restaurant Nai Yang:  Mr. Kobi restaurant serves standard Thai food and seafood. It is located in the center of Nai Yang beach.The restaurant is clean and modern, tables have table cloth, floweres and candles. No music. manuals are old and really a impertinence. Seafood is presented on ice. The waiter speaks english. waiting time is about half an hour. WIFI available. we ordered: Thai seafood salad with glass noodle: good Spring rolls: excellent Tom Yam seafood: good prices: Fried rice with chicken      120 Baht Green curry with chicken  180 Baht Squi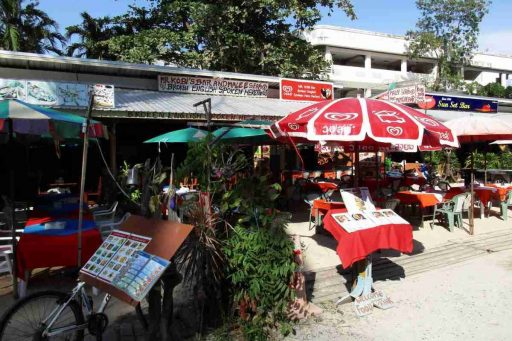 Travelers visited also these Nai Yang Tourist Spots