Tourist Attraction Nai Yang, Phuket, Thailand
Steakhouse Nai Yang in Nai Yang is just 3 km (or 6 minutes) away from Bismarcks Paradise Phuket luxury villas resort.
Steakhouse Nai Yang is located on the street to the airport in Nai Yang. The restaurant is clean and has simple modern wood furniture. We tested salads, spaghetti, lasagna, penne, beef steak, beef strip-loin (200g 199 Baht), rib eye, T-Bone (200g 299 Baht), pork steak and fish steak. All good.
The waiter speaks English, but you will find only Thais in here normally.
Price examples food/drink:
– Fried rice with chicken 50 Baht
– Green curry with chicken 120 Baht
– Squid garlic and pepper not on the menu
– Papaya salad thai style not on the menu
– Fish per 100g 35 Baht
– Chang beer small 55 Baht
WIFI available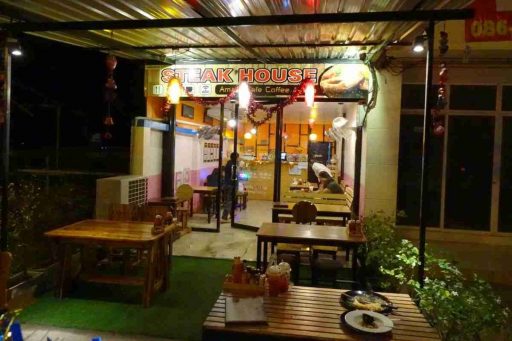 Steakhouse Nai Yang Information
Distance From Bismarcks Paradise:3 km (6) minutes
Distance From Central Phuket:33 km (47) minutes
Price Range:35 - 300 THB
Number of Tables:11
Opening Hours:12.30 - 22.00 daily, Saturday closed
Food: Service:   Ambiance:
Steakhouse Nai Yang
Steakhouse Nai Yang is located on the street to the airport in Nai Yang. The restaurant is clean and has simple modern wood furniture. We tested salads, spaghetti, lasagna, penne, beef steak, beef strip-loin (200g 199 Baht), rib eye, T-Bone (200g 299 Baht), pork steak and fish steak. All good. The waiter speaks English, but you will find only Thais in here normally. Price examples food/drink: - Fried rice with chicken 50 Baht - Green curry with chicken 120 Baht - Squid garlic and pepper not on the menu - Papaya salad thai style not on the menu - Fish per 100g 3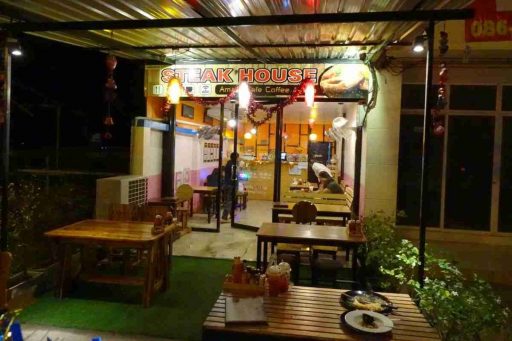 Travelers visited also these Nai Yang Tourist Spots