Tourist Attraction Nai Yang, Phuket, Thailand
Bank Restaurant in Nai Yang is just 3.7 km (or 8 minutes) away from Bismarcks Paradise Phuket luxury villas resort.
If you are looking for a good wholesome authentic Thai restaurant while visiting the sunny shores of Phuket's northern coastline, then we suggest a visit to Bank Restaurant. Owned and operated by a quaint little local family, this authentic Thai restaurant offers the best in well prepared Thai dishes.
Situated right on the white sands of Nai Yang Beach, Bank Restaurant offers a wide variety of authentic Thai and western dishes as well as freshly caught seafood plucked right from the ocean daily. The family that runs the place are all very friendly and welcoming as are the wait staff who would bend over backwards to please. With several thatch cabinas right on the beach, it is a perfect place to beat the sun while enjoying some down to earth home cooking. If you visit during dusk or early evening, make sure to bring some mosquito repellent so as to avoid any unwanted dinner guests.
From the warm greeting to the delicious food and happy lively atmosphere, Bank Restaurant is the perfect stop for a seafood lunch or romantic candlelit dinner on the beach while you listen to the waves of the Andaman gently crash against the shore. With the cheapest beer on the island and a great selection of drinks to chill out with, we can see why this is a fan favourite.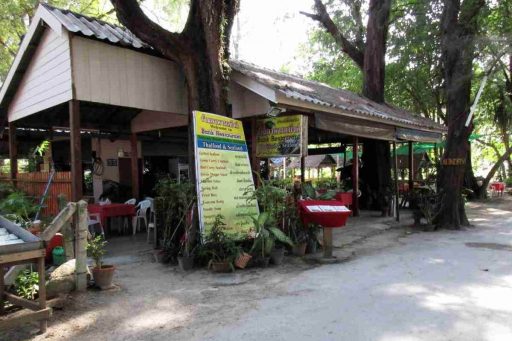 Bank Restaurant Information
Distance From Bismarcks Paradise:3.7 km (8) minutes
Distance From Central Phuket:32 km (43) minutes
Price Range:80 - 800 THB
Number of Tables:8
Opening Hours:09.00 - 23.00
Telephone:076205233
Food: Service:   Ambiance:
Bank Restaurant
If you are looking for a good wholesome authentic Thai restaurant while visiting the sunny shores of Phuket's northern coastline, then we suggest a visit to Bank Restaurant. Owned and operated by a quaint little local family, this authentic Thai restaurant offers the best in well prepared Thai dishes. Situated right on the white sands of
Nai Yang Beach
, Bank Restaurant offers a wide variety of authentic Thai and western dishes as well as freshly caught seafood plucked right from the ocean daily. The family th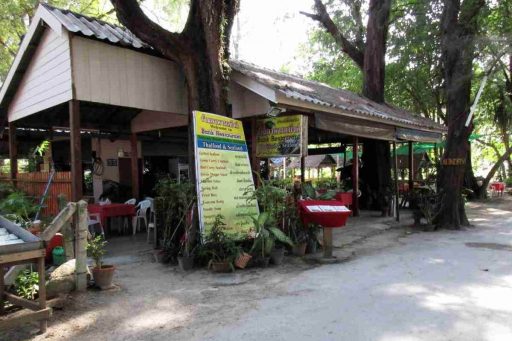 Travelers visited also these Nai Yang Tourist Spots