Tourist Attraction Cherngtalay, Phuket, Thailand
Skye Lake Club in Cherngtalay is just 16.8 km (or 27 minutes) away from Bismarcks Paradise Phuket luxury villas resort.
Skye Lake Club was before located in Nai Yang, under the name Skye Beach Club. Because the new location is on a lake the name was changed for Skye Lake Club and you can find it just behind the Villa Market on Boat Avenue, Cherngtalay. Open daily serving lunch, dinner and music by the lakeside from 11am-late. Skye Lake Club has 10 tables inside (with air-con) and 11 tables are located outside on the terrace overlooking the lake.
Elegantly perched over a tranquil lake in the heart of Phuket's stylish Laguna district, Skye Lake Club offers a spectacular vista and international cuisine, adjacent to the upscale shops and Villa Market on bustling, nearby Boat Avenue Shopping Area.
The outdoor area is atmospheric and the indoor is nicely decorated. The terrace is a great place to sip on your cocktail while watching the sunset over the lake and listening to the live band.
The F&B menu includes international (mainly mediterranean) and Thai specialities as well as a decent cocktail and wine selection.  Click here for the full menu
We tested the restaurant in June 2017, therefore we tried the following dishes:
Starter:
Antipasto Platter THB 390
Bouillabaisse Soup THB 250
Main Course:
Risotto Seafood THB 320
Snow Fish Kebab THB 590
All dishes have been nicely presented and tasted well too. All in all Skye Lake Club offers a good value for money, therefore recommendable.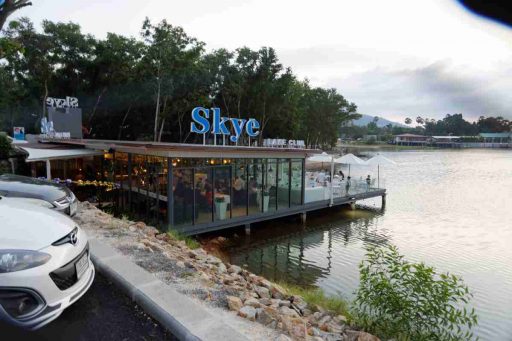 Skye Lake Club Information
Distance From Bismarcks Paradise:16.8 km (27) minutes
Distance From Central Phuket:23 km (37) minutes
Price Range:200 - 1000 THB
Number of Tables:21
Opening Hours:11.00 - 24.00, daily
Address:21/14 Lagoon Road, Cherngtalay, Thalang, Phuket 83110
Telephone:076 540 939
Website:Website from Skye Lake Club
Facebook:Facebook from Skye Lake Club
Contact Email:gm@skyelakeclub.com
Food: Service:   Ambiance:
Skye Lake Club
Skye Lake Club was before located in Nai Yang, under the name Skye Beach Club. Because the new location is on a lake the name was changed for Skye Lake Club and you can find it just behind the Villa Market on Boat Avenue, Cherngtalay. Open daily serving lunch, dinner and music by the lakeside from 11am-late. Skye Lake Club has 10 tables inside (with air-con) and 11 tables are located outside on the terrace overlooking the lake. Elegantly perched over a tranquil lake in the heart of Phuket's stylish Laguna district, Skye Lake Clu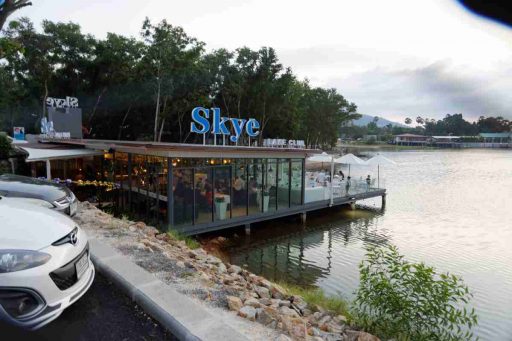 Travelers visited also these Cherngtalay Tourist Spots