Tourist Attraction Cherngtalay, Phuket, Thailand
Siam Supper Club in Cherngtalay is just 15.5 km (or 23 minutes) away from Bismarcks Paradise Phuket luxury villas resort.
Siam Supper Club
The Siam Supper Club Cherngtalay is a chic, trendy restaurant & cocktail bar located close to the main entry of the famous Laguna Resorts.
Its classy wood decor and intimate ambiance, paired with mellow jazz and lounge music, delivers a setting for people from all corners of the world to mix and mingle. The Siam Supper Club, famous for equatorial cocktails, offers seats at the bar as well as 6 tables outside and around 12 tables inside (air-con).
The menu is best described as "West Coast Cuisine" and serves meat, fish, pastas, pizzas as well as a few Thai specialties.
Bismarcks review of Siam Supper Club Restaurant in Cherngtalay:
We tested:
Starter:
Grilled Goat Cheese with rocket and almond salad, toast and truffle honey… 310 Baht
Penne Mushrooms with truffle, walnuts, cream, shaved Parmesan… 390 Baht
Presentation & taste:  both dishes nicely presented and yummy
Main Course:
Barbeque Pork Spare Ribs served with red cabbage slaw and baked potato with sour cream, bacon and shallots
Pan-roasted Snapper Fillet served with potatoes, marinated eggplant, red pepper and zucchini,
tahina and yogurt sauce
Presentation & taste: Snapper filet was overcooked and therefore a little bit dry, side orders have been yummy.  Spare Ribs looked like cooked before later over baked (partly burned) in the oven.
Dessert:
Presentation & taste: Simple presentation (no decoration), taste average good.
Drinks:
Water OK, Wine selection excellent, about 300 different wines (we drank Protea Shiraz from South Africa), coffee good.
Ambiance:
Conservative style (dark wood).
Service:
Really good
The total bill, including VAT but no service charge, for 2 persons was around 4,800 Baht.
Summary: If you compare price, quality and ambiance with same type of restaurants in Phuket –> it is too expensive for what you get and the menu is limited and not that creative.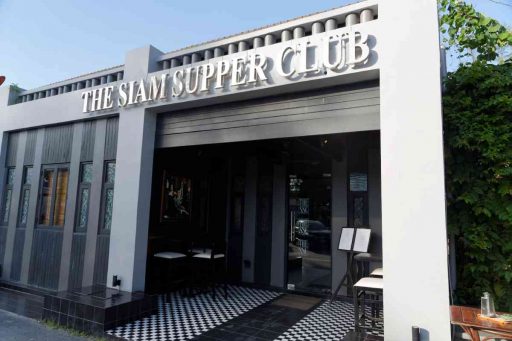 Siam Supper Club Information
Distance From Bismarcks Paradise:15.5 km (23) minutes
Distance From Central Phuket:22.6 km (37) minutes
Price Range:250 - 1390 THB
Number of Tables:27
Opening Hours:18.00 - 01.00, daily
Address:36 - 40 Lagoon Road, Cherngtalay, Thalang, Phuket 83110
Telephone:076 270 936
Website:Website from Siam Supper Club
Facebook:Facebook from Siam Supper Club
Contact Email:info@siamsupperclub.com
Food: Service:   Ambiance:
Siam Supper Club
Siam Supper Club The Siam Supper Club Cherngtalay is a chic, trendy restaurant & cocktail bar located close to the main entry of the famous Laguna Resorts. Its classy wood decor and intimate ambiance, paired with mellow jazz and lounge music, delivers a setting for people from all corners of the world to mix and mingle. The Siam Supper Club, famous for equatorial cocktails, offers seats at the bar as well as 6 tables outside and around 12 tables inside (air-con). The menu is best described as "West Coast Cuisine" and serves meat, fish, pastas, pizzas as well as a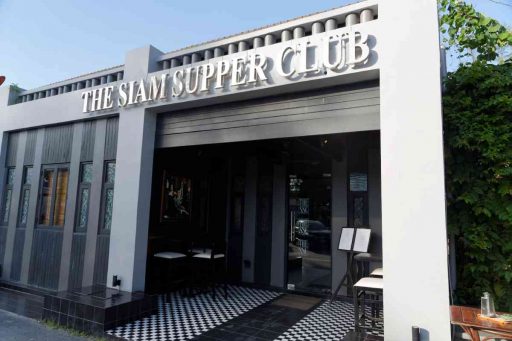 Travelers visited also these Cherngtalay Tourist Spots