Tourist Attraction Boat Avenue, Phuket, Thailand
Heng Heng Souvenir in Boat Avenue is just 16.8 km (or 27 minutes) away from Bismarcks Paradise Phuket luxury villas resort.
Heng Heng Souvenir is one of the shops on Boat Avenue in Cherngtalay (Choeng Thale) where you can walk around for ten minutes and spend 2,000 Thai Baht you never thought you'd spend because you just realize you need so much that you haven't thought of before entering this little souvenir shop.
Phuket is filled with souvenir stores where you can find all sorts of interesting items. If you need to buy gifts for someone back at home – a loved one or friend – souvenir shops can be the perfect and fast solution to a failed shopping trip to Phuket Central Festival or some other mega shopping center, where you were so overwhelmed with expensive choices that you couldn't make your mind up on anything. When it is coming down to the wire, with no time for another major shopping trip, and you're under pressure to buy something, just go to one of these little shops for your souvenirs, like Heng Heng.
All souvenir shops are different, and yet somewhat the same. They all have very cheap statues, refrigerator magnets, candles, postcards and clothes. Heng Heng specializes in a wide assortment of very colorful swimming suits – one piece and bikini for women, and long shorts for the most part for men. There is also a wide assortment of items for fun in the water like blow up floats and air-mattresses, complete with air pumps to make the job easy for you. If you need t-shirts, shorts or hats, Heng Heng is also your place. Sandals, swim-goggles, sunglasses, sun-tan lotion, beach mats and towels round out the inventory. Anything you need for a beach excursion in Phuket, they have.
You can find Heng Heng Souvenir on Boat Avenue close to Highway 4030 in Cherngtalay by Laguna Beach just south of the Phuket International Airport (HKT), and just north of spectacular Surin Beach.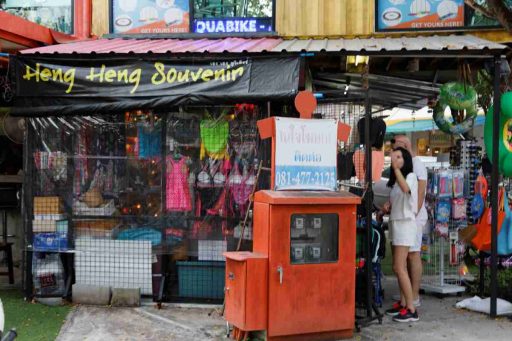 Heng Heng Souvenir Information
Distance From Bismarcks Paradise:16.8 km (27) minutes
Distance From Central Phuket:23 km (37) minutes
Opening Hours:09.00 - 21.00, daily
Address:Boat Avenue Container Mall Room 107, M1 Bandon-Cherngtalay Road, Cherngtalay, Talhang, Phuket 83110
Telephone:081 958 4061
Facebook:Facebook from Heng Heng Souvenir
 
Heng Heng Souvenir
Heng Heng Souvenir is one of the shops on Boat Avenue in Cherngtalay (Choeng Thale) where you can walk around for ten minutes and spend 2,000 Thai Baht you never thought you'd spend because you just realize you need so much that you haven't thought of before entering this little souvenir shop. Phuket is filled with souvenir stores where you can find all sorts of interesting items. If you need to buy gifts for someone back at home – a loved one or friend – souvenir shops can be the perfect and fast solution to a failed shopping trip to Phuket Central Festival or some other mega shopp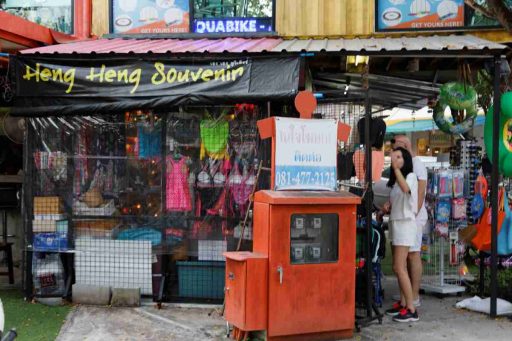 Travelers visited also these Boat Avenue Tourist Spots