Kata in Phuket
Kata is a subdistrict of Karon and is reasonably substantial in size itself. Shaped like the letter L, the village stretches for about 1.5 kilometers from north to south and 2 kilometers from west to east in the hills. It is very similar to Karon district and is a part of it. Kata borders a fantastic 1.5 kilometers long beach, which extends across a low area and ends in its eastern hills. Though smaller than Karon, the village has grown to include copies of just about everything you can find in Karon, as far as shopping goes.
The Beach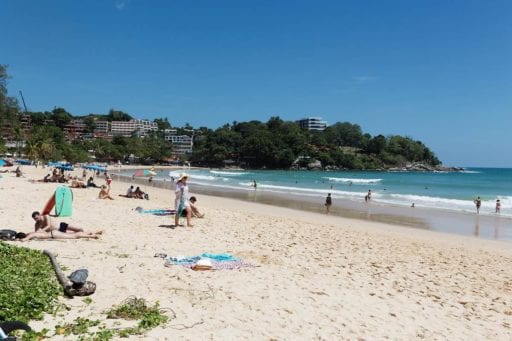 Kata beach is much smaller in length and width than Karon. However, the sand is quite right, and there are plenty of trees providing the shade needed to block the hot afternoon sun. As mentioned in similar terms about Karon Beach, it's a much more relaxing area than Patong Beach. Even more relaxing than Karon! Indeed, it is a great place to throw your beach mat or towel on the sand, and take a nap on the beach.
The main city area is about 100 meters inland from the beach, which helps keep the beach area quiet and peaceful. Most vehicles use Highway 4233 in the city, as opposed to the beach road running along its border. Parents with small children will also enjoy the large park across from the beach, located behind the Surf House Bar.
A good thing to know about Kata Beach is that even in low-season (from April to October), the beach attracts many visitors as it is one of the few great surf spots on the island.
Where to eat?
Following are a few of the numerous restaurants you can go and enjoy a nice meal in Kata:
Gastone Italian Restaurant sits at the southern end of Kata Beach, on Soi Khoktanod. It has a pleasant ambiance and décor. It serves authentic Italian cuisine and gets high ratings from its guests.
Kampong Kata Hill, located between Kata and Karon on Patak Road, opens only for dinner at 4 pm. It has excellent cocktails and crab spring rolls, a nice overview, and an impressive décor. This restaurant received the best reviews from guests, with a 4.7 out of 5 rating average.
Kata On Fire Bar & Grill is also very highly rated and is set away from the beach up Soi Khoktanod. It is not recognized for its special ambiance but serves excellent food.
Where to stay?
There are also a few fine places to stay in Kata, such as Club Med Phuket, Kata Beach Resort & Spa, and Sawasdee Village, to name just a few of them.