Tourist Attraction Patong, Phuket, Thailand
Joe's Downstairs in Patong is just 36 km (or 60 minutes) away from Bismarcks Paradise Phuket luxury villas resort.
One of Phuket's popular restaurants for lunch, sunset cocktails, dinner or late night drinks, Joe's Downstairs is located right on the water with breathtaking views of Kalim Bay. This backdrop, combined with the all white interior and terrazzo bar make Joe's is a great Phuket restaurant to meet friends for a few drinks, a Wine Spectator award winning wine list, delicious appetizers, tapas, grilled delights, and live seafood including Maine lobster.
Situated between Baan Rim Pa Patong and Da Maurizio restaurants, Joe's Downstairs' fantastic beachfront location is just one of the many reasons why it's the perfect place to enjoy a sumptuous lunch or dinner.
Offering sundeck seating only a few feet above the rocks, great music, wonderful ocean scenery and a comfortable relaxing atmosphere, Joe's Downstairs is one of Phuket's place to meet, anytime of day or night.
Joe's offers a wide variety of scrumptious delights to enjoy as you admire the beautiful waters of Patong Bay.
From delicious tapas for a starter or light meal, to fresh salads, seafood, grilled favorites, and delightful desserts, Chef Aaron Hooper's creations have quickly made the culinary offerings at Joe's Downstairs on par with its sister restaurants in the Baan Rim Pa Restaurant Group as Phuket's ultimate dining experiences. Enjoy Joe's for lunch or dinner seven days a week.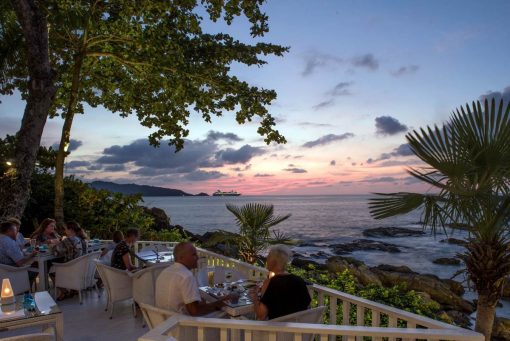 Joe's Downstairs Information
Distance From Bismarcks Paradise:36 km (60) minutes
Distance From Central Phuket:11 km (20) minutes
Price Range:200 - 1500 THB
Number of Tables:12
Opening Hours:12:00 PM - 11:00 PM
Address:223/3 Prabaramee Rd, Patong, Phuket 83150, Thailand
Telephone:076-618245
Website:Website from Joe's Downstairs
Facebook:Facebook from Joe's Downstairs
Contact Email:info@joesdownstairs.com
Comments:The location is mainly the highlight
Food: Service:   Ambiance:
Joe's Downstairs
One of Phuket's popular restaurants for lunch, sunset cocktails, dinner or late night drinks, Joe's Downstairs is located right on the water with breathtaking views of Kalim Bay. This backdrop, combined with the all white interior and terrazzo bar make Joe's is a great Phuket restaurant to meet friends for a few drinks, a Wine Spectator award winning wine list, delicious appetizers, tapas, grilled delights, and live seafood including Maine lobster. Situated between Baan Rim Pa Patong and Da Maurizio restaurants, Joe's Downstairs' fantastic beachfront location is j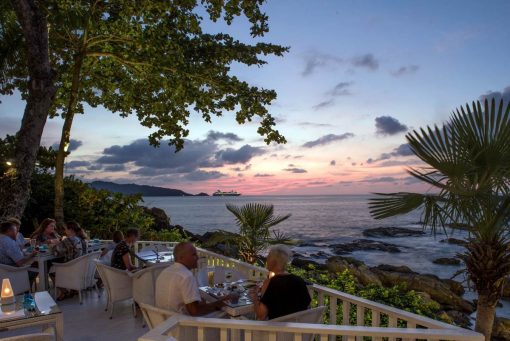 Travelers visited also these Patong Tourist Spots