Tourist Attraction Patong, Phuket, Thailand
Hooters Phuket in Patong is just 33 km (or 60 minutes) away from Bismarcks Paradise Phuket luxury villas resort.
Everyone loves going on holiday to the sun, the sand and all the exhilarating tourist attractions. While vacations are a fun and exciting time almost everyone at some point experiences a bit of homesickness, with that craving for something "normal" from your home country. Although Phuket is rich with Thai culture, luckily there are still a few spots around our Island that offer the true "western" experience, such as Hooters Phuket.
Located on the main road shopping road (Rat-U-Thit) in Patong this North American gem is the first of of it's franchised brand to make a home in Thailand. Boasting two floors of dining and retail space, Hooters Phuket offers it's clients an impressive covered terrace, outdoor covered circle bar, large indoor dining area and an indoor retail store selling hooters merchandise. It's easy to see why the Hooters brand is famous world over.
Perched on a place of pride in the Dusit D2 Phuket Resort building, the sports bar and restaurant is hard to miss with it's oversized neon sign popping from white walls and its up beat tempo of the sound system ringing out to the street. The outdoor dining area is covered by a large tarpaulin sail and can seat up to 100 guests, with high bar style tables and chairs or standard dining tables with the large circle bar conveniently placed in the middle, offering 360 degrees of service to choose from. Outside you'll also find around 12 large flat screen TV's playing all manner of sports but without the sound as the outdoor area is more like a discotheque with trendy house music pumping out of their state of the art sound system.
Keeping with the true element of the name, Hooters Phuket offers its customers the same world famous menu items such as buffalo wings, hamburgers, sandwiches, seafood steaks, signature cocktails and shooters, and of course the most infamous feature of all the sexy Hooters girls wearing the traditional hooters shirts and trademark orange shorts. The friendly and outgoing waitresses ensure great service with a professional attitude. So if you are craving something a little more "western" or just feeling a little home sick, check out Hooter Phuket for that dose of back home comfort.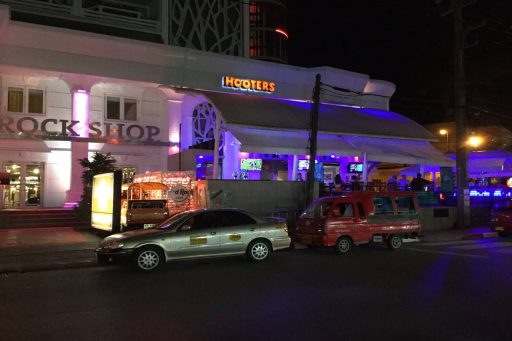 Hooters Phuket Information
Hooters Phuket
Everyone loves going on holiday to the sun, the sand and all the exhilarating tourist attractions. While vacations are a fun and exciting time almost everyone at some point experiences a bit of homesickness, with that craving for something "normal" from your home country. Although Phuket is rich with Thai culture, luckily there are still a few spots around our Island that offer the true "western" experience, such as Hooters Phuket. Located on the main road shopping road (Rat-U-Thit) in Patong this North American gem is the first of of it's franchised brand to make a home in Thailand. B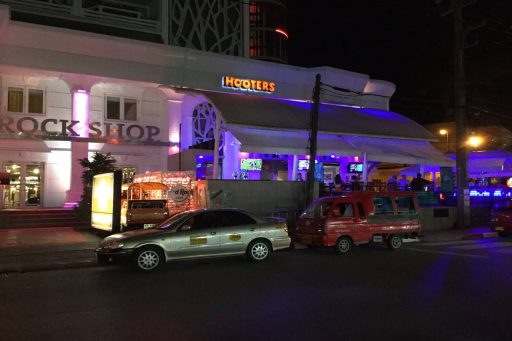 Travelers visited also these Patong Tourist Spots