Tourist Attraction Patong, Phuket, Thailand
Hard Rock Cafe in Patong is just 33 km (or 61 minutes) away from Bismarcks Paradise Phuket luxury villas resort.
It's no secret that Phuket is best known for it's vibrant nightlife, but more specifically the city Patong which has coined the title Phuket's Las Vegas. While there are the obvious places to visit if you are looking for a fun night out such as Bangla Road or Malin Plaza don't forget about the equally as exuberant but less publicized places like the Hard Rock Cafe Phuket.
Located on the main shopping strip of Patong Hard Rock Cafe is conveniently situated amongst luxury resorts and hotels, provides great shopping opportunities and is only steps away from the infamous Patong Beach. The 1,330 square meter cafe and shopping centre is composed of 4 areas and has it own house band that perfectly performs everything from classic rock to heavy metal and everything in between.
The first is an impressive outdoor terrace complete with patio-style seating and a stage where live bands and karaoke can be found during the week. The second area is a large indoor dining room with another stage, an impressive bar serving all manner of refreshments and an extensive seating area that can seat 300. The third area is The Rock Shop which sells the brand famous rock memorabilia such as t-shirts, pins and other items depicting our favourite rock legends. The fourth and last area is located on the top floor, it is a private dining area that is available for booking for large events such as parties and corporate gatherings.
Hard Rock features an extensive menu focused around the delectable flavours of Tex-Mex cuisine. With southern comfort foods such as Cajun chicken tenders, burgers and quesadillas; the flavour profiles are sure to impress. Their impressive hardwood smoker cooks meats such as pork, chicken and their signatures to perfection, leaving you wanting more. Coupled with their award wining bar menu, it's pretty easy to see why more and more people are choosing the Hard Rock as their number one entertainment choice!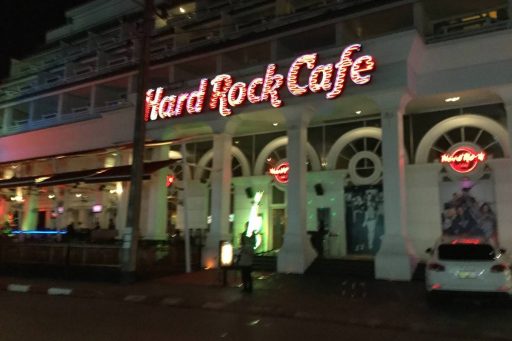 Hard Rock Cafe Information
Hard Rock Cafe
It's no secret that Phuket is best known for it's vibrant nightlife, but more specifically the city Patong which has coined the title Phuket's Las Vegas. While there are the obvious places to visit if you are looking for a fun night out such as Bangla Road or Malin Plaza don't forget about the equally as exuberant but less publicized places like the Hard Rock Cafe Phuket. Located on the main shopping strip of Patong Hard Rock Cafe is conveniently situated amongst luxury resorts and hotels, provides great shopping opportunities and is only steps away from the infamous Patong Beach. The 1,330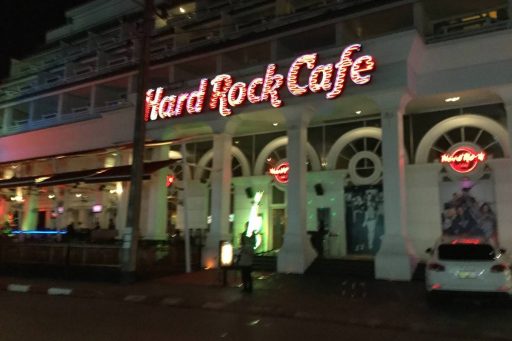 Travelers visited also these Patong Tourist Spots