Tourist Attraction Patong, Phuket, Thailand
Gotha Restaurant Phuket in Patong is just 35 km (or 60 minutes) away from Bismarcks Paradise Phuket luxury villas resort.
Gotha Restaurant Phuket is located in Patong Phuket. The Gotha Restaurant and the lounge provide two different atmosphere in only one place. Enjoy a French gourmet dinner in the restaurant and then a drink and clubbing moment in the Lounge area.
The Gotha Restaurant Phuket has a strong commitment to sophistication and secured its name in the haute cuisine world with its first location in Patong – Phuket. Gotha Lounge offers an ambiance merged with the feeling of a trendy bar scene.
​The menu is made up of French, Mediterranean and Thai dishes. Executive Chef Christophe Pach uses fresh ingredients that are local, while calling upon traditional recipes from France. Unlike most restaurant and Lounge, food is paramount at Gotha with a nightly menu of "à la carte" specialties that begins with a discovery menu, selection of Mediterranean avocado, Asian tuna tartare, confit duck ravioli and even prawn & scallop island flavors plate. Meat courses includes rack lamb, chicken supreme, beef tenderloin and 8hrs lamb. Seafood courses include semi-cooked tuna, salmon and squid.
About the Gotha Phuket Executive Chef:
​Christophe Pach, French rewarded Chef joined Gotha Restaurant Phuket since 2016. The one who was elected «Best French Apprentice» in 2013. Christophe Pach, who is now 21 years old, started his career very young: at 18 years old, he was already working with the 3 stars Michelin French Chefs in the top restaurants in France. Christophe uses the finest ingredients and local products to find the perfect match with French and Mediterranean dishes and it's done with traditional and modern inspiration.
Gotha Restaurant Phuket is open 7 days a week from 6 pm to 4 am and offers an inside restaurant & Lounge with a large outside terrace.
During our test dinner we tried the following dishes:
show full text
Starter:
OEUF PARFAIT – Porcini mushroom fricassee & Cream, Shallot confit, Hazelnut Emulsion, THB 280+
MEDITERRANEAN AVOCADO – Semolina with confit vegetables zucchini, eggplant & red pepper zucchini, spaghetti raspberry oil, THB 260+
Both starters have been very delicious.
Main:
GRANDMA BLANQUETTE – Creamy Chicken Ragout, Wild rice, Mushroom & Carrot, THB 420+
RACK LAMB – Vacuum cooked in low temperature with Apricot confit, Grilled potato & Chickpea cream, Lamb juice infused thyme, THB 720+
Both main course have been nicely presented and tasted very authentic and yummy.
Including the cocktail, a bottle of wine (THB 3000.–), coffee and 1 desert the bill was around THB 7'000.–
Here one more comment from a recent guests about the Gotha Restaurant Phuket:
Vadim A. (a local resident, Phuket, Thailand, Nov 2017)
"As a guest I would like to notice that GOTHA Phuket builded in the touristic center of Phuket Island called Patong City. In the same time the venue located far away from low quality tourists without any dress code and party style taste… which is might be interested for esthetic people who's looking for something more special that simple Thai style bar without anything called quality place …
About service at Gotha Phuket :
The staff looking very stylish and nice, just some of waitress need to learn more about etiquette as Gotha brand pretend to be a high quality level place and prices are also not as much cheap as at some «coffee house»
Bartenders/mixologists are pretty cool and they're seem like really got a good experience of making creative cocktails and respect the creator of the cocktail creative menu Mr. Leo Lottier.
Food menu is very fusion and tasty thanks to Chef Christophe Pach and his great Thai team.
Music Experience is just an amazing as they have really pure high quality DJ team. They are also playing original pure vinyl and Music style is very special which totally going to fit the venue in the future.
Gotha Phuket just opened few month ago and I want to believe that this place will really put quality stamp in Phuket's nightlife at list and I would like to see there a unique and special atmosphere which is most attractive and important for people know what it quality. And this all belong to good team work and I hope this Goth project will not just another someone's empty fantasy ! Good luck and see what will be Gotha in one year for example… very interesting
Mishellachka (Melbourne, Victoria, Australia, April 2018)
"Excellent food – My husband and I ordered the mussels, tuna tartare, rack of lamb then the chocolate mousse and cheesecake for dessert. Everything was very unique and absolutely delicious. The mussels were the best we have had anywhere.. the sauce is just so good! We also really loved the cheesecake. Best dining experience in Phuket so far"

show less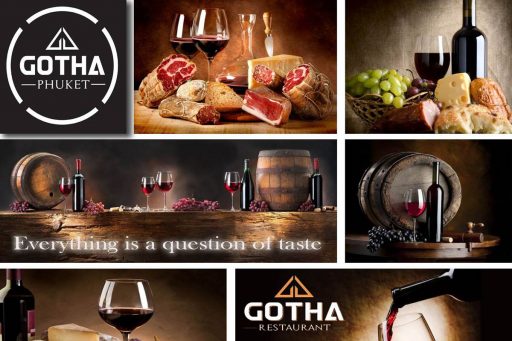 Gotha Restaurant Phuket Information
Distance From Bismarcks Paradise:35 km (60) minutes
Distance From Central Phuket:13 km (30) minutes
Price Range:250 - 3000 THB
Number of Tables:25
Opening Hours:6pm-4am
Address:1/1-1/9 Phangmuang Sai Kor Road, Patong, Kathu, Phuket 83150
Telephone:088 380 7577
Contact Email:info@gothaphuket.com
Comments:An interesting concept, great food, a solid selection of cocktails and wine make the Gotha Restaurant a must visit place in Patong.
Food: Service:   Ambiance:
Gotha Restaurant Phuket
Gotha Restaurant Phuket
is located in
Patong
Phuket. The Gotha Restaurant and the lounge provide two different atmosphere in only one place. Enjoy a French gourmet dinner in the restaurant and then a drink and clubbing moment in the Lounge area. The
Gotha Restaurant Phuket
has a strong commitment to sophistication and secured its name in the haute cuisine world with its first location in Patong – Phuket. Gotha Lounge offers an a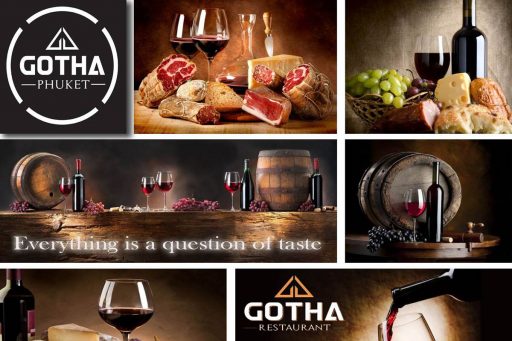 Travelers visited also these Patong Tourist Spots