The Beach
Just a few minutes south of Phuket International Airport (HKT) is a 2-kilometre-long (1.2 miles) strip of sand called Nai Yang Beach. The beach isn't known for being so scenic or for its numerous activities. It is, however, another of the mellow and laid-back beaches along the northwest coast of Phuket. You won't find too many tourists here, which could be what you are looking for your holiday. Also, the town isn't well-developed, as this is a low-income Thai village called Ban Wang Li.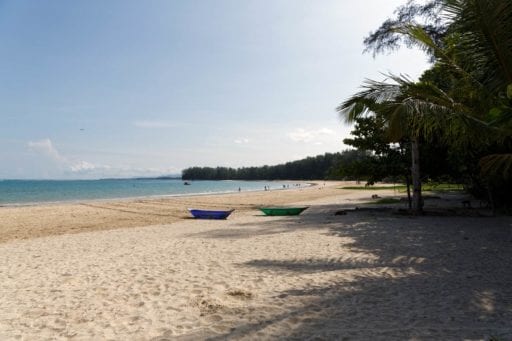 The northernmost half of Nai Yang Beach has many pine trees, offering welcome shade from the hot midday sun. This part happens to be the southern border of a large park called Sirinat National Park. Therefore, vendors and stores are not allowed on the beach in the area, with no commercial activities of any sort tolerated. A quiet area, indeed!
The central area of Nai Yang Beach has a white sand beach bordered by a good selection of beach-type (unassuming) restaurants, bars, and beach apparel convenience stores. And to the south are three large resorts (Coqoon Spa - The Slate, Nai Yang Beach Resort & Spa - Ruan Mai Naiyang Beach Resort) separated by a river and surrounded by lush vegetation. Additionally, a mini cape and tiny islet mark the beach southern end, overlooked by the Phuket Marriott Resort & Spa.
There is also some nightlife in Nai Yang, a lot of it! You'll find twenty or so clubs and bars on 'Bar Street' in the south part of Nai Yang, generally filled with Thais and expats.
Where to Stay in Nai Yang?
Why not treat yourself to a luxury villa and stay with us at
Bismarcks Paradise, Luxury Villas Phuket
?
Clean, spacious, and beautifully decorated, these villas are great to return to after exploring Phuket – but honestly, some people never even leave their private unit! Excellent for honeymoon or for that extra-special pampering we all need sometimes. All villas are walled for privacy and offer views of the area from the pool-side.
With two to four bedrooms and a private pool, our villas are perfect for couples or families. We provide everything you need within your gated villa. We also take care of cooking, cleaning, and laundry every day of the week for you. Private butler service is also available 24/7! Furthermore, we can guide you on where to go in the neighbourhood or across Phuket, for the best vacation experience.
Just down the road from Phuket Marriott Resort & Spa, Nai Yang, we are easy to find from the airport. Conveniently located between Nai Thon and Nai Yang, we are a short 10-minute drive from the Phuket International Airport (HKT).
* Click our 'Villas' link above to see each property and our extensive list of amenities. We'd be overjoyed to have you stay with us!