Mai Khao in Phuket
A village full of resorts Mai Khao can be found on the west coast of Phuket Island. It sits just north of Phuket International Airport (HKT), south of the Sirinat National Park Tourist Information Center. It is also the first beach on Phuket's west coast, after coming off the Sarasin Bridge from Phang Nga province.
The whole area consists of resorts in natural settings, spread out in such a way as to provide a relaxed and low-key environment for people who want that in a holiday destination. It makes up for a particularly pleasant atmosphere! Also, an area where families like to stay as several of the resorts cater to children.
The Beach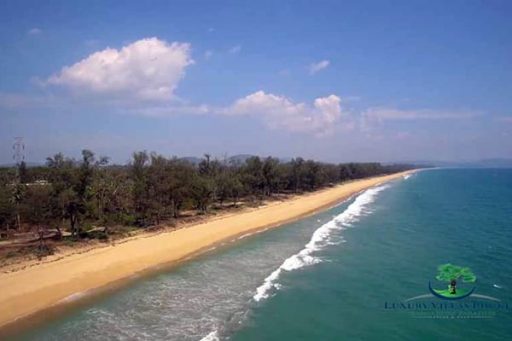 Mai Khao Beach is the longest beach in Phuket and one of the best for relaxing and forgetting about stress. As the beach is so long, you won't have to deal with the crowds of Patong Beach or some other more popular beaches on the island. The only visitors to Mai Khao are typically staying at a resort in the area.
The Andaman Sea at this beach is usually calm from November through April, which is when Phuket welcomes most visitors. If you want to have the ultimate quiet stay, May through October is a great time to write a book on the beach in this scenic spot, with all your needs taken care of by the resort where you stay.
That said, the shopping of Patong or Phuket Town is a little drive away, so you might want to rent a vehicle to drive there yourself. Alternatively, you can also use one of the taxi drivers on standby in your resort lobby.
What to do?
Mai Khao isn't known for its shopping or nightlife. However, you can find shops in many of the resorts around the area. There are also many restaurants to sample during your stay. You don't even need to leave Mai Khao to eat a meal at a different restaurant every day of the week if you plan it right.
One thing you might want to plan when in Mai Khao, is visiting the JW Marriott Phuket Resort & Spa. They host the Mai Khao Marine Turtle Foundation on their resort ground! You can go for an information session to learn about sea turtle conservation from 11 am. to noon each weekday. Interesting for adults and kids!