Thai Souvenir & Accessory
Tourist Attraction Surin, Phuket, Thailand
Thai Souvenir & Accessory in Surin is just 19.2 km (or 33 minutes) away from Bismarcks Paradise Phuket luxury villas resort.
Whether you are searching for that perfect token gift to remind you of your time here in the land of smiles, or you need to pick-up an essential souvenir promised for your loved one – Thai Souvenir Accessory in Surin has probably got exactly what you need.
Thai Souvenir Accessory is a store you can visit, when on your way to Surin Beach or Bangtao Beach, and you want to stock up on something you might need at the beach to make your day more comfortable and enjoyable. With inexpensive kitschy souvenirs to wood carvings and Thai silks, this little shop is packed to the brim with all kinds of unique gifts and mementos made in Thailand.
At Thai Souvenir Accessory in Surin, you can find swim suits, sunglasses, suntan lotion and sunblock, umbrellas, towels to lay on, lip balm, aloe vera gel for burns, floats for the kids, beach sandals, bags and just about anything you could possibly need in the sand by the sea. This is one of those multi purpose stores that has hundreds of things to browse through, and where you know you'll end up buying something you hadn't thought of before you walked in.
Located in the Surin area in the Cherngtalay district not far from both Surin Beach and Bangtao Beach, Thai Souvenir & Accessory Surin can be found on the main street road huddled between the local restaurants and beach apparel shops.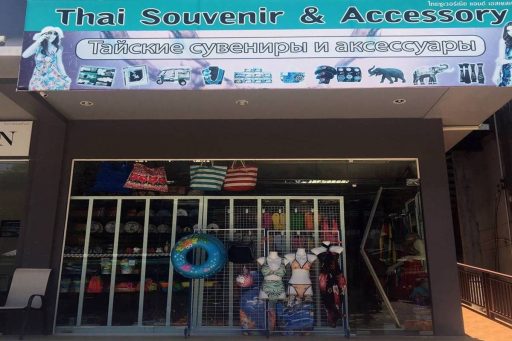 Thai Souvenir & Accessory Information
Distance From Bismarcks Paradise:19.2 km (33) minutes
Distance From Central Phuket:22.1 km (29) minutes
 
Thai Souvenir & Accessory
Whether you are searching for that perfect token gift to remind you of your time here in the land of smiles, or you need to pick-up an essential souvenir promised for your loved one - Thai Souvenir Accessory in Surin has probably got exactly what you need. Thai Souvenir Accessory is a store you can visit, when on your way to Surin Beach or Bangtao Beach, and you want to stock up on something you might need at the beach to make your day more comfortable and enjoyable. With inexpensive kitschy souvenirs to wood carvings and Thai silks, this little shop is packed to the brim with all kinds of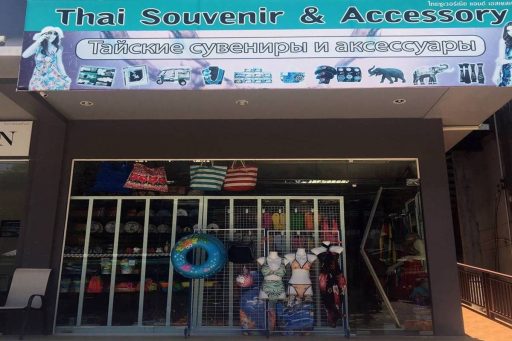 Travelers visited also these Surin Tourist Spots