Tourist Attraction Phuket Town, Phuket, Thailand
Salvatore Restaurant in Phuket Town is just 29 km (or 44 minutes) away from Bismarcks Paradise Phuket luxury villas resort.
Salvatore Restaurant:
Salvatore's Restaurant says about themselves: Salvatore is a typical Italian "trattoria" with bright colors, serene environment, soft music, rich and traditional flavors and a cuisine based on fresh and genuine ingredients! Located in the heart of Phuket Town.
Delicious first and second courses, home-produced bread, decadent desserts, real Italian coffee and a wine list that resembles a mini-encyclopedia.
Not yet tested.
Food samples:
Fresh tuna carpaccio with grey mullet eggs 480 Baht
Seafood salad extra virgin olive oil lemon and parsley 360 Baht
Selected Australian lamb chops served with mashed potatos 1100 Baht
Rock salted and oven baked fresh sea bass 850 Baht
Vanilla custard cream topped with caramelize sugar 200 Baht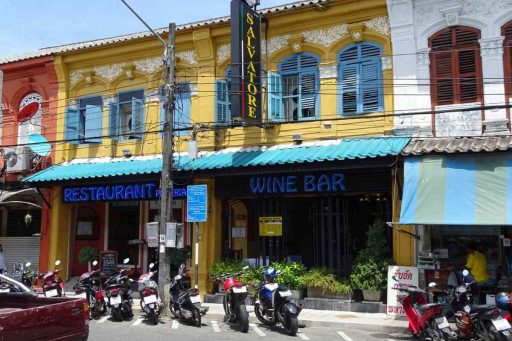 Salvatore Restaurant Information
Distance From Bismarcks Paradise:29 km (44) minutes
Distance From Central Phuket:0.65 km (8) minutes
Number of Tables:36
Opening Hours:Monday: 18.00 - 23.00, Tuesday to Friday: 12.00 - 14.30 and 18.00 - 23.00, sSaturday & Sunday: 18.00 - 24.00
Address:15 Rasada Road, Taladyai, Phuket 83000
Telephone:076 225 958, 089 871 1184
Facebook:Facebook from Salvatore Restaurant
Salvatore Restaurant
Salvatore Restaurant: Salvatore's Restaurant says about themselves: Salvatore is a typical Italian "trattoria" with bright colors, serene environment, soft music, rich and traditional flavors and a cuisine based on fresh and genuine ingredients! Located in the heart of Phuket Town. Delicious first and second courses, home-produced bread, decadent desserts, real Italian coffee and a wine list that resembles a mini-encyclopedia. Not yet tested. Food samples: Fresh tuna carpaccio with grey mullet eggs 480 Baht Seafood salad extra virgin olive oil lemon and parsley 360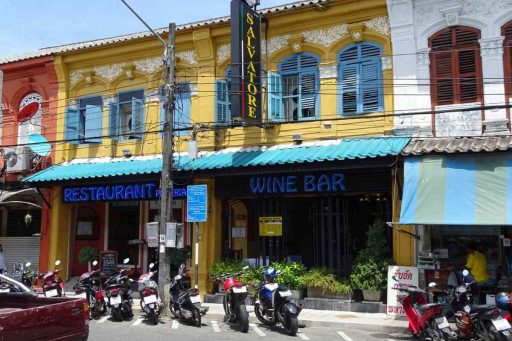 Travelers visited also these Phuket Town Tourist Spots