Tourist Attraction Phuket Town, Phuket, Thailand
Lemongrass Restaurant in Phuket Town is just 30 km (or 55 minutes) away from Bismarcks Paradise Phuket luxury villas resort.
The Lemongrass Restaurant, a contemporary Thai style restaurant, is located in the heart of Phuket Town right next of the Limelight Avenue shopping mall.
The original Lemongrass Restaurant is one of the oldest Thai restaurants in Phuket and is very well known. It has been one of the local's favourites for over 14 years.
The Lemongrass Restaurant concept is to offer the best home style cooked Thai dishes. Every dish never has its recipe changed, because it has and will have always a superb and authentic taste.
From lunch to dinner, this restaurant offers a variety of choices whether it be a simple and quick dish for a lunch, a light meal for health lovers during the day, or even spicy dishes for those who want to experience authentic Thai food. And of course the Lemongrass restaurant is also a good option for families or group dinners. Lemongrass offers a well balanced menu of Thai signature dishes.
Some of our favourites which we ate during our last inspection;
"Hoi Jo Buh" – a deep fried crab roll with sweet plum sauce, a great starter…
"Miang Ka-Nah" – Thai herbs wrapped in Kale leaves is the a great savory appetizer
"Som-Tam" – popular dish based on the spicy Thai favourite Som-Tam
(green papaya salad that combines all four tastes – sour, chilli, sweet and salty);
"Ho-Mok Paa" – a mousse cooked with fish, meat, vegetables,eggs and coconut milk, then
"Moo Tod Muh" – deep fried crispy pork leg which has been stewed in a broth made with very with a
secret recipe of Thai herbs, deep fried and served with spicy yet flavorful sauces.
More pictures you will find on Restaurant Lemongrass instagram page:
https://www.instagram.com/explore/locations/687402668/lemongrass-restaurant-limelight/
Here some guest reviews:
Piyush Arora from Kolkota India:
"A must visit restaurant…the kids will love the food there….
very comfortable and soothing ambience… the staff was amazing….
very helpful and understanding despite the language issues"
Nihat Kullmann
"Really good taste. They use a lot of thai herbs. Authentic Thai food. Looks very clean and not expensive."
Jürgen Dorfer from Germany:
"Sehr empfehlenswert!! Gutes Essen und nettes Personal!!"
Michael S. from Hong Hong
"Modern Thai food with all the favorites. Friendly and helpful staff. Reasonably priced. Clean.
Parking at the rear of the Lime Light Mall"
JuanKing from Scotland
"Just seemed like a little restaurant attached to a mall. Fairly uninspiring decor but clean and as it was lashing down outside, took refuge for dinner. The fish balls were the lightest I've ever had. And the tom yam soup came with a spongy, green substance that was unbelievably tasty and something I've never experienced in Thailand. Bordering on too spicy but oh, was it utterly delicious.
Staff were really sweet too, especially as I asked to change my mind 2 minutes after the order was placed.
Shame we were only in Phuket Town one night."
Lemongrass opens every day from 10 am – 12.00 am (last order is at 11 pm), there is an outdoor area for smokers.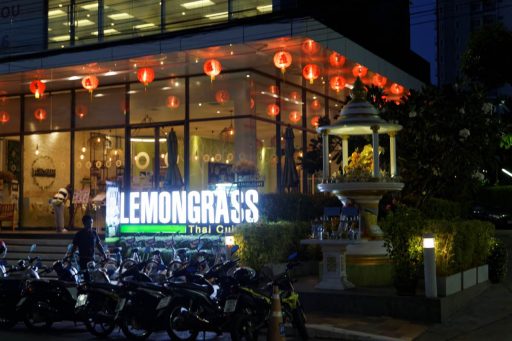 Lemongrass Restaurant Information
Distance From Bismarcks Paradise:30 km (55) minutes
Distance From Central Phuket:3.5 km (20) minutes
Price Range:150 - 400 THB
Number of Tables:10
Opening Hours:10:00 - 23:00
Address:Lime Light Shopping Mall & Avenue, Dibuk Road, Phuket Town, Phuket 83000
Telephone:076 682 999
Facebook:Facebook from Lemongrass Restaurant
Food: Service:   Ambiance:
Lemongrass Restaurant
The Lemongrass Restaurant, a contemporary Thai style restaurant, is located in the heart of Phuket Town right next of the Limelight Avenue shopping mall. The original Lemongrass Restaurant is one of the oldest Thai restaurants in Phuket and is very well known. It has been one of the local's favourites for over 14 years. The Lemongrass Restaurant concept is to offer the best home style cooked Thai dishes. Every dish never has its recipe changed, because it has and will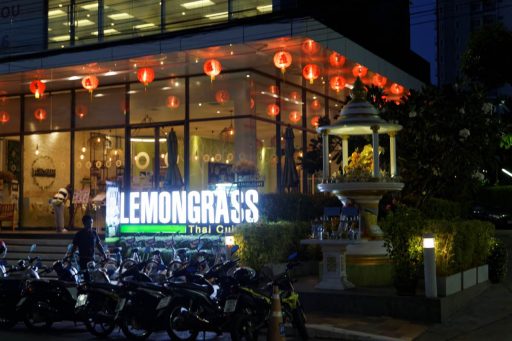 Travelers visited also these Phuket Town Tourist Spots