NO. 24 Bar and Restaurant
Tourist Attraction Nai Thon, Phuket, Thailand
NO. 24 Bar and Restaurant in Nai Thon is just 4.7 km (or 7 minutes) away from Bismarcks Paradise Phuket luxury villas resort.
Whether looking for a place to have a nice dinner or somewhere to have drinks with friends in the evening, NO. 24 Bar and Restaurant is definitely worth the stop. Situated right across the street from Nai Thon Beach this alluring Thai eatery offers the very best in authentic, local dishes as well as fresh seafood caught daily.
The friendly and welcoming staff go above and beyond to ensure everyone is looked after in a timely and professional manner. Their smiling faces and bubbly personalities create a truly inviting atmosphere topped only by the beautiful views out over the Andaman. The food is expertly prepared using fresh local ingredients, as basic Thai and seafood dishes are elevated to create some of the most mouthwatering cuisine that will keep you coming back. The drinks are inexpensive and the beer is served ice cold and in a frosty mug which, if you have ever been to Phuket before, you know is something that rarely happens.
The restaurant itself is super clean with plenty of open air dining for those hot days, and a perfectly covered dining area for monsoon season. With great views as the sun sets into the turquoise sea, illuminating the sky with pinks and purples, NO. 24 Bar and Restaurant is definitely where you should be as the day turns to night.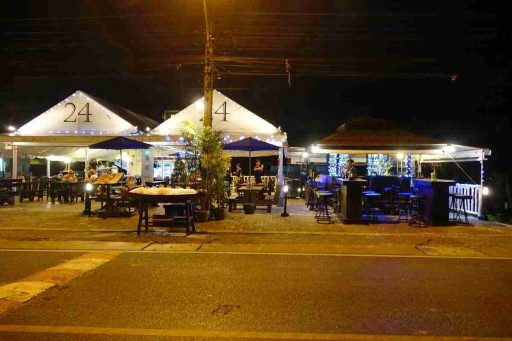 NO. 24 Bar and Restaurant Information
Distance From Bismarcks Paradise:4.7 km (7) minutes
Distance From Central Phuket:31 km (46) minutes
Price Range:180 - 350 THB
Number of Tables:14
Opening Hours:10.00 - 23.00, daily
Address:24 Moo 4, Sakhu - Nait Ton Road, Thalang, Phuket 83110
Telephone:095 412 0486
Food: Service:   Ambiance:
NO. 24 Bar and Restaurant
Whether looking for a place to have a nice dinner or somewhere to have drinks with friends in the evening, NO. 24 Bar and Restaurant is definitely worth the stop. Situated right across the street from
Nai Thon Beach
this alluring Thai eatery offers the very best in authentic, local dishes as well as fresh seafood caught daily. The friendly and welcoming staff go above and beyond to ensure everyone is looked after in a timely and professional manner. Their smiling faces and bubbly personalities create a truly i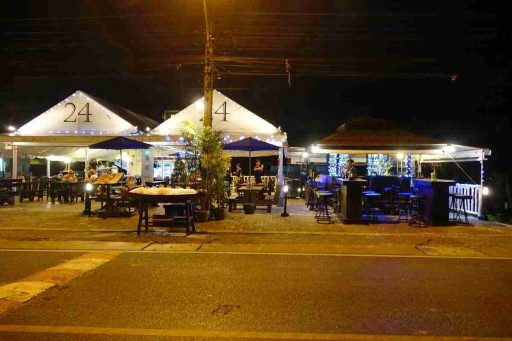 Travelers visited also these Nai Thon Tourist Spots