Tourist Attraction Nai Thon, Phuket, Thailand
Nai Thon Beach Club in Nai Thon is just 4.7 km (or 7 minutes) away from Bismarcks Paradise Phuket luxury villas resort.
If you happen to be in the Thalang area and are looking for tasty food, generous proportions, friendly staff and a stunning view, then look no further than Nai Thon Beach Club. Conveniently located right across the street from the beautiful sandy vista of Nai Thon Beach sits this unremarkable but quaint German-Thai restaurant.
With a large diverse menu offering customers a wide selection of both local and German favorites such as green-curry and chicken schnitzel Nai Thon Beach Club manages to impress time and time again. The staff are wonderfully friendly and extremely welcoming, and the food is like heaven on the plate. Recently added out front is a seafood boat with the days fresh catches waiting just for you. Although the ambiance is lacking a bit, the food and staff more than make up for it as well as the wonderful sun set views from across the white sandy beach.
While it is not a five-star dining establishment, the clean open aired dining and attentive staff sure do make it feel like a five-star experience. Their drink menu is the perfect pairing to a perfectly well rounded menu and offers cold beverages at reasonable prices that make watching that sun sink below the horizon a perfect day.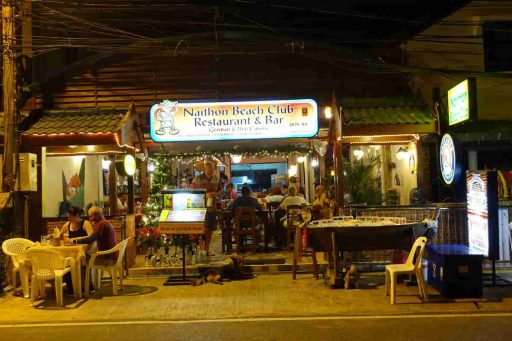 Nai Thon Beach Club Information
Nai Thon Beach Club
If you happen to be in the Thalang area and are looking for tasty food, generous proportions, friendly staff and a stunning view, then look no further than Nai Thon Beach Club. Conveniently located right across the street from the beautiful sandy vista of Nai Thon Beach sits this unremarkable but quaint German-Thai restaurant. With a large diverse menu offering customers a wide selection of both local and German favorites such as green-curry and chicken schnitzel
Nai Thon Beach Club
manages to impress time an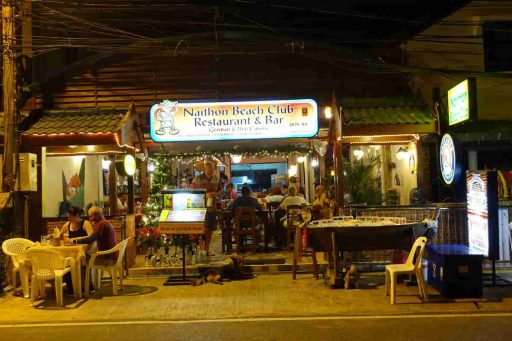 Travelers visited also these Nai Thon Tourist Spots