Karon, Phuket
Karon covers a large area from Freedom Beach, in the north, to Ao Sane Beach, in the south part of the district. It is about thirteen kilometers in length from top to bottom and about four kilometers wide at its broadest part from east to west. All in all, the area covers over twenty kilometers of beautiful Phuket coastline. Highways 4028 and 4233 are the major roads through Karon. Besides, it's easy to reach Karon Beach and the village with the daytime local bus services plying the route to and from Patong Beach.
Karon Village is unusually large and encompasses
Kata Beach and Kata Village
as well in its boundaries. Therefore, it's safe to say that you'll find about anything you need (in Karon itself) during your visit to Phuket.
In the center of the village, you will find a great choice of dining, shopping, and nightlife entertainment opportunities. Some of the best bars in Phuket are located in this area, although mainly busy during the high season. Quite a few expats live in Karon and Kata, as it is by far more quiet and less expensive than life in the forever busy Patong Beach area.
Around the beach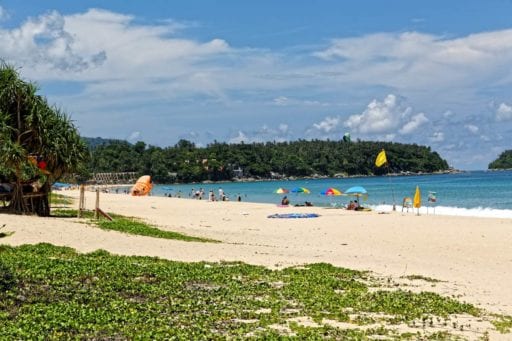 Karon Beach is a lovely white sand beach, very popular during high season, just over three-kilometers-long on the southwest coast of Phuket. This beach enjoys the distinction of being the third biggest (longest) beach in Phuket. It is excellent for swimming, and snorkeling is pretty good at the southern end near the rocks. The road alongside the beach is long and perfect for running, walking, pushing a stroller, or just sitting around and watching people and birds frolicking.
At the north end of Karon Beach is Nong Harn Lake Park, Phuket's most extensive and agreeable beach-side park. They have excellent paths for jogging, cycling, rollerblading, or just walking around. It is also perfect for families with kids. There are some playground apparatus, such as swings and slides, which kids will certainly enjoy.
On the south end of the beach is another kid's favorite, the Dino Park Mini Golf facility. Kids can get all-day tickets to play as much as they want, enough to keep busy for a few hours. There is also decent food and snacks available at the restaurant.
A lot of shopping opportunities can also be found along the beach and even more inland. Just take one of the streets leading away from the beach. There you'll find luxury resorts, hotels, hostels, coffee shops, ice-cream shops, and tourist stores of all kinds waiting to welcome you with open arms and big smiles.
Where to eat?
A few restaurants to try in Karon:
Highway Curry offers Indian and Thai Cuisine on Patak Road, up near the mountains. It has excellent reviews. It serves authentic Thai and Indian food for lunch and dinner.
Karlsson Restaurant & Steakhouse gets good ratings for food and service. It's is an open-air restaurant and sometimes gets breezes. It's located just off the beach in the center of Karon Beach.
On The Rock Restaurant is located at the southern end of Karon Beach, on the rocky bit. It gets exceptionally high ratings for food and service, with amazing views, large portions, but with prices slightly higher than the average food cost in Karon. The sights and cuisine quality makes it worth for most people.
Where to stay?
There are also a few nice resorts to stay in Karon, such as the Centara Villas Phuket, the Hilton Phuket Arcadia Resort & Spa, and the Mandarava Resort & Spa, to name but a few.