Nai Harn in Phuket
Nai Harn is a small village/beach about 20 kilometers south of Patong, on the southeasternmost tip of Phuket Island. Sometimes called Nat Nai Han and often spelled differently, it usually refers to the same place. This spectacularly scenic area is a world away from Patong Beach!
You'll probably encounter some traffic on the roads leading there as it is very near Promthep Cape, a big tourist attraction for people driving around the island. However, luckily for you, not too many people stop in Nai Harn or even visit the beach, thus ensuring a relatively crowd-free experience.
The Beach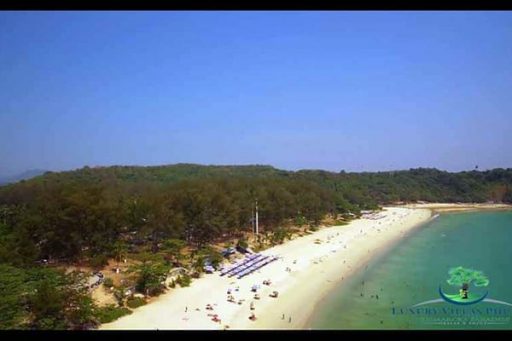 Nai Harn Beach is one of the island's most visually stunning beaches.
The Google Earth satellite view shows it as an idyllic bay and beach set among vast expanses of dense forest and plantations.
In the harbor are yachts and catamarans from all over the world, the beach being a frequent anchoring point for travelers by sea. Indeed, the bay does offer a particular protected anchorage for all sorts of boats.
The sandy beach sits between small hills, a lake, some tiny islands, a Buddhist temple, and several pleasant resorts. There is also a little freshwater pool area between the lake and the ocean where kids can play. It's like a big water-filled sandbox!
Ao Sen
Ao Sen Beach is also in Nai Harn, a little harder to reach from the road but easy to see from the beach (it's on the north end). To reach it, you have to use the road running below The Nai Harn hotel. Moreover, from there, the views are excellent. Similar to the hotel, but it is more remote!
Promthep Cape
While in Nai Harn, you should take a few hours to go over to Promthep Cape (Laem Phromthep) and explore. Several paths lead down to the rocky point, and the kids will probably enjoy the walk even more than you. The sights from there are certainly worth the trip!
Additionally, if you happen to go in the afternoon, you can enjoy dinner and a jaw-dropping sunset at the Promthep Cape Restaurant. Great food with excellent drinks and a magnificent panoramic view!
Where to stay?
The Nai Harn, on the far north side of the beach, is a great place to stay. A 5-star resort with picturesque views wherever you turn!
It overlooks the windmills on the hill and the Promthep Cape as well as a myriad of close-by islands.
Besides, rates are pretty reasonable, considering you get clean and well-appointed accommodation, great food and service, and awesome sunsets.