Kata Noi in Phuket
You'll find the village of Kata Noi (Noi meaning small in Thai), a tinier area of Kata, just south of the main village, a bit further away from Patong Beach. You can reach Kata Noi by taking Highway 4233 south from Kata, and be right there in minutes.
The Beach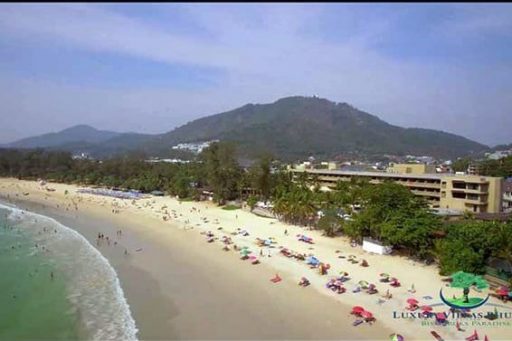 Kata Noi beach, nestled in a small bay, is more or less one of Phuket's southwestern coast hidden treasures. With just over 700 meters (766 yards) of soft sand space, this is a virtual paradise for the few people who know the beach, especially during the low season. The closest road is almost 100 meters (109 yards) away from the beach. Therefore, it's much quieter and more secluded than big sister Kata Beach, which has a road running right beside it.
Kata Noi Beach is more peaceful than most of the beaches on Phuket. If that's something you are looking for in a beach, this one is perfect! Although one of the smaller beaches in length, it is as wide as most of Phuket beaches, at around 30 meters (33 yards), and provides superb views. The beach is excellent for swimming, with a bright spot free of rocks in the center.
Swimming and snorkeling are perfect from November to April. The north and south ends have plenty of submerged rocks to explore for fish and other sea life. Bring your snorkel gear! The water is ultra-clear during high season, and yet the area remains relatively uncrowded. An ideal spot to get away from the crowd! Additionally, it's frequently great for surfers from May to October.
Viewpoint
If you're on the hunt for breathtaking photos, take the time to go to the
Karon Viewpoint
on Highway 4233. It sits on the hills south of Kata Noi on the way to Promthep Cape. Therefore, you can take photos from high up on the hillside of three beaches - Karon, Kata, and Kata Noi - that lie next to each other down the cliff.
Morning photos can be perfect, as the sun is behind you in the east!
As for the sunsets, there might be less blue in the water, but they can be quite mesmerizing as well!
As you're already most of the way there, you should head straight to Promthep Cape restaurant, just fifteen minutes down the road. There, you'll also be able to enjoy excellent views of the sunset, plus delicious Thai and seafood. You will as well pass by two more nice beaches: Nai Harn and one of our personal favorites Ya Nui!
Where to eat?
Following are a few restaurants you can go and enjoy a nice meal in Kata Noi:
Leonardo Da Vinci Restaurant specializes in Italian cuisine and seafood. It has received the best reviews of all the restaurants in Kata Noi.
Promthep Cape Restaurant offers a fantastic panoramic view, and serves excellent food, as we already mentioned above.
Where to stay?
There are a few highly rated resorts, such as Katathani Phuket Beach Resort, and The Shore at Katathani, if you are looking for a place to stay in Kata Noi.