Phuket Pool Villa Lotus
190m2 Living Space
3 Bedrooms
3 Bathrooms
Private Pool
7/7 Housekeeping
Butler/Concierge Service
Overview of Phuket Pool Villa Lotus
Vacationing in Phuket with family or friends? Our large 3-bedrooms and 3-baths Phuket Pool Villa Lotus is undoubtedly a unique way to ensure you have the best vacation ever.
With over 2,000 square feet of living space, Villa Lotus is more like a house than a Phuket vacation villa. Choosing a large pool villa to stay in with a group is something you may not have considered before. Or perhaps you have already done so and had something to compare against our villas. Either way, you're going to be pleasantly surprised at just how good our luxury villas get!
With starry night skies and dramatic clouds during the daytime, Phuket Pool Villa Lotus is your warm and relaxing oasis of tranquility. Your romantic luxury villa is going to be a different experience from the second you step out of the carport, climb the few steps, and see it for the first time. Your first clue on how different it just might be: the thirteen palm trees, flowers, and the grass yard!
A Swimming Pool Villa for Family and Friends
Many guests waste no time jumping into Villa Lotus' large sun-heated swimming pool! A lot of thought went into our pool and pool-patio area. The pool is about 21 feet long and 12 feet wide in a unique oval shape. On one side are strong Jacuzzi water jets where you can sit and enjoy a bubble massage. There is also a helpful step section for kids to ease transitions in and out of the water.
Water is kept clean with an in-pool filter, and your pool man comes around daily in the morning to skim the top. Pool water is slightly salty, with naturally made chlorine created through an electrolysis process with the salt. Better than dumping buckets of powdered chemicals into the pool. Don't you think?
Pool tiles are kept clean with regular scrubbing. And you can also clean yourself off before going for a dip with your convenient outdoor shower.
We believe that one of the things you're going to love the most about our Phuket Pool Villa Lotus is the saltwater swimming pool!
Additionally, the pool deck is extra-large and quite functional. You can eat outside at your hardwood table with seating for six, rain or shine. We have a large overhanging roof that covers the pool deck area. Therefore, very helpful during the frequent 10-minute rain showers Phuket is known to get.
We as well have four full reclining wicker beach chairs on the pool deck and a large covered sunbed in the grassy yard, ideal for naps or in-call massage we can arrange for you as you wish.
All our pool villa electrical switches are equipped with F.I. circuit breakers (up to German safety standards) and are also childproof. Bathroom and outdoor outlets are covered, and child-safety adapter plugs are available.
Pool Parties, Steaks on the BBQ… Phuket Pool Villa Lotus is Ideal for Your Group
Our 3-bedroom/3-bath Villa Lotus and the bigger 4-bedroom Villa Eden properties are perfect for larger groups who plan on spending a lot of time together.
The large covered pool patio was specially designed to be the center of entertainment. Even when it's raining, you can enjoy meals or conversations on the patio without getting wet. As, occasionally, some very windy storms come along, the large sliding glass doors were designed to close quickly and securely, keeping you dry inside.
Most of our guests have at least one outdoor pool party with barbecued steaks and seafood during their stay. You might want to have one yourself! Your chef will cook for it during regular hours at no extra charge, except for the food cost.
If your party goes into the night hours, there is ample lighting around the patio, pool, and yard. Highlights of past guest visits have been these pool parties. Some even have them nightly!
Pamper Yourself with Round-the-Clock 5-Star Service
We spent hundreds of hours researching the current state of luxury villas in Phuket before building Villa Lotus and our other villas. Our goal was to create an experience that surpassed everything available on Phuket Island. Therefore we decided to differentiate our villas from others with the level of service accessible to our guests.
Khun Nu, who has been with us for years, will provide full-time butler service. He speaks English well, therefore you'll have no trouble at all communicating with him to plan events, day-outings, meals, and more. If any minor maintenance or repairs are needed, we usually can take care of it immediately, or within 24-hours for major ones. If you query other Phuket pool villas anywhere on the island, you won't find the same level of service.
Some guests take advantage of our full-service offer and have their meals made, laundry done, beds turned down, pool parties organized, and in-call massages. Others are somewhat timid and possibly don't feel comfortable having someone do things for them. We hope you do try all of our services at least once during your stay. Besides our beautiful grounds and accommodation, this is what separates Bismarck's from the competition.
Full Service Includes (no extra payment)
• Your butler and maid will help with any questions to help make your stay the best it can be.
• Electric, water, fiber-optic internet with Wi-Fi
• Unlimited Netflix movies
• Complimentary breakfast and welcome package
• Cooking any meal during the maid's regular hours
• Round-trip transportation to Phuket International Airport (5-day stay)
• Tablet with help menu PDF's and GPS for travel
• Phone to keep in touch with your butler for any problems or questions
Available with Extra Charge
• Food for meals
• Cooking after hours
• Beefer – specifically for cooking steaks to perfection at 800°C
• Hard-to-find foods – wine, beer, barbecue meat, bread
• Babysitter
• Extra bed
• Other transportation to the beach, etc.
Maids (housekeepers) are on duty for 7 hours each day starting in the morning from 9 am. Butlers stagger their shifts, so they are at the villas 24 hours a day.
We've done our best to create an atmosphere that is comfortable for you – like having the comforts of home without stress. After all, you're on vacation, so everything that can be taken care of for you should be. Just relax and let us show you how we can get the stress away.
While you're looking at our Phuket Pool Villa Lotus and deciding if you book your stay with us, don't forget we also have other villas that might interest you! We also have a large 4-bedroom/4-bath – Villa Eden – for families or groups, and another 3-bedroom/3-bath – Villa Orchid. Finally, we have – Villa Jasmine – an extra-large (we mean massive) 2-bedroom/2-bath villa for guests who need a lot of space. We think this is the biggest 2/2 luxury villa in Phuket!
Moreover, all of our villas have top-quality furniture, appliances, attention to detail, and full-service staff. We hope you do decide to try us out for a couple of nights' stay for your vacation this year!
One of our guests recently remarked that she felt like every day in Villa Lotus seemed like a week of relaxation. You're going to feel the same, we know it!
Even More Food Options
We've already mentioned that your full-time chef can cook for you anytime you ask. All our chefs are trained to make an assortment of excellent Thai and western-style food. We do hope you'll try out this service because well, we're quite proud of our staff. It's one of the things that sets us above other run-of-the-mill Phuket Island villas, some of which don't even have anyone on-site to help with simple tasks.
If you feel like cooking yourself, you surely can! Just ask your maid or butler to find the ingredients you need. Or we can tell you where to go to the market for fresh vegetables, seafood, meats, and all the other essentials. Of course, we do have common spices and a full set of tableware and silverware in the kitchen cupboards.
Each of our villas has a large kitchen with lots of counter and cupboard space. You'll enjoy an oven, burners, induction plate, microwave, and other appliances to help you cook whatever you have in mind. Don't forget your outdoor gas BBQ on the patio! Put it to use!
You can eat your meals on the outdoor patio, or we can move the table inside if you prefer. Phuket's weather can be variable, and quite often will change a couple of times each day. Our villas are designed to bring happiness wherever you are on the property.
If you feel like eating out at a nice restaurant, your butler can suggest some excellent dining possibilities.
Phuket Pool Villa Lotus – Your Oasis of Peace, Quiet, and Privacy
You'll notice our villas are close to the Airport. We're close enough to reach Phuket International Airport (HKT) very quickly in most traffic situations. What you might not have guessed is that we're also far enough away that we very rarely even hear a plane taking off or landing.
Really! We're in the perfect spot, on the opposite side of a hill as the airport runway – which is just 2.5 miles away. Just another reason we chose this location for our villas.
Our villas are the highest on the hill, and there is nobody above us to make noise that might carry down to us. When you step outside and look around, you'll see lots of trees on other hills in the area. There are very few other rental properties or local homes around, and we rarely have to contend with any annoying sounds coming from outside the villas.
Few dwellings in the area mean fewer people drive vehicles. We also have no problem at all with through-traffic affecting us. Phuket Pool Villa Lotus is set up above a small road. It's thus rare to even notice any traffic using it.
On the right side of our villas is some agricultural space with banana and palm trees. On the left side is a lot of greenery and a home that also has a wall and is surrounded by trees, bushes, and other plants.
Our four villas are on the same tree-covered hill with one above another and two side-by-side. Villas were designed to be separated by privacy walls. There is no view of guests in other villas from your villa, but you may occasionally see someone on the same road leading into the carports.
Our outside gate is operated by remote, making it easy for guests to get in and out. Besides, each villa has a carport with another automatic gate. Both gates are controlled by one remote.
If you're concerned about privacy, choose one of our villas, we know you'll be more than satisfied.
Phuket Pool Villa Lotus Entertainment Options
At Your Villa
Phuket Pool Villa Lotus has a brilliant sound system – high-fidelity with a large entertainment center featuring a massive wide-screen high-definition TV with Blue Ray DVD and stereo. The TV serves as your computer screen. So you can check your email or stream YouTube or Netflix videos for free anytime.
All of our tech-savvy guests appreciate our lightning-fast fiber-optic internet speeds. Of course, you'll be able to enjoy Wi-Fi access anywhere in the villa.
For those of you with a literary passion, we also have a library of German and English fiction books in each villa.
Our large private pool is never too cold as it is continually heated by Phuket's sun through mostly clear skies. One raved about the feature of the swimming pool is the inbuilt Jacuzzi. Relax on a submerged ledge and let the strong bubble jets wash away the stresses of life.
Moreover, if you get too relaxed, you can choose from four pool recliners or head over to your covered daybed and sleep outside without fear of sunburn. Some residents move one of the outside lawn fans to point toward the daybed when the wind is not strong enough. What a perfect way to enjoy your vacation!
Your pool deck recliners have extra-large beach towels that help add comfort while you sleep, read a book, or go online. We also have giant umbrellas in case the sun is too bright.
We talk much about the pool and deck because it is the area where our guests tend to spend a lot of time. Children will love our pool toys. Each villa has several bodyboards and floats to play around on. Parents will also appreciate the clear sight of the pool from inside the common areas.
We know how important it is for parents to have everything they need for children. We offer the most extras for children that you'll find in any Phuket Pool Villa. Check out our list below.
• Children's car seats
• Highchairs
• Baby cots
• Rubber rings to toss
• Armbands and baby monitors
• Beach tent (80% UV safe)
• Plastic children's fence (can be placed anywhere)
• Inflatable baby pool
• Inflatable pool/beach toys
• Tools/toys for sand
• Toys and classic games for kids – German
• Toys and classic games for kids – English
• Fins and swimming goggles
• Bodyboards (like short and wide surfboards for kids to play on)
• Nintendo Switch Console + lots of games appropriate for all ages
For the ultimate in entertainment at your villa – arrange a pool party with a poolside steak and seafood barbecue. We enjoy doing this for you, and it creates an ideal atmosphere to reconnect with family and friends.
Outside Entertainment
Phuket is an island filled with things to do. It just depends on where you want to spend your limited time.
From Phuket Pool Villa Lotus, you can easily travel to any of Phuket's beaches, golf courses, restaurants, and shopping districts. The entire island is only around 30 miles long and 11 miles wide at its most extreme points. Traffic can be a factor, so we suggest you plan most of your distant excursions, beginning early in the morning if possible.
For your transportation needs, we can supply you with a car or a pickup truck rental. If you're skilled on a motorbike, we have a couple of automatic scooters available, as well. Let us know when you book if you require a vehicle, so we can make sure to have one available for you when you arrive.
Shopping!
Though Phuket is an island, there are plenty of shopping opportunities scattered throughout. Feel free to drive around to all of the places mentioned below for general shopping.
Phuket City (town) is where you'll find shopping malls like the massive Central Festival Mall and other large centers.
You'll probably be spending some time in Patong Beach where there are also plenty of small shops and big malls to visit. Rawai, Karon, and Kata areas also have a bit of shopping you might enjoy.
If you need some small and maybe hard-to-find items, you might first ask your butler if he can source it out for you. Our butler is highly resourceful!
Phuket Beaches You Shouldn't Miss
We may be a little biased, but we're going to tell you anyway. You must visit (at least) the three beaches that surround our villas. The beaches are Nai Thon, Nai Yang, and Banana. Nai Thon and Nai Yang beaches are long and wide, like many of the beaches on the west side. Banana Beach is set in a private cove and takes a bit of adventure to reach it, but you're going to love it!
You can reach all these beaches easily and quickly. These are some of the most exquisite west-coast beaches on Phuket. We hope you find the time to stop by for a bit.
Honestly, you cannot go wrong visiting any of the beaches on the west coast. However, east coast beaches are rather muddy and unclear, not ideal for swimming.
Patong Beach, which you've probably heard about already, is not so much the ideal picture-perfect beach that you might be expecting. After all, it's a beach alongside a big and dense tourist city. It's sometimes too crowded, but there is always something to see and do there. A visit to Patong is usually on the schedule for most guests – especially if you haven't yet seen it.
NORTHWEST ISLAND ACCOMMODATION AT BISMARCKS LUXURY VILLAS PHUKET – FOUR TIMES MORE INTERIOR SPACE THAN HOTEL ROOMS + YARD
Facilities / Amenities – Phuket Pool Villa Lotus
Villa Lotus Extras
You're going to absolutely love Villa Lotus – here are just a handful of reasons why.
Unique Phuket Pool Villa Lotus Features
One of the largest 3-bedroom 3-bath luxury pool villas on Phuket Island
Stunning yard with private pool and Jacuzzi jets
Separate outdoor m/f restrooms and outdoor shower
Peaceful and quiet like you'll never get in Patong or some other areas
Coffee-making options you'll love include an espresso maker
Dine inside or outside
High domed ceiling brightens common areas
24/7 butler service as needed
In-villa chef for meals
Pool parties (recommended)
Modern electronics – wide-screen TV, stereo, DVD, Netflix, fast internet
Very convenient to local beaches and things to do
Very short drive to Phuket International Airport
Central hot water tank – no dangerous electric heaters in showers!
An entire glass doors wall opens to the outside – blurring the distinction between inside/outside
Micro Details You'll Love
Bring your pet, our enclosed areas are great for well-behaved pets
Digital scale to weigh yourself – you know, just in case
Towels folded like animals (swan, elephant, etc.)
Lotus flowers sprinkled around your villa – a pleasant surprise
First aid box & fire extinguisher for emergencies
Easy access to hospitals
Defibrillator available
TV on a timer – shuts off if you fall asleep in front of it
Backup lighting in case of a power outage, flashlights, easy-to-find light switches
Central hot water – no dangerous electrical heating boxes in your shower
Giant pool towels cover the entire recliner
Domed ceiling with starlights
Tubes and bodyboards for kids in the pool
A large overhanging roof – can leave sliding glass doors open in the rain
Mitsubishi high-quality fans
Rental vehicles and motorbikes available
Child safety caps over A/C outlets
Bedrooms
Phuket Pool Villa Lotus is one of two large 3-bedroom 5-bath villas at Bismarck's Luxury Villas. The master bedroom opens to a hall on the pool deck while the other two bedrooms are more private. Each bedroom has air conditioning and ceiling fans. If you prefer, you can pull one of the portable floor fans from the common area into your bedroom.
Also, all the bedrooms are tastefully decorated in a Balinese-Thai style and furnished with a big wooden king size bed. Furthermore, an abundance of closets, drawers, and shelf space will keep your bedroom area looking tidy. If you'd like, you can ask the maid to tidy up. There is a hamper basket in each room for dirty clothes, as well. Your maid will wash, dry, and fold your clothes as part of the full-service experience you'll quickly come to love.
The furnishing is updated yearly as necessary. We pride ourselves on featuring real up-to-date villas!
Bedrooms have lots of counter space, ideal for holding mobile phones, notebook computers, and tablets. The Wi-Fi also works well in any part of the villa.
Each bedroom has an adjoining large full bath, spacious enough for two people to use at the same time. The master bedroom restroom has a glass-enclosed shower and a large sink. There are windows in each bathroom to let the steam out – or keep it in – up to you! Wall-to-wall tile is light in color, and there is even crown molding in the restroom.
You can reach the master bedroom from the swimming pool without going through the common area. Likewise, you can easily access the swimming pool restrooms for guests from the pool patio.
Kitchen
Villa Lotus's kitchen is functionally complete and frequently updated. You'll find everything you need to get started making Thai food or anything you bought at the grocery store nearby. We hope that at least for a portion of your stay you'll use your private chef to cook for you and your family. It's all part of our commitment to full-service villas, unavailable anywhere else. You only pay for the food your chef will buy fresh from the market right before your meal.
If you need after hours-dinners, we can do that too! Have a party at your pool! There are many options for eating at our luxury pool villas, and we do hope you explore some of them.
Don't forget that we have a large outdoor barbecue grill for cooking steaks (we have them!), seafood, or whatever you're in the mood to put on the grill. Hot dogs and hamburgers? Can do!
If you're a coffee or tea drinker, we also have you covered. We encourage you to bring your favorite tea or ground or capsule coffee (Capsule Coffee machine available on request). However, we do have coffee beans to use in your espresso machine, and also freshly ground coffee in a bag that many people prefer.
Feel free to fill your refrigerator with fruit and whatever you need to snack on during the day. If ever you need to know where the convenience stores or shopping centers are. Just ask, we love to help.
Phuket Pool Villa Lotus kitchen is well-equipped, matching European standards and leaving nothing to be desired. For cooking, you'll have two gas burners, a microwave, and a full oven. We also provide modern silverware and plates as well as a toaster, blender, filter coffee maker, espresso machine, rice cooker, set of cooking knives, and other helpful tools.
The kitchen countertop is marble, and the sink has a large basin. Hot water is available at every sink in the villa.
Common Areas
This villa's wide-open floorplan is not unique among our units, in fact, it's a common theme, and one we insisted on during the planning and design phase.
All spaces connect, bringing the magic of Villa Lotus to life. From all areas of the unit, you can see the outside, whether the large sliding glass doors are open, or closed. With the open layout, it's easy to communicate with friends and family anywhere in the villa – unless they are in the privacy of their own bedroom.
Keeping track of youngsters as they play in the yard or swimming pool is also made easier with the open layout. Our villas were designed with guests of all ages in mind.
Villa Lotus, just like the other villas in our complex, has a high-fidelity stereo/DVD system with excellent sounding speakers that reach to the far corners of the villa as well as outdoors in the yard.
Everything in our villas is built to last. You'll find local hardwoods as well as local and foreign-made furnishings and appliances.
Your very own private luxury villa in the quiet rolling hills of Phuket is what you'll find at Bismarck's Luxury Villas.
Outside
When you get a chance, have a stroll outside around your spacious yard. We especially paid attention to details such as the size of the swimming pool and pool deck (large), and quality furniture for tanning in the sun or sleeping on your day bed. We added an outdoor shower and foot wash to make it easy to rinse off after a swim. Furthermore, there's even a Jacuzzi in the pool for those times when you need a little extra pampering.
The small details took a little more thought and planning, but we think you're going to be pleasantly surprised. You'll find more than a dozen palm trees in and around the yard, as well as a wide variety of bushes and plants flowering throughout the year. We also added orchids to many of the trees, and they are often in bloom. At some point during your stay, you most probably cannot help but notice your privacy wall lined up with about four-dozen flower pots!
Your villa is not only on a hill between beaches, but you'll also enjoy extended mountain sights from all around you in every direction. When you find us on a map, you'll see that most of what surrounds our villas is rainforest. On the other side of the hill is the beach!
We believe this is an ideal location for your vacation if you are looking for privacy and a quiet place to spend some time away from the city noise and hectic life.
Many guests have commented that they love our saltwater swimming pool and near-constant breezes. Water temperature is always comfortable, with an average in Fahrenheit of 84-86° all year long.
Also, you won't notice any overwhelming smell of pool chemicals while in or out of the pool. Therefore, you won't have to scrub them off your skin – you'll have no residue after a swim. These small touches make the extra effort of the saltwater pool well worth it!
Your pool is cleaned daily for you. And the filter is turned on for a couple hours to start the day. If you have guests over at the pool, we have separate male and female restrooms behind the outdoor shower. That's five restrooms in total.
Superfast internet Wi-Fi and music from your high-end sound system efficiently reaches the pool, and most guests really appreciate these features. Once you get settled in one of your sun loungers, it might be hours before you bother to get up again!
Facilities
Property Type
Villa (Detached)
Accommodation Type

Combination of catered and self-catering (the housekeeper takes care of cleaning, washing, and cooking)

Bedrooms

3 Bedrooms, Sleeps 6
Extra Large Double Bed (1.9 x 2m) in each bed
All bedrooms fitted with air-conditioning, ceiling fan, and mosquito nets
Child Beds (Baby Cot) available.

Bathrooms

First Bathroom - Toilet / Shower Enclosure
Second Bathroom - Toilet / Shower Enclosure
Third Bathroom - Toilet / Shower Enclosure
Outdoor Shower & Guest Toilet

Dining

Dining Area, Seating for 6

Floor Area (m2)
190
Location Type

Near the sea, Mountain

Theme

Luxury, Family

General

Safe, Telephone, Laundry Soap, Staff, Private Chef, Paper Towels, Towels Provided, Local Maps, Linen Provided, Washing Powder, Bottled Water, Massage, Filtered Water, Mosquito Protection, Local Activities Guide, Snake Protection, Toilet Paper, Events Allowed, Air-conditioning, Shampoo, Daily Maid Service, Water Cooler, Ceiling Fans, Hair Dryer, Soap

Kitchen

Fridge, Stove Top Burners, Freezer, Oven, Kitchenette, Toaster, Spices, Iron & Board, Washing Machine, Cooking Utensils, Microwave, Electric Grill, Filter (and french) Coffee Maker, Espresso Coffee Machine, Capsule Coffee Machine on request, 4 Ring Stove, Waffle Maker

Entertainment

Games (all ages), Books, Fiction/Non-Fiction, TV (satellite or cable), Stereo System, DVD, Video Library, Games (kids), Books, CD's, Radio

Internet Access

Wireless Broadband, Notebook available

Communication

Mobile Phone, Notebook

Outside

Terrace, Garage, Conservatory, Veranda, Outdoor Gas Grill, 8 Garden Chairs, Garden, 4 Sunloungers, Barbecue, Thai Style Bamboo Sala for 2

Swimming Pool

Private Pool

Suitability

Suitable for elderly or infirm, Long term rentals available, Children welcome, Pets considered, Low allergen environment

Local Activities

Fishing, Mountaineering, Swimming, Diving, Water Skiing, Surfing, Cycling, Sailing, Golf, Windsurfing, Mountain Biking

Onsite Services

Housekeeper, Butler, and Massage Therapist available

Onsite Equipment

Beach Towels, Car Optionals, Deck Chairs

Attractions

Water Parks, Marina, Rain Forests, Museums, Bay, Caves, Equestrian Events, Cinemas, Fitness Center, Forests + Groceries, ATM/bank, Launderette (serviced), and Hospital

Leisure Activities

Fishing (Deep Sea/Freshwater/Whitewater), Sightseeing, Beachcombing, Rafting, Outlet Shopping, Jet-skiing

Nearby Attractions

Reefs, Scenic Drives, Restaurants, Waterfalls

Nearby Services

Medical Services, Babysitting
Floorplan
Picture Gallery Phuket Pool Villa Lotus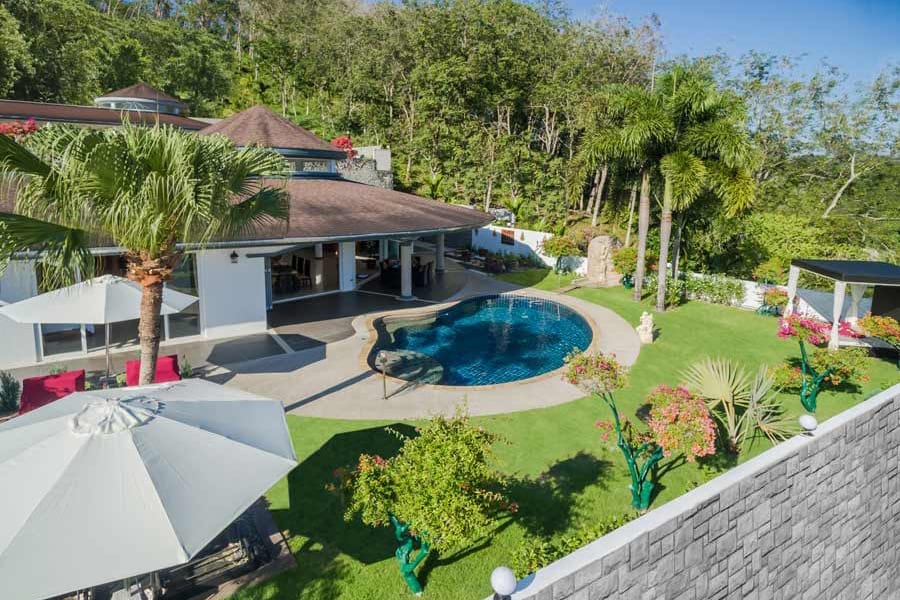 Guest Reviews Phuket Pool Villa Lotus Bismarcks Paradise

Reviews for Phuket Pool Villa Lotus
Bismarcks Pool Villas Selection
2, 3 & 4 spacious bedrooms: well-lit private luxury pool villas that are surrounded by landscaped tropical gardens and combine western quality building standards with Thai furnishings and handcrafts.