Events and Festivals
Phuket, Thailand
Read Introduction
Festivals in Phuket
Phuket is one of the most culturally rich provinces in all of Thailand. With its large population of Muslims, Chinese immigrants, international expats, and migrant workers from surrounding countries, the festivals brought by such a diverse crowd are some of the most spectacular celebrations around. And that is without taking into account the traditional Thai festivities!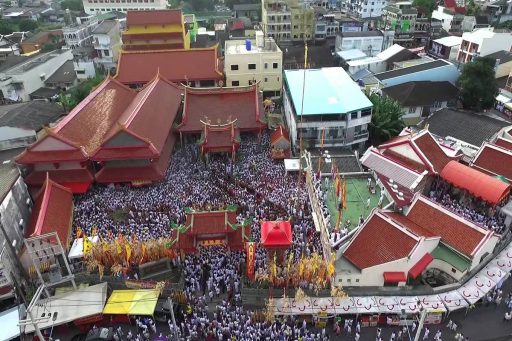 The four main Events and Festivals taking place annually in Phuket:
Songkran (Thai New Year) in April
Loi Krathong in November
The Vegetarian Festival in October
Chinese New Year at the end of January(or early February)
These celebration are the busiest festivals in Phuket, drawing in crowds from all over the world.
There are also other notable events and festivals celebrated in Phuket:
Phuket Bike Week (April): meant to signify unity among Asian bikers
Phuket King's Cup Regatta (first week of December): Asia's biggest sailing race, launched on the late King Bhumibol Adulyadej 60th birthday in 1987
New Year's Eve (December 31st): celebrated at the stroke of midnight with fireworks and paper lanterns at all major resorts and establishments
There are a few more holidays, like Christmas and Easter Sunday, also observed and celebrated with special events and festivities. But there is no, or barely, any time off work for those 'out-of-the-Thai-calendar' celebrations. Nonetheless, a few stores will stock essentials such as decorations, trees, gift wrapping, and so forth. And the bars will be more than happy to provide all the entertainment you might want or expect.
* See below for more information on other local events and festivals in Phuket.
Read Less