Phuket Villa Rental Orchid
190m2 Living Space
3 Bedrooms
3 Bathrooms
Private Pool
7/7 Housekeeping
Butler/Concierge Service
Overview of our Large 3/3 Luxury Phuket Villa Rental – Villa Orchid
If you are looking for a large 3-bedroom / 3-bath (+2 pool restrooms) Phuket Villa Rental, we have one of the most exquisite properties on the island for you here at Bismarcks Luxury Villas. Indeed, our Villa Orchid will easily accommodate six guests comfortably, plus we can add a few beds for kids without any problem.
We also have a larger unit – Villa Eden – a massive 3,000+ square foot villa with all the comforts of the Villa Orchid, added space, and one more bedroom.
Regardless of which of our Phuket Villa Rental units you choose to stay in, we are sure you'll rest easy and luxuriously! We have three staff assigned with the responsibility to ensure you are taken care of most graciously.
Villa Orchid has a comfortable amount of space for six to eight persons, including children. You will find the interior and grounds quite spacious and built to high standards. If you've previously stayed at other villas in Phuket or anywhere in Thailand, you'll appreciate this! Furthermore, these are just two of the significant distinctions between your experience with us versus staying elsewhere.
Our Villa Orchid sits between two other villas on the hill, but you won't even notice them. Besides, there is no direct line-of-sight to other units. Guests of all our villas enjoy unparalleled privacy from the rest of the visitors staying with us. Therefore, it's unlikely that you will even see any of the other guests as everyone is on their very own schedule while on vacation.
Our focus at Bismarcks Luxury Villas is to make sure you enjoy your stay so much that you return the next time you plan to be on Phuket Island.
Pulling up to the front of our property, you would hardly notice that we have seven large villas behind the security gate and stone walls. We have two butlers that will let you in through the front gate and direct you up the hill to the second villa on the left – Villa Orchid, your home for the next few days.
The carport entrance is wide enough to accommodate a pickup truck or SUV. And, if you need a rental vehicle, we can arrange that for you. We do have a pickup truck on-site, and we can also help you find other transportation as needed.
Your carport is covered, and quite large. If somebody in your group rent motorbikes (scooters), you can easily fit them alongside your vehicle with plenty of space.
You'll be pleased to know we've designed a separate building next to your villa, which is for your housekeeper. That way, she can take care of cleaning and ironing clothes and linens without getting in the way or making noise inside your villa.
If you need anything extra, there's a chance your housekeeper can locate it immediately for you, so don't hesitate to ask.
To reach your luxury pool villa, you'll climb a small set of outdoor steps and arrive on your large pool patio. Your villa is on the right side, and the expanded yard is on your left. Be aware that our pools are always clean on arrival, ready to cool you off, and set the tone for the rest of your vacation. So, why not plan on getting in right after you arrive?
Depending on what time you arrive, you'll be meeting with your housekeeper "Khun Nu". "Khun Nu" is your butler who can be counted on for whatever you need. He speaks English well, and you shouldn't have any problems communicating your needs to him during your stay.
You'll receive a tour of your villa unit and the grounds to acquaint you with where everything is. We think you'll be astonished at just how much effort we've made in supplying just about everything you could perhaps want in your villa. Again, if anything is missing, do let us know!
Starting with the yard, because you're there already, you'll notice your large pool deck and saltwater swimming pool. We put extra effort into ensuring the pool area is safe and ready for kids. There may or may not already be pool toys floating in the pool, stored in a large wicker box close to the outdoor shower.
Few villas have any green grass area in Phuket, but every one of our Phuket Villa Rental does have! Likewise, our magnificent (supersized 2-bedroom / 2-bath) Villa Jasmine, with its pretty large yard, is probably the one you should try if you are four adults or fewer and looking for plenty of space. It is the villa with the biggest garden on our property.
You'll probably notice that your yard feels a bit like a private nature area. There are so many birds that pay a visit, especially in the early morning hours. Wake up early to get a look and some photos! Of course, the birds are here because there are many trees and bushes in and around the villa.
Villa Orchid has a large covered outdoor day-bed that protects from the sun and light rain. As the sides are open, and if it does rain, you can quickly switch over to a recliner with a large umbrella or pull one under the large pool deck roof. Mosquito nets are hanging on all sides. Therefore, if privacy is needed, you can draw the curtains!
Facing your vacation villa, you'll need to choose a spot to enter. The walls seemingly disappear as the large sliding glass doors are open, and the inside becomes the outside and vice-versa.
On the right side of the unit, as you enter, you'll find the fully serviceable kitchen that probably looks something like your kitchen back at home. Although you probably don't have your very own espresso machine at home! As the world has many coffee connoisseurs, we wanted to make an extra effort because we also appreciate good coffee.
You'll find a large countertop and large storage areas filled with pots, pans, plates, and glasses of all kinds. Take a minute to explore the cupboards and drawers here to familiarize yourself with the contents.
Opposite the kitchen is the family room area with chairs, a couch, a table, and a wide-screen television where you can watch all kinds of premium movie channels or select from YouTube playlists. The TV doubles as a computer and you have a DVD system connected as well. We also have an assortment of music and video DVDs available and feel free to bring your favorites from home.
Behind the family, area are two of the three bedrooms in Villa Orchid. In them, you'll find large king-sized beds with dark wood cabinets, shelves, and drawers to store your personal items.
Each bedroom and restroom has a window to let in natural daylight, and there are quite a variety of electrical lighting options in each room.
The master bedroom has a sliding glass door leading to the outside pool deck, making getting in and out of the villa while wet an easy task.
Going back out into the common area, you immediately get the sense of how huge the space is here. The very high domed ceiling makes the villa seem twice as big. We think you'll love this feature, and maybe even more so at night when you turn off the lights and turn on the starlight system we have installed in the dome!
Orchid Phuket Villa Rental Essentials
Villa Orchid covers all the essentials for a great Phuket villa rental experience – and so much more.
Indeed, when we decided to build our villas here on the island, we weren't just aiming for a bare minimum experience. Far from it!
Our idea was to create THE BEST Phuket villa rental option on the island. There were already far too many small villas, poorly designed villas, villas without private pools, and villas without staff on-site to help with any problems or activities. We know because we stayed in villas like this for years, never satisfied and knowing that one day we'd make it all happen.
We, therefore, decided to build four villas of different sizes that would replicate something like a home away from home experience for people visiting from around the world.
Our villas are still new, and already we are happy with the response from guests. Why don't you visit and see for yourself?
Phuket Villa Rental Orchid Pool Parties
We know that sometimes guests prefer not to go out on the town, and they'd rather stay at the villa for their private little after-hours party.
We can help with this, and actually, this is one of the extra benefits of staying with Bismarck's.
Pool parties have become a common tradition here at our villas. The open-air quality of the villas combined with the swimming pool, yard, sound system, and large kitchen make it the perfect place to enjoy a party with close friends.
Our housekeepers are always excited to help with a party and will take pride in choosing the best food at the local markets. Just give them a list of menu items you require, and they'll get to work on finding everything for you.
One of the surprises at the villa, if you didn't see it on the way in, is the large gas grill you have to barbecue steaks, seafood, or chicken! Not only that, if it's a big party, we can pull out one of our other gas grills and have two going at the same time.
Unbelievably, noise is not so much of an issue. Obviously, we can't have people screaming from the rooftop and doing cannonballs, but within limits, a party doesn't usually affect guests at the other bungalows very much at all. If it does, we'll have to tone it down a bit.
Therefore, we designed each villa with noise constraints in mind. The hi-fi music system can be turned up fairly loud without guests in other villas hearing it. We did consider this during the design phase, and it's something everyone can appreciate!
Oh wait, you know what?
There's another surprise. The owner of the villas has a real penchant for a good steak. So there is a constant supply of high-grade Australian beef steak deep-frozen and ready for a party!
On top of that, as an added incredible bonus, the owner has a special Beefer imported from the USA, specifically for cooking top-grade steaks. This cooker reaches well over 1,000 degrees Fahrenheit and is ideal for cooking steaks to perfection!
Orchid Phuket Villa Rental Full Service Experience
So, you've learned that we thought long and hard about your privacy, your comfort, and your parties. Giving each guest a full-service experience is also very important to us.
Included in Your Stay at Phuket Villa Rental Orchid
Two butlers and the maid do their best every day to serve you as well as they can
Laundry, folding, ironing, cooking, dishes, general cleaning
Help with anything extra you need
Free introductory breakfast
Airport trip to and from with minimum two day-stay
Mobile phone for constant contact
Available Services (extra)
After-hours dinners, pool parties
Beefer use and operation
Delivery service – food, drinks
Nanny
Extra beds for kids
Tour planning
Our customary service never stops. If you have a problem at 2 am that needs attention immediately, call "Khun Nu". He will have a solution, and (or) be on his way to help out. We can quickly call emergency medical services to deal with any issue of that nature.
Housekeepers (maids) are on-site from 9 to 5 pm. Our butlers share day and night shifts, so there is always someone on-site or close by. Often our owner is in town and can also offer help in an emergency.
We've covered most of the big things making Villa Orchid and all of our villas unique. Let's now have a look at some of the extras we haven't told you about yet. There are many!
Culinary Options
Some guests choose to cook all their meals in their private kitchens. You can shop for food at one of the few markets and stores around our area, or ask your housekeeper to find what you need. It's probably best to let us help because we know exactly where to go and get the freshest ingredients.
However, if you aren't so keen on cooking meals yourself, please take full advantage of your very own personal chef – your housekeeper – also trained in food preparation for groups.
Housekeepers take particular pride in cooking for you during your stay, and they are eager to show you how delicious they can make both Thai and western favorites. We had our main chef teach each housekeeper how to cook to the same standards, so you can be sure the food options at our villas are excellent!
Moreover, there are some highly-rated restaurants within a short drive from the villas. You can search Google Maps, or even better, use your butler as a resource to ask about the best restaurants in the area for the type of food you're in the mood for that particular day.
Phuket is a truly international destination and has every style of food you can imagine, including restaurants owned by expats from Germany, Italy, France, Japan, England, Australia, and the United States, among others.
One of the best places to go for meals (or golf) is over at the Laguna Complex. They have some 4-star restaurants that have great reviews on social media sites.
Phuket Villa Rental Orchid Entertainment Options
At Your Villa
We've mentioned already that Villa Orchid and all of our villas enjoy lightning-fast fiber optic internet connection and a full entertainment system in the family area. However, what we didn't mention was the board games, English and German language fiction books, video game console, and games library. Everything sounds great coming out of the Harman / Kardon (or equivalent) stereo system. You'll love it!
Also, your large saltwater swimming pool is always just right. The addition of the Jacuzzi jets makes it almost too comfortable, but that's not a bad thing.
Time slows way down after a couple of days in our villas. Give it a few no-stress days to clear your head, and you start realizing that this is the vacation you've been dreaming about for so long.
There are lots of places to sleep around the villa, and you should probably try them all out. The outdoor daybed is seemingly the most comfortable on a windy day. There are four pool recliners to choose from, all adjustable and with quite large umbrellas. You can also sleep on the couch or in your bed, or even in someone else's bed. And, as a last resort, you could throw a big towel or beach mat down on the soft grass and take a nap there.
Are Kids a Priority at Villa Orchid?
We put a lot of thought into all the extras we have for parents with children. We understand that kids need entertainment and extras; and that most Phuket villa rental outlets don't offer much at that level. Therefore, we went the extra mile for the kids!
Here's a list of some of the extra amenities we have for kids at Bismarck's:
Baby seats for rental vehicles
Highchairs for meals
Sleeping cots
Slowly sinking float rings for pool fun
Inflatable arm floats
Small tent for the beach with sun protection
Portable containment fence to keep infants in one place
Small pool for little children
Air-filled tubes for the pool
Plastic play tools for sandcastles
Board games in German and English
Snorkeling gear
Boogie Boards (like small surfboards for fun in the waves)
Video games, children's stories on DVD, Netflix
Outside Entertainment
The Beach!
Phuket Villa Rental Orchid is located on the northwest coast of Phuket and has the good fortune to be within a very short drive of a few quite pleasant beaches. When you get a minute, look up Nai Thon Beach, Nai Yang Beach, and Banana Beach on Google Maps and see how close we are.
Some of the most empty and picturesque beaches on Phuket Island are indeed located within a 20-minute drive of your villa when you stay with us! However, those beaches aren't the only ones worth a visit on the island. Take the time to have a look at the 50+ Phuket Beaches we've selected for you.
Shopping!
We could talk about shopping in Phuket for hours. There is more shopping on this island than anywhere else south of Bangkok. That's not an exaggeration! If you would like to see what the malls have, drive to Phuket City (town) and head to Central Festival Phuket. By far, this is the major multi-level mall on the island, and it also connects to two other malls by walkways, just above the roads between them.
Other Things to Do in Phuket
There is a lot to do in Phuket. Shopping, eating, and beaches are the main activities, but you probably already knew that. What about some other activities you might try?
1. Promthep Cape – A small peninsula at the southern tip of Phuket Island where most visitors go to have a look during their stay. There is a path you can walk down the hill to go and explore. A fun activity for kids, it is!
2. Kathu Waterfall – Behind the mountains that separate Patong Beach from Kathu is a forest park with a waterfall where you can trek and swim. Very nice, but quite hot, bring water for the hike!
3. Red Mountain Golf Course – A beautiful 18-hole golf course, also in Kathu just over the hill from Patong Beach, which is worth a game. It has a high rating online!
4. Visit Phuket Elephant Sanctuary – This charity is found on the northeast side of Phuket, and roughly at the same latitude as Bismarck's Villas.
Unfortunately, most of the elephant attractions in Thailand involve the exploitation of elephants for the amusement of tourists and locals. Please don't participate in riding elephants through the forest or riding elephants anywhere.
The Phuket Elephant Sanctuary is, otherwise, dedicated to helping abused animals live out their lives in relative peace. Donate if you can spare it, and contribute to the long lives of these marvelous creatures.
NORTHWEST ISLAND ACCOMMODATION AT BISMARCKS LUXURY VILLAS PHUKET – FOUR TIMES MORE INTERIOR SPACE THAN HOTEL ROOMS + YARD
Villa Facilities / Amenities – Orchid Phuket Villa Rental
Villa Extras
We did not plan it that way, but plenty of little surprises await you at our Phuket Villa Rental Orchid. We just wanted to ensure our villas had absolutely everything someone could need for a safe and relaxing stay. Well, more than that! We wanted to make sure you love our villas. That is our real goal! Below, you'll find some of the features we hope will keep you coming back for more.
Special Phuket Villa Rental Orchid Features
As much space as a 2-story house – 3,000+ ft2 and double the land area
Whole house hot water
Large yard, pool, deck
Ultimate in Phuket villa rental privacy
Two m/f restrooms for public pool guests
Party ready – gas BBQ, Beefer, steaks on ice
High domed skylight over the main common area
Round-the-clock staff support as needed
Lots of entertainment options on-site
Plenty of entertainment options off-site as well!
Short drive to reach Phuket's airport
Many windows, glass doors, and lights for a bright atmosphere
Huge carport
Micro Details You'll Love
Small flashlights on the walls in case of a power outage
Starlight ceiling in the high dome (you'll have to see it)
Fresh orchid flowers decorate the villa
First aid kit, wheelchair available, fire extinguisher
Filtered cold and hot water
Cooking is free! (pay for ingredients)
Free laundry
Strong Hatari fans
Many extras for kids
Mosquito nets and screens in bedrooms and day-bed
Saltwater pool for excellent water quality
Bedrooms
All bedrooms are large and have plenty of places to store your bags, hang your clothes, and put your shoes, electronics, and all other items.
You can choose whether the maid cleans your room daily or not. Just let her know upon arrival what is your preference.
Your clothes can be washed, dried, ironed or folded for you daily. Drop them in the clothes basket, and get them back by the end of the day.
Each room is uniquely decorated, but all follow the same theme.
As mentioned, the main bedroom is open to the pool deck, making access very easy. The large glass doors enhance the light in the master bedroom, as well.
Restrooms are tastefully decorated and include centrally heated hot water, so no electrical heating boxes in the showers. This feature is so much safer than how most villas do it in Thailand.
At night you can choose to use the air conditioner or ceiling fans to keep cool. Or both!
Kitchen
Our kitchen at Villa Orchid is large enough to allow two adults to work comfortably. There are two gas burners (propane), and two induction plate heaters, which allow up to four pots to cook at once. We have a purified water system in the kitchen you can use for all your cooking needs. The refrigerator has some of the essentials you may need, as does the spice rack in the cupboard.
If you need a microwave, blender, rice-maker, toaster, waffle maker, coffee/espresso machine - you'll have the appliance there on the counter for immediate access.
We really hope you'll try our in-villa chef service. The housekeeper in each villa is trained as a cook, as well!
There is a menu of dishes you can choose from, and she'll cook for and serve you any meal you ask her to (or every meal). You pay only for the meal ingredients, as cooking is part of our housekeepers' regular responsibilities.
Common Areas
Our pools are built to German specifications and are different than maybe any pool you're going to find in Phuket. We covered the surface in small bright blue tiles, so the water always looks fresh. The water is kept fresh and clean with an in-pool filter system and regular straining for leaves and bugs that invariably fall into the water overnight.
We mentioned that the water is not your typical chemical-filled pool water. We've chosen to use natural saltwater and an electronic process that turns some of the salt into natural chlorine. You'll notice the quality of water is much different than your typical public swimming pool. You won't smell chlorine or any other chemical in the air or the pool water!
Water depth goes from about three feet to five feet in the deeper part. Submerged concrete steps are available for easy access in and out. One more surprise about the pool - there is a Jacuzzi-type nozzle system on the side closest to the villa that will help dissolve the stress of life away. Don't forget the free Chang beer in the fridge!
Outside
We should tell you more about the yard outside your villa.
From the time you pull up to your carport, your eyes will be drawn to the orchid flowers on the columns and posted on trees around the yard. Some villas in Phuket have small trees and bushes. We have coconut palms!
We have dozens of flowering plants around the yard. You'll also find flowers in random spots all around your villa. Past guests have mentioned that these personal touches contributed positively to their trip.
The open plan of our villas makes the plants seem even bigger than they are. Some guests have remarked that when they send photos of the yard and pool with the villa behind back home, the villa looks massive! The 25-foot-high domed ceiling changes the dynamics of the villa, in so many ways. Better selfie photos are an unexpected benefit.
Some guests may be concerned with privacy. We certainly were. So, when we drew up the plans for Bismarck's Villas, we made sure that privacy was a primary factor to consider during the design process. There is a 30-foot-high wall between villas above and below Villa Orchid. Nonetheless, built on a rocky hill, the views out over the valley from the villas are not inhibited. It does indeed block views of the villas above and below you.
As it is harder to block views from the sides, we built a fence bordering the driveway on one and a stone/concrete wall with an extension on the other.
You can be sure Villa Orchid is one of the most private villas in Phuket.
Facilities
Property Type
Villa (Detached)
Accommodation Type

Combination of catered and self-catering (Your housekeeper takes care of cleaning, washing, and cooking)

Bedrooms

3 Bedrooms, Sleeps 6
Extra Large Double Bed (1.9 x 2m) in each
All bedrooms fitted with air-conditioning, ceiling fan, and mosquito nets
Free Baby Cot (Child Beds) available on request

Bathrooms

First Bathroom - Toilet / Shower Enclosure
Second Bathroom - Toilet / Shower Enclosure
Third Bathroom - Toilet / Shower Enclosure
Outdoor Shower & Guest Toilet

Dining

Dining Area, Seating for 6

Floor Area (m2)
190
Location Type

Near the sea and mountain

Theme

Luxury, Family

General

Safe, Telephone, Laundry Soap, Staff, Private Chef, Paper Towels, Towels Provided, Local Maps, Linen Provided, Washing Powder, Bottled Water, Massage, Filtered Water, Mosquito Protection, Local Activities Guide, Snake Protection, Toilet Paper, Events Allowed, Air-conditioning, Shampoo, Daily Maid Service, Water Cooler, Ceiling Fans, Hair Dryer, Soap

Kitchen

Fridge, Stove Top Burners, Freezer, Oven, Kitchenette, Toaster, Spices, Iron & Board, Washing Machine, Cooking Utensils, Microwave, Electric Grill, Filter (and french) Coffee Maker, Espresso Coffee Machine, Capsule Coffee Machine on request, 4 Ring Stove, Waffle Maker

Entertainment

Games (all ages), Books, Fiction/Non-Fiction, TV (satellite or cable), Stereo System, DVD, Video Library, Games (kids), Books, CD's, Radio

Internet Access

Wireless Broadband, Notebook available

Communication

Mobile Phone, Notebook

Outside

Terrace, Garage, Conservatory, Veranda, Outdoor Gas Grill, 6 Garden Chairs, Garden, 4 Sunloungers, Barbecue, Thai Bamboo Sala for 2

Swimming Pool

Private Pool

Suitability

Suitable for elderly or infirm, Long term rentals available, Children welcome, Pets considered, Low allergen environment

Local Activities

Fishing, Mountaineering, Swimming, Diving, Water Skiing, Surfing, Cycling, Sailing, Golf, Windsurfing, Mountain Biking

Onsite Services

Housekeeper, Butler, and Massage Therapist available

Onsite Equipment

Beach Towels, Car Optionals, Deck Chairs

Attractions

Water Parks, Marina, Rain Forests, Museums, Bay, Caves, Equestrian Events, Cinemas, Fitness Center, Forests + Groceries, ATM/bank, Launderette (serviced), and Hospital

Leisure Activities

Fishing (Deep Sea/Freshwater/Whitewater), Sightseeing, Beachcombing, Rafting, Outlet Shopping, Jet-skiing

Nearby Attractions

Reefs, Scenic Drives, Restaurants, Waterfalls

Nearby Services

Medical Services, Babysitting
Floorplan
Picture Gallery Phuket Villa Rental Orchid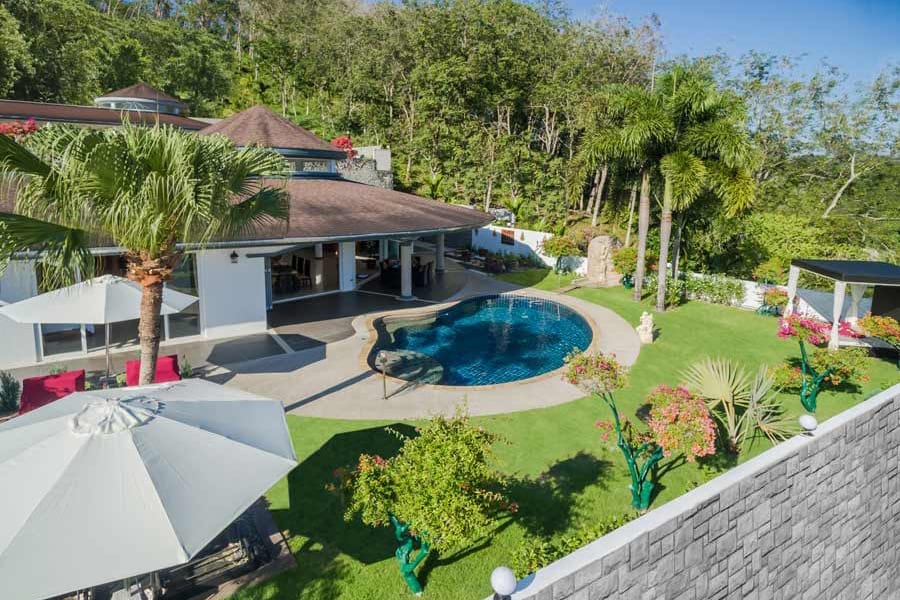 Guest Reviews Phuket Villa Rental Orchid Bismarcks Paradise

Reviews for Phuket Villa Rental Orchid
Bismarcks Pool Villas Selection
2, 3 & 4 spacious bedrooms: well-lit private luxury pool villas that are surrounded by landscaped tropical gardens and combine western quality building standards with Thai furnishings and handcrafts.