Private Pool Villa Jasmine
300m2 Living Space
2 Bedrooms
2 Bathrooms
Private Pool
7/7 Housekeeping
Butler/Concierge Service
Overview Pool Villa Jasmine
Enjoy your next vacation relaxing in the opulent space of the most spacious 2-bedroom 2-bath private pool villa Jasmine you've ever heard of in Phuket. At over 3,200 square feet of living area, you'll welcome friends and family in a modern setting and savor having enough room to get away for a bit of private time whenever you choose.
From your covered carport, you can see the pool and across the yard. Yes, it's that open! So, it isn't just that you have quite a large area to play in, but it also feels that much more spacious as everything is so wide open. As in all of our luxury villas, you will find elegantly appointed bedrooms, living rooms, and a generously equipped kitchen – just like home!
Also, from the carport, you walk into the fully equipped kitchen, and just beyond is your living room area on the right with the dining area next to it. On the left are open space and another dining table out on the patio. Then there is a broad expanse of tall sliding glass doors opening up to reveal the oversized pool deck and yard. On the left side of the villa is the pool closet. And around the right side of the pool patio are the master bedroom and a hallway leading to both outdoor guest restrooms.
Luxurious Comfort in a Stylish Modern Setting
Our private pool villa Jasmine is quite spacious and an elegant sunlit open-plan villa by day that gets dramatically illuminated at night by dozens of exterior and interior lights to set the mood.
Many villas in Thailand are nothing more than hotel rooms with a pool outside the bedroom. You'll notice from your drive into your carport at our villas that you're in for something dramatically different, and so much better.
Quality craftsmanship during planning and construction are just two keys to the success of our villas. Everything in the villa is natural hardwood, well made, long-lasting, and well finished. A genuine luxury villa is what you get when you stay with us.
We can't help but compare the elegant interior designs and furnishings of our villas to luxury villas we've stayed on the island of Maui in the Hawaiian Islands. Stunning interiors with seamless transitions between indoor and outdoor spaces is what we were aiming for, and we think we've achieved that. Let us know what you think!
Your butler and maid/chef are here for you, please don't forget that. They are an exceptional resource for you and can dramatically improve your Phuket vacation experience when you put them into action. If you need anything, don't hesitate to ask. As in most cases, they can make it happen!
You can also ask your chef to cook a meal or two on the large outdoor gas barbecue for you! All our cooks are top-rated and can prepare mouth-watering Thai style seafood or steaks. We always keep a deep freezer stocked full of high-quality Australian steaks. Just try them on the grill, and it will be a day to remember!
Consequently, you can be sure your luxury villa experience will soothe your body, mind, and spirit day after day!
Vacation as Royalty – with 5-Star Full-time Guest Service
There's simply no better place to stay in Phuket if you're looking for a full-service experience that covers everything possible. Our butler will be awaiting your arrival at your Private Pool Villa Jasmine with a welcome package and to give you a tour of one of the most lovely 2-bedroom luxury villas in Phuket, as you move in.
From that point on, you'll not need to worry about anything else for the duration of your vacation stay. Your private housekeeper will handle all related chores, cook for you, and tend to whatever needs you might require.
You'll receive a local phone you can use to contact "Khun Nu" at any time of the day or night. We aim to give our guests the ultimate feeling of being well cared for in a foreign place. So please, take full advantage of our hospitality. As part of our services, we can happily arrange excursions and adventures, book massage treatments by the pool, or anything else you need.
Villa Jasmine is only one of four lovely villas we have at Bismarcks Luxury Villas. All of our villas have similar levels of furnishings, appliances, and attention to detail by our staff. We hope you book your vacation with us this year and realize what you've been missing.
Phuket Private Pool Villa Jasmine is an Oasis of Calm on the Island
Villa Jasmine is ideal for a romantic couple's holiday. In addition to the fantastic view, the slight slope of the villas ensures absolute peace and complete privacy, thus guaranteeing a relaxing holiday.
The way you enjoy your vacation is entirely up to you. Enjoy carefree days by your private pool, indulge in a soothing massage treatment in your room or poolside, or discover the nearby beaches and points of interest from your villa.
We indeed did put a lot of attention into making our villas the quietest around. Stone walls and thoughtful design keep things peaceful. As another touch, instead of placing our washer and dryer in the villa, we created an outdoor room in the carport for the maid to do laundry, ironing, and other activities.
All of our mountain view villas offer sweeping panoramic sights of the forest-covered mountains between Nai Thon and Nai Yang beaches, with these magnificent sights also prominently visible from all common areas as well as the master bedroom.
Savory Food Options
Our housekeepers are trained cooks and will be glad to give you insight into the culinary diversity of Thai cuisine. Enjoy homemade Thai food delicacies on the terrace with stunning panoramic views of Phuket's rolling green hills.
Your villa has a full gourmet kitchen with a large hardwood island that provides lots of counter space and storage, thus making it easy to tidy things up. Our kitchens have every convenience to facilitate making your meals anytime you choose. However, there may be times when you'd like to take advantage of our exclusive in-room chef service. At your request, your private maid will cook meals for you, for as many people as you wish (with notice).
Our fully equipped kitchens at Villa Jasmine include oven, gas burners, hot-plate, microwave, coffee maker with complimentary coffee, espresso maker, toaster, blender, and all cookware, glassware, utensils you might need for cooking snacks or large meals in your villa.
Where will you eat?
You can take your meals casually in the living room or choose one of two main dining options: inside in case of rain, or out on the pool deck. We have a heavy wooden table in each area.
Though we recommend our in-villa cooking experience for every meal, sometimes you may feel like going out to eat, it's only natural. Whether you'd like to dine at a seaside restaurant for sunset at the beach or try something different, we can recommend something according to your preference. One of our butlers is available at any time to help you choose. They'll know just where to send you.
Is Pool Villa Jasmine Private? We've Got You Covered!
Our villas sit on a small hill between Nai Yang and Nai Thon beaches in a primarily local residential area. Therefore very few vehicles pass on the road below the property, which translates in much less noise and more privacy than usual.
Because of our location, you'll enjoy unparalleled privacy. There are very few other homes or villas to be seen as you gaze out over your security wall, just an abundance of the dense green rainforest as far as you can see. Stone walls surround your villa and block nearly all sightlines into the property.
All of our villas are located on the same hill and are terraced for privacy. Therefore you cannot see the villa below you, and neither can the guests above see into your compound.
We have four pool villas, as well as the owner villa and a few other privately owned villas for rent. To keep all our guests and residents safe, we use one main gate for the entire complex, which opens automatically with a remote. We also have individual remote operated gates for each villa, enabling you to close off your private carport.
Our villas are ideal for people concerned with having the ultimate private vacation experience in Phuket. Villa Jasmine guarantees it!
Entertainment for Phuket Private Pool Villa Jasmine Guests
At Your Phuket Private Pool Villa
All of our villas have a high-tech JBL music system with DVD and high-definition large screen TV. We also went the extra step and installed ultra-fast fiber-optic Wi-Fi internet for all of our villas. There's simply nothing else like it in Phuket: we have the fastest internet speeds possible. Top it off with free, unlimited Netflix®, and it gives everyone something to do after a big meal if you feel like an in-night.
Your pool at Jasmine has four large outdoor pool recliners with large beach towels, ideal for getting some sun, reading a book, or browsing the web on a tablet computer. And, if the sun is too strong, we have large umbrellas to cover your chair. Of course, the music system is usually on and audible from the pool area.
We have pool toys for children: floating tubes and bodyboards. Our pools are kid-friendly, safe, and easily seen from all common areas. We have a good selection of paperback books, in English and German, which some guests enjoy.
Also, one of the options you have and one that many people take advantage of is our party service! Furthermore, your maid (and you can have as many as needed) can arrange a full-on pool party for you and your guests, anytime you choose. Just give us one or two days' notice so we can plan for it as it often requires staff to stay after hours.
Phuket Private Pool Villa Jasmine Outside Entertainment
Phuket Island is an entertainment center for island-loving visitors to Thailand. But you already knew that! Villa Jasmine is ideally located, within easy reach of all the best locations on the island, such as the west coast beaches, 18-hole golf courses, Patong Beach, and Phuket City.
Appropriately, we have car and truck rentals available along with motorbikes of various sizes, if you want to go to those entertaining locations on your own. Our rates are competitive with rentals found at the airport, and far more convenient.
Shopping!
Shopping is one of the most popular pastimes in Phuket, and we can show you where the best stores are for whatever you need. Small shops are all over the island, and there are several outlet malls scattered all around.
The major shopping hot-spot – Patong Beach – is only a short trip to the south. Many small specialty stores can be found here, for electronics and just about anything else you'll need. There are some small outlets and malls in Patong as well.
On the other hand, Phuket City has the distinction of being the best shopping spots on the island and is even easier to reach from your villa than Patong. Central Festival Mall in Phuket City is by far the biggest shopping center on the island and links three large malls together via walkways over the highway.
Accordingly, you'll find high-fashion items, electronic gadgets, home furnishings, appliances of all sorts, sports merchandise, and stores of all kinds at these shopping centers. Of course, there are also plenty of food venues, with western and Thai-style dishes. Starbucks and other coffee outlets are available too!
Nearby Beaches – Nai Thon, Nai Yang, Banana, Layan, etc.
We love the Thalang District of northwestern Phuket because of the low-key and the right laid-back atmosphere we loved so much about the island, decades ago when we first visited Phuket. We chose this exact spot for our luxury villas because we were between two of our favorite beaches, and we found it peaceful and private.
Nai Thon Beach is an easy 8-minute drive and usually has little to no traffic, even during high season. This is a shady beach with parking under the trees and restaurants and massage within a short walking distance. We know you'll love the convenience of staying close by at the Villa Jasmine!
Nai Yang Beach is around the north of our location and, almost too good to be true, also just 8-minutes away with no traffic as well! The north end of Nai Yang Beach has more trees between the beach and the road and has a slightly more enticing feeling than Nai Thon. But in reality, you cannot go wrong with either of these two amazing beaches.
Banana Beach is an incredibly picturesque beach located just south of Nai Thon Beach and the Andaman White Beach Resort. To reach this remote beach you'll need to climb down a hill through some rainforest, but if you're healthy, it will be well worth your effort! This is one of the most charming beaches on Phuket's west coast.
And just past Banana Beach, as you continue south, is Layan Beach, also worth your time, that has a small island floating just offshore.
That certainly isn't the end of your beach options, as we have a list of over 50 Phuket Beaches.
BTW: Luxury Villas Phuket also offers two 3-bedroom pool villas (VILLA ORCHID & VILLA LOTUS) as well as our very spacious 4-bedroom pool VILLA EDEN. Try them all and find the one that suits you best.
NORTHWEST ISLAND ACCOMMODATION AT BISMARCKS LUXURY VILLAS PHUKET – FOUR TIMES MORE INTERIOR SPACE THAN HOTEL ROOMS + YARD
Facilities / Amenities – Phuket Private Pool Villa Jasmine
Villa Extras
Here is where we'll brag a little bit by covering some of the unique features of our Private Pool Villa Jasmine all in one place.
Unique Private Pool Villa Jasmine Features
Massive amount of space – 3,200+ square feet – largest 2-bedroom in Phuket (we believe)
Very quiet – you'll rarely hear noises outside your own villa
Three ways to make a great coffee – including an espresso machine
Curved floor plan and towering domed ceiling
Two dining options – indoors and outdoors on the pool deck
In-villa maid and butler available during and after hours
Full outdoor barbecue with Australian steaks
Denon sound system, computer, and large high-def. TV
Fiber optic Wi-Fi – superfast
Mountain views and very easy access to 2 great beaches less than 10 minutes away
Ultra-private oasis – ideal for celebrities
Cooking, laundry, cleaning, and pool service every day as required
Central hot water – at all sinks
Big sliding glass doors – open the wall entirely to the pool and yard
Micro Details You'll Love
Charged flashlights on walls outside bedrooms & glow light switches
Alarm clock in each bedroom
Flowers found in various spots around the villa
Espresso machine
Emergency lighting (on battery)
Fire extinguisher
First aid kit
Defibrillator available
Pool & kid toys
Star lighting in the high dome above the living room
Strong fans
Private carport
Laundry room is not in your villa – quiet, cool
Vehicles and motorbikes for rent at villas
Separate m/f restrooms for guests
Mobile phone to reach butler any time day or night
Computer used from a large-screen TV
Child safety caps over A/C outlets
Bedrooms
Our lovely Private Pool Villa Jasmine features two large bedrooms separated by a large bookshelf and closet unit. Upon entering, you'll find each bedroom has air-conditioning and updated furnishings, including a lovely hardwood bed and nightstands and large shelves with counter space convenient to A/C outlets to charge your electronics.
Ceiling fans are overhead, or if you prefer, you could take a fan from the common area into your bedroom. Rooms are large, tiled, and offer plenty of storage options for clothes and other necessities you bring from home.
Each bedroom comes with a spacious full bath, large enough for two. The master bedroom restroom includes a large Jacuzzi and glass-enclosed shower with exquisite tiles covering walls and floors. Water is centrally heated and available throughout the villa.
Kitchen
The Private Pool Villa Jasmine kitchen is large, with ample counter space, and filled with all the appliances and kitchen utensils you'll need during your stay. If there's something you need but don't see – your ever-present maid can quickly source the item for you in most cases.
The large bar countertop can be put to good use if you decide to have a party – a common occurrence at our villas. We have gas and electric cooking burners as well as a full oven. You can also savor your coffee in multiple ways with a coffee maker, a press, and an automatic espresso machine. Additionally, you'll also enjoy a large refrigerator with a separate ice-box area. If you need additional space, we can help!
Common Areas
Jasmine's wide-open floor plan flows seamlessly between the modern kitchen, the spacious living and dining areas, and the big wrap-around pool patio.
With living spaces connected, parents will appreciate the ease of keeping an eye on children at the pool. Also, audio buffs will love the high-fidelity speakers pumping soothing beats throughout the villa's common areas and bedrooms.
Outside
Walking outside this spacious and well-lit villa, beautifully landscaped gardens complete with coconut palm trees, dozens of orchid flowers decorating the trees, and many species of flowering plants will surround you.
Looking beyond the walls, you'll enjoy sweeping views of the neighboring mountains with very few other dwellings within sight.
Another pleasant surprise is that your swimming pool is filled with slightly salty water instead of powder chemically treated. Our pools create their very own chlorine to sanitize the water through a simple electrolysis process.
We also have a pool manager to take care of the cleanliness of the pool and its area for you. Every morning you'll see him cleaning the pool and turning on the pump to filter out bugs and leaves.
We, additionally, have restrooms for guests you have over. You'll find both separate sex guest restrooms easily accessible from the swimming pool.
Facilities
Property Type
Villa (Detached)
Accommodation Type

Combination of catered and self-catering (Your housekeeper takes care of cleaning, washing, and cooking)

Bedrooms

2 Bedrooms, Sleeps 4
Extra Large Double Bed (1.9 x 2m) each
All bedrooms fitted with air-conditioning, ceiling fan, and mosquito nets
Child Beds (baby cot) available

Bathrooms

Bathroom 1 - Toilet / Shower Enclosure
Bathroom 2 - Toilet / Shower Enclosure
Outdoor Shower & Guest Toilet

Dining

Dining Area, Seating for 6

Floor Area (m2)
300
Location Type

Near the sea, Mountain

Theme

Luxury, Family

General

Safe, Telephone, Laundry Soap, Staff, Private Chef, Paper Towels, Towels Provided, Local Maps, Linen Provided, Washing Powder, Bottled Water, Massage, Filtered Water, Mosquito Protection, Local Activities Guide, Snake Protection, Toilet Paper, Events Allowed, Air-conditioning, Shampoo, Daily Maid Service, Water Cooler, Ceiling Fans, Hair Dryer, Soap

Kitchen

Fridge, Stove Top Burners, Freezer, Oven, Kitchenette, Toaster, Spices, Iron & Board, Washing Machine, Cooking Utensils, Microwave, Electric Grill, Filter (and french) Coffee Maker, Espresso Coffee Machine, Capsule Coffee Machine on request, 4 Ring Stove, Waffle Maker

Entertainment

Games (all ages), Books, Fiction/Non-Fiction, TV (satellite or cable), Stereo System, DVD, Video Library, Games (kids), Books, CD's, Radio

Internet Access

Wireless Broadband, Notebook available

Communication

Mobile Phone, Notebook

Outside

Terrace, Garage, Conservatory, Veranda, Outdoor Gas Grill, 8 Garden Chairs, Garden, 4 Sunloungers, Barbecue, Sala for 2

Swimming Pool

Private Pool

Suitability

Suitable for elderly or infirm, Long term rentals available, Children welcome, Pets considered, Low allergen environment

Local Activities

Fishing, Mountaineering, Swimming, Diving, Water Skiing, Surfing, Cycling, Sailing, Golf, Windsurfing, Mountain Biking

Onsite Services

Housekeeper, Butler, and Massage Therapist available

Onsite Equipment

Beach Towels, Car Optionals, Deck Chairs

Attractions

Water Parks, Marina, Rain Forests, Museums, Bay, Caves, Equestrian Events, Cinemas, Fitness Center, Forests + Groceries, ATM/bank, Launderette (serviced), and Hospital

Leisure Activities

Fishing (Deep Sea/Freshwater/Whitewater), Sightseeing, Beachcombing, Rafting, Outlet Shopping, Jet-skiing

Nearby Attractions

Reefs, Scenic Drives, Restaurants, Waterfalls

Nearby Services

Medical Services, Babysitting
Picture Gallery Phuket Private Pool Villa Jasmine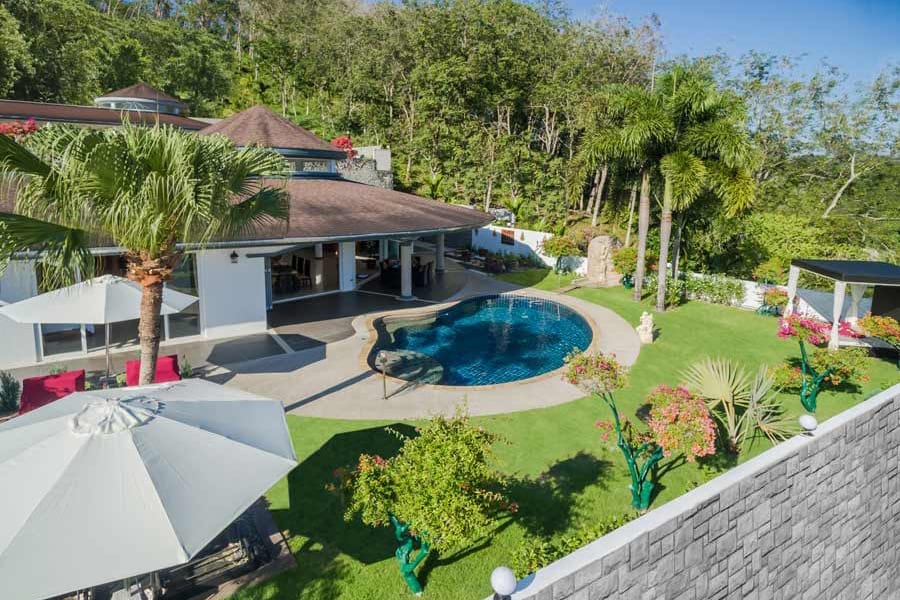 Guest Reviews Phuket Private Pool Villa Jasmine Bismarcks Paradise

Reviews for Private Pool Villa Jasmine
Bismarcks Pool Villas Selection
2, 3 & 4 spacious bedrooms: well-lit private luxury pool villas that are surrounded by landscaped tropical gardens and combine western quality building standards with Thai furnishings and handcrafts.