Phuket Luxury Pool Villa Eden
300m2 Living Space
4 Bedrooms
4 Bathrooms
Private Pool
7/7 Housekeeping
Butler/Concierge Service
Overview of Phuket Luxury Pool Villa Eden in Phuket
If you need a very spacious Phuket luxury villa for 8+ people, Villa Eden is our biggest 4-bedroom/4-bath (+2 pool restrooms) villa on our estate, and sure to offer enough space and benefits to please everyone in your group.
Our massive Phuket Luxury Pool Villa Eden has more than 3,000 square feet of interior space. Easily comparable to any luxury house on the island of Phuket! If you haven't spent a multi-day vacation in a large villa with ample space, you might consider it this year. Villa Eden's price is right, and our location is superb.
With its astounding amount of space both inside, on the pool deck, and in the yard, Villa Eden's extensive ground, combined with all the comforts of home, starts melting all your stress away from the time you first arrive.
You'll be greeted upon arrival at Bismarcks Luxury Villas by your butler Khun Nu, one of our long-term employees. His job is to help you relax and make sure you can achieve anything you need to while staying with us.
They'll then lead you into your big covered carport, on the right side of the complex, take you down a small incline, and finally to the front of your villa entrance. In front of you is the housekeeper's area with a washer and dryer, linens, towels, deep freezer, iron, and other supplies for your stay. Feel free to ask for anything you need – chances are we have it, can get it, or can make it happen!
Behind you, the privacy gate will close, securing your villa and giving you that extra peace of mind you hadn't even imagined possible. Walking into Villa Eden for the first time should be a make-it-or-break-it moment! We're confident you're going to like it from the time you cross the threshold. Most guests are well-pleased at what they see!
Villa Eden is full of hardwood cabinets and stone countertops. Your spacious modern vacation kitchen has eighteen cupboards and more than a dozen large sliding drawers to store kitchen items as needed. Many guests remark that the large island in the center of the kitchen is helpful in food preparation for the large groups that inevitably stay at Villa Eden. It is also a convenient area to charge electronics, with some A/C outlets located close to the top counter.
Continuing past your spacious kitchen on the right in front of a large tan brick wall is the entertainment center and comfortable wicker couches. Free Netflix movies, YouTube, and computer access is possible on your Samsung widescreen high-definition TV. We didn't forget kids – we also have a video game console with games for youngsters of all ages.
One bedroom and the dining area with a large dining table are on the left side of the unit. It's here that the long sliding glass sectional doors start. Three large sections of tall sliding glass doors fold conveniently when open to let in plentiful daylight. The circular design of the villa becomes more apparent as the entire back of the villa opens up to the pool deck, pool, and yard.
The pool deck is something unique, much larger, and more dramatic than you might have imagined. It wraps from the master bedroom and guest restrooms around to the other side of the yard, thus covering the entire length of the swimming pool. Furthermore, an overhanging roof covers much of the pool deck, making brief showers or driving rains a de-facto no-problem. You can indeed leave the sliding glass doors open during most weather and enjoy the cool breeze which always accompanies rain showers in Phuket.
Clear blue sky with bright white clouds (especially stunning during the winter months) and a nearly constant cooling breeze welcome you to our villas.
Phuket Luxury Pool Villa Eden Essentials
High-end décor, workmanship, service, and entertainment are Bismarck's Luxury Villas four core fundamentals.
Our focus on entertainment outdoors was, of course, centered on the large swimming pool. As Phuket can get very warm, there's nothing quite like cooling off in our minimal-salt saltwater swimming pool when the sun gets to be too much.
Our pools are slightly salty, nothing like the ocean, but we decided to go with the chemical-free pool environment which most of our guests love. Some won't stay anywhere else without the same water treatment, and we agree – why should you?
You won't see your pool guy dumping buckets full of chlorine or any other chemical into the pool. Instead, your private pool uses a simple science trick to create natural chlorine from saltwater through a process of electrolysis. You won't smell chlorine, but it's there, although in small (natural) amounts. Your pool is regularly cleaned, depending on whether we're in the leaf-dropping phase of the year or not. Our villas border some tall trees that shed leaves during the dry months.
Villa Eden's large swimming pool is about 32 feet by 18 feet at its widest point. The water is five feet deep on the deep end, and about four feet deep in the shallow. There is a series of steps on the shallow end to facilitate entry.
Stones without dangerous corners or edges sticking up make up the surface surrounding the pool. Indeed, an important detail, is as the more you stay in Thailand, the more you notice that the pool area is generally unsafe. We made an extra effort to provide a safe pool environment for kids and adults alike.
There's plenty to do outdoors at Villa Eden. Swim, relax in the strong bubble jets, enjoy an outdoor shower, read a book on the pool chair, or fall asleep in the king-size plus-covered Thai Style Bamboo wicker daybed.
We also have four large pool recliners and two extra-large umbrellas which cover two recliners at a time. Arrange for special drinks to be made, and you can drink them at the poolside all afternoon. Ever try an Amaretto Sour?
Meals can be taken on the outside table on the pool deck, or even in your pool recliner. We have a full gas barbecue and a steak cooker (Beefer). Just ask, and we'll show you how we do pool parties!
Phuket Luxury Pool Villa Eden Parties
If you're planning on a big party while you're staying with us, Villa Eden is the perfect pool villa where you can make it happen. Villa Eden has the largest pool and patio and most restrooms, ideal for big groups of friends or family.
Villa Eden's saltwater swimming pool is ideal for groups and can comfortably hold at least ten people. More, if you pack them in!
Rain or shine, our villas are great for parties, we have everything you need. We also have a large gas BBQ for grilling steaks, fish, shrimp, squid, scallops, chicken, or whatever you have in mind. Additionally, if it's a big party, you can borrow one of our other gas grills to make sure everyone's getting enough to eat in a well-timed process.
Our housekeepers are available for after-hours parties, with a reservation. Just give them a list of what you need, and they'll buy everything as well as cook it for you during the event.
Remember to ask about our Australian steaks and unique beef cooker that heats steak to around 1,500°F!
One of the benefits of using our villas for your party or get-together is that with our large overhangs, you can spend time outside regardless if it's raining or not. Phuket does have its fair share of rainy days, so we designed our villas with this in mind. We know how disappointing it can be to be locked up in your room without being able to open the doors to go outside. Problem solved!
Full-Service Experience
Included in Your Stay at Phuket Luxury Pool Villa Eden
• Khun Nu, your butler/housekeeper has all the resources to help you do what you need to do during your stay. Ask him anything!
• Utilities and super-fast internet
• Netflix films on your wide-screen TV
• Welcome breakfast
• Meal preparation included – ingredients extra (meals not required)
• Taxi service to the airport (5-day stay req.)
• Local phone and Samsung tablet computer with internet, GPS maps
• Dishwashing, clothes washing, pool cleaning, general housekeeping
Available Services (extra)
• Ingredients for breakfast, lunch, dinner, and parties
• After-hour meal preparation
• Use of unique high temp beef cooker (for Australian steak)
• Hard to find items – many of which we have on-site
• Childcare
• Taxi to any destination, and tours
We offer 24-hour personal service. Khun Nu and our maids are present for seven hours each day, seven days per week. If you have an emergency, you can use the private phone we give you to call Khun Nu who can respond immediately.
We know you're going to appreciate all the little extras that we haven't yet mentioned. Scroll down to the "Villa Eden Extras" section at the bottom of this page, if you want to see it now. However, keep in mind that this list comprises only some of the extras. There are many more you are going to have to find out for yourself! Hint: look in all the drawers in the as areas because we've stashed things like electrical outlets, games, etc.
Villa Eden staff have been with us for years, and they do their job to the best of their ability. If there's ever anything wrong with our services, feel free to tell them directly or direct your comments to Khun Nu. We always come out with a win-win that is satisfactory for our guests. You can count on it!
Culinary Options
Many of our guests choose not to cook meals on their own in the full-size kitchen, but you're encouraged to do. Our housekeepers/chefs will help out with anything you might need. There is a fresh vegetable/seafood market close by, where you can shop on your own. Or we can find the ingredients for you. Just place an order!
Our chefs love cooking for you, it's part of their service, and it doesn't cost you anything extra during regular hours. They only charge a small fee for shopping at the market and for your meal's ingredients. However, we guarantee you're going to be quite pleased with the results, whenever you let them prepare everything for you.
We also hope you decide to try a pool party event or a romantic after-hours dinner with us. Our chefs are always happy to work extra hours as they make a little extra money.
Notwithstanding, there are several excellent restaurants within easy access from our villas. If you've visited Phuket before, you already know that there is quite a wide range of European, Thai, and Asian restaurants to match your demands for any cuisine.
There are quite a few good restaurants along Nai Thon and Nai Yang beaches. These would be the closest options. As well, there is the Laguna Complex, just a half-hour away, with over a dozen highly rated restaurants. Your butler can show you a map on your Samsung tablet and set up the GPS directions to get you there if driving yourself.
Phuket Luxury Pool Villa Eden – Your Island Oasis
It can be challenging to find a quiet place in Phuket. The island is a bustling vacation destination with a lot to do, and sometimes it can be overwhelming. Our aim with Bismarck's Villas was to create a space where you can relax in comfort, knowing the action is only a short drive away. The primary reason people choose our villas is for relaxation and privacy.
The area we chose for our villas is on a hill overlooking a valley between two beautiful beaches, and close to many more. We're very close to Phuket's west coast with the beach only 8 minutes away.
Phuket International Airport (HKT) nearby location is very convenient, yet because of the hill in-between, our guests don't have to worry about airport noise. Rarely do we even hear an airplane, yet we're in the perfect place for easy access to the airport or the highway out of Phuket.
We're surrounded on both sides of our villas, by lush tropical vegetation. Bananas, palm trees, and green plants of all sorts surround us. Flowers are common outside and inside our complex. We also have the benefit of gentle breezes blowing during the early high-season months.
One of our chief considerations, when we built our villas, was privacy. Thus, despite being side-by-side, our villas are separated by a driveway, and all vertically on a different levels. Each villa is surrounded by a fence, using nature and privacy walls to keep all areas as separate as possible. Guests in villas on the top level cannot see the villas below or beside.
There are very few genuinely private villas in Phuket. We are one of those few! We've had many guests telling us that our villas provide privacy, solitude, and comfort. And they do return again and again!
Entertainment at Phuket Luxury Pool Villa Eden
In Your Phuket Luxury Pool Villa Eden
All our villas have high-fidelity sound systems with multiple speakers that reach all corners of the villa and get quite loud. Though we don't recommend turning them up to maximum volume, you'll be surprised that even when set very loud, you won't affect your neighbors. A great feature appreciated by a lot of our visitors!
Of course, you have a large-screen TV and DVD system in your family room area, with comfortable seating. Your TV also doubles as a computer monitor. Additionally, we have the latest Windows OS so you can upload photos or videos from your vacation before you even get home. The internet speed is the fastest you're going to find. We went for the maximum speed possible, by opting for a super-fast fiber-optic connection.
If you're less of a tech enthusiast and prefer more traditional entertainment, we have bookshelves full of English and German language fiction books and some board games.
Our large swimming pool is something most guests appreciate. The numerous pool toys and floats also endlessly entertain the kids. The water is always warm and clean as our pool guy comes daily (or when needed) to clean the leaves, which fall into the pool from the trees adjacent to the property.
If you're wondering whether Luxury Pool Villa Eden is a suitable place to bring a family with children, we can assure you that we've gone the extra mile to make sure you and your kids have a great time in a safe environment at your private hideaway.
Phuket Luxury Pool Villa Eden Caters to Kids!
• Vehicle car seats
• Kids high-chairs for dining
• Baby cots
• Pool toys – ring toss
• Electronic baby monitoring
• Small tents with UV protection
• Portable containment fence
• Blow-up swimming pool for babies
• Toys for playing in the sand at the beach
• Board games and other children's games – English and German
• Swimming fins
• Boogie boards (foam boards for riding small waves)
• Nintendo Switch Console and games for different age groups
Entertainment Outside Phuket Luxury Pool Villa
You probably chose Phuket as one of your Thailand destinations because you know there is so much to do on the island. Indeed. Phuket does have much to offer! First and foremost all the beautiful beaches are there for you to enjoy as you like. You can also go and explore waterfalls and islands, experience jungle canopy rides or great hikes, or charter a yacht/catamaran for a nice sail. There is also kayaking/canoeing, as well as excellent snorkeling and diving all around the island, plus much more.
Our location is just right on the island's west coast and slightly north of the center. We are close enough to the airport, Patong Beach, Lower west coast beaches, golf courses, and great shopping.
Tourists here for the first time typically visit some waterfalls, Buddhist temples, and the Phuket FantaSea dance show and dinner. Some will rent bicycles for touring, and others will go deep-sea fishing on one of the deep-water charters. There is just so much to do, and we can help you plan it all. Just let your butler Khun Nu know what you would like to try, and he'll help you arrange your schedule to accommodate everything.
Shopping Spots
Many people come to Phuket for shopping as, with the cost difference between your home country and Thailand, you can probably save some money on things you usually buy at home. Not always the case, though! So be careful to check online prices before you buy.
Prices are not always cheaper! Case in point – North Face outdoor gear, Salomon running gear, and other high-end sportswear shops are going to have about the same prices as stores at home. Items may be more expensive than at home in some cases.
Phuket Town, which is on the east side of the island, roughly in the middle from north to south, has the biggest shopping malls. We recommend that you plan your travel to the city as the traffic can get quite intense during rush hours and even lunchtime.
Shopping malls are open every day of the year in most cases, so you need not worry if stores are open or not on some days of the week.
You'll be able to find what you need in most cases by searching online for a store in Phuket that has what you need. Sure, stores in Phuket don't have everything, but they do have a selection of nearly every item someone would want. Many stores have photography and computer gear, phones of all kinds, home tools, furniture, home decorations, and clothes. You may not find the exact brand you want, but you'll be able to find some reasonably close likenesses.
Additionally, all the malls and major shopping centers in Phuket Town and Patong Beach have ice-cream venues, burger joints, Starbucks, Japanese/Chinese/Thai food, Pizza Company, KFC, and so on. Many designer coffee shops compete with Starbucks, and some of them are exceptional. Try them out and find your favorite!
Beaches Close to your Phuket Luxury Pool Villa
You may have heard the beaches on the west coast of Phuket are much nicer than the beaches on the east coast. White sand, no mud, deeper drop-offs, and more movement of water keep the ocean cleaner and more attractive for beach-goers.
Starting a bit north of us, near the airport, is Mai Khao Beach – a very long, peaceful, and virtually deserted beach that you might enjoy. As people are generally very spread out, you'll enjoy some privacy any day of the year.
Nai Yang Beach is next coming south – just a few minutes north of Villa Eden, and is highly recommended as well. To be honest, all the beaches we talk about in this section come with our recommendation. Also, this beach is part of the Sirinat National Park, so you can be sure that it's well-maintained.
Nai Thon and Nai Thon Noi beaches are next. These are also just minutes from your villa, and you're going to love the laid-back ambiance of the area. Yes, you might see parasailers on occasion, but it's nothing like the circus of Patong Beach further south!
Banana Beach is our favorite in the area and is close by, but a little difficult to reach for some people. Adventurous young travelers who are healthy can reach this beach with no problem. For those of us on the other side of sixty or so, it might need some extra effort! The beach requires a climb down a hill that is sometimes slippery. It can be a little bit dangerous, but overall there are all kinds of people who can successfully make the short 10-minute journey through the rainforest.
Banana Beach is set in a small cove and is one of Phuket's real treasures. You won't find more than maybe 100 people on the beach at any one time. Parking along the road is limited, and there are not enough adventurous visitors to fill this place up.
There are more beaches the entire way down the coast, and some of them are stunning. You should probably take some time to explore a sample of them, so you know the great places to return to during your next stay with us.
Beaches are one of the principal Phuket attractions, so we made a comprehensive guide to help you decide what you want to see. Check out our 50+ Phuket Beaches.
NORTHWEST ISLAND ACCOMMODATION AT BISMARCKS LUXURY VILLAS PHUKET – FOUR TIMES MORE INTERIOR SPACE THAN HOTEL ROOMS + YARD
Villa Facilities / Amenities – Phuket Luxury Pool Villa Eden
Villa Eden Extras
Villa Eden is not just a beautiful and private property you can use to escape your real life. There are many little things you should know about our villas before you book. Here are some great reasons to consider staying with us on your next vacation.
Special Villa Eden Features
Over 3,000 square feet of living area and 7,000 sq. ft. of land
Strong water jet massage
Large grassy yard, yet private
Restrooms off the pool deck
Ultra-private
Meals are taken indoors or outdoors on the patio
Dozens of windows make the entire area light and bright
24-hour butler service and full-time housekeeper/chef
High-tech entertainment center with speedy internet
Location convenient to everything noteworthy on the island
Easy access to Phuket's International Airport
Central hot water tank – no dangerous electric heaters in showers
30+ square meters of glass doors – light up the interior space
Hot water tank – no electrical boxes in the showers
Micro Details You'll Love
Small pets – OK!
Floor scale near the kitchen
Colorful flowers in surprising places
Fire extinguisher in the kitchen
International hospital in Phuket
A defibrillator, wheelchair, first aid supplies, and some minor medications are on site
Backup power system
The high dome in the common area pulls the heat up away from you
Attractive and conservative interior decoration
Extra portable fans around the villa
Pool recliners have wheels – easy to move
Rental cars, trucks, and scooters
Boogie-boards for kids – for pool or beach
Air-filled floating animals and tubes for the pool
Exhaust fans to pull hot air out of the central living area
Outside wall-mounted remote-controlled fan over pool patio dining table.
Snake deterrents installed on walls surrounding the yard
Bedrooms
Villa Eden is the largest rental unit on our property, with room enough to welcome more than eight guests at a time with extra beds.
The master bedroom is larger than the other three bedrooms and has the added feature of opening-up entirely to the outside pool deck with large sliding glass doors. If you haven't already, take a look at our high definition images above to get a good idea just how open this space becomes when opened up.
Dual basins and extra space in the second bathroom helps guests to feel unrushed and wrapped in luxury. This bathroom is light and bright and includes a window with a screen to let the steam out. Other bedrooms also have full-baths and include windows to lighten the room up and make it easy to put on makeup in natural light.
Each bedroom has a hardwood king-size bed, along with hardwood cupboards and drawers. Ceiling fans and air conditioners cool you off during hot nights. We also include extra pillows, robe, and slippers in each bedroom. Just add your clothes to the hamper found in each bedroom, if you want your housekeeper to do laundry for you.
Kitchen
There are two full walls of counters and drawers, as well as a large island in the middle that make up the entire Villa Eden's kitchen space. The kitchen is quite huge compared to other villas we've stayed on the island. Everything is updated, clean, and appears brand new, with stone counters and hardwood cupboards and drawers.
There is a full complement of pots, pans, plates, bowls, coffee cups, wine glasses, water glasses, silverware, and more. And all the tools you'll need to prepare food are to be found in the drawers under the counter. Villa Eden has a full gas stove with oven and even an extra induction plate if you're planning on doing some serious cooking!
Furthermore, we provide some common spices and extras that will help with your cooking. However, you should have a look and see what might be needed before you start preparing your meal. One of our butlers or housekeepers can find what you need at the local market.
Common appliances like toaster, blender, waffle maker, coffee maker, and an espresso machine are all on the counter within easy reach. The refrigerator is large (for Thailand) and has dual-doors with separate freezer and crisper levels..
We also stock the refrigerator with some common beverages, including Chang beer. But just about anything is available at the store. Either we can source items for you, or we'll tell you the best place to get what you need.
Common Areas
We don't think you're going to find villas in Phuket with anything like our modern and open design.
Want to know a secret? We hired a German architect to design our villas to spec. Villa Eden's wide-open spaces are unique compared to other villas on the island and something our repeat guests rave about all the time. We believe that once you experience this level of comfort and service in one of our villas, you'll become a life-long guest, returning time after time.
All rooms connect with the communal interior, and when the huge sliding glass doors are open, the entire property – inside and outside – is fused seamlessly.
It's possible to be standing on the far side of the carport and see through the kitchen, dining area, over the pool deck and pool to someone on the far side of the yard. It's that open!
One key feature of the interior of Villa Eden we haven't mentioned yet is the giant domed skylight above the entertainment center. Thus adding another 30+ feet of light-gathering windows to the villa – brightening it up even on cloudy days. Search luxury villas for hours online if you want to, but there's nothing like this at any other Phuket villa – and we have this feature at every one of our private pool villas!
Outside
On the outside of most luxury villas in Phuket, you'll notice a pool, a few plastic recliners, and concrete. If you're lucky, there might be a few flower pots here and there, as if they tried to enhance the environment, but often only with the bare minimum.
Our villas are different.
When you walk outside of Villa Eden through its 10-foot wide spacious doorways, you'll immediately appreciate some of the differences between us and them. We've gone to great lengths to impress you with our design, style, layout, furnishings, pool, yard, greenery, palm trees, and privacy. There isn't anyone focusing as hard as we did on optimizing your villa experience. We promise you that!
We encourage you to compare any of our villas to other Phuket properties. No, it isn't a $7,000 per night house on the beach, but for the price, this is as good as it gets in Phuket. And we know you're going to love it!
The yard in Villa Eden is more than 80 feet long by 30 feet wide including the pool patio. You'll feel the extended space when you walk outside. It's everything you could have wanted in a private luxury pool villa in Phuket.
If your idea of a vacation villa's backyard includes dozens of trees, orchids, and other flowers all around – this is your villa. Please browse through our photos above to see precisely what Villa Eden offers.
All of our luxury pool villas sit on a hill nestled between Nai Yang and Nai Thon beaches in northwest Phuket, a quiet and beautiful area on the island with great beaches and incredible sunsets. Your panoramic view includes trees, rolling hills, and mountains, very much surrounded by the greens of the Phuket tropical rainforest.
Furthermore, the air is fresh and clean, as we have no major highway next to us, just a small through road for locals. There is often a slow breeze blowing in the early high-season, and brief showers, bringing wind and rain to cool everything off, during other periods of the year.
Most guests spend time in the pool and lounge chairs. Would you like to experience traditional Thailand while relaxing around the pool? Your butler can play some classical music from the south, north, or northeast over the stereo system for you.
For a real treat, try Mor Lum Lao – you can find some playlists on YouTube for this style – which is part of the quintessential Thai cultural experience. Also, at various times throughout the year, there are traditional Thai dancing and music exhibits in Phuket, which you might like to see. If interested, let us know!
Facilities
Property Type
Villa (Detached)
Accommodation Type

Combination of catered and self-catering (the housekeeper takes care of cleaning, washing, and cooking)

Bedrooms

4 bedrooms, Sleeps 8
Extra Large Double Bed (1.9 x 2m) in each bed room
All bedrooms are fitted with air-conditioning, ceiling fan, and mosquito nets
Child Beds (Baby Cot) available

Bathrooms

4 bathrooms all with Toilet and Shower
Outdoor: pool shower and guest toilet
All indoor bathrooms are fitted with mosquito nets

Dining

Dining area, Seating for 8

Floor Area (m2)
300
Location Type

Near the sea, Mountain

Theme

Luxury, Family

General

Safe, Telephone, Laundry Soap, Staff, Private Chef, Paper Towels, Towels Provided, Local Maps, Linen Provided, Washing Powder, Bottled Water, Massage, Filtered Water, Mosquito Protection, Local Activities Guide, Snake Protection, Toilet Paper, Events Allowed, Air-conditioning, Shampoo, Daily Maid Service, Water Cooler, Ceiling Fans, Hair Dryer, Soap

Kitchen

Fridge, Stove Top Burners, Freezer, Oven, Kitchenette, Toaster, Spices, Iron & Board, Washing Machine, Cooking Utensils, Microwave, Electric Grill, Filter (and french) Coffee Maker, Espresso Coffee Machine, Capsule Coffee Machine on request, 4 Ring Stove, Waffle Maker

Entertainment

Games (all ages), Books, Fiction/Non-Fiction, TV (satellite or cable), Stereo System, DVD, Video Library, Games (kids), Books, CD's, Radio

Internet Access

Wireless Broadband, Notebook available

Communication

Mobile Phone, Notebook

Outside

Terrace, Garage, Conservatory, Veranda, Outdoor Gas Grill, 8 Garden Chairs, Garden, 6 Sunloungers, Barbecue, Thai Style Bamboo Sala for 2

Swimming Pool

Private Pool

Suitability

Suitable for elderly or infirm, Long term rentals available, Children welcome, Pets considered, Low allergen environment

Local Activities

Fishing, Mountaineering, Swimming, Diving, Water Skiing, Surfing, Cycling, Sailing, Golf, Windsurfing, Mountain Biking

Onsite Services

Housekeeper, Butler, and Massage Therapist available

Onsite Equipment

Beach Towels, Car Optionals, Deck Chairs

Attractions

Water Parks, Marina, Rain Forests, Museums, Bay, Caves, Equestrian Events, Cinemas, Fitness Center, Forests + Groceries, ATM/bank, Launderette (serviced), and Hospital

Leisure Activities

Fishing (Deep Sea/Freshwater/Whitewater), Sightseeing, Beachcombing, Rafting, Outlet Shopping, Jet-skiing

Nearby Attractions

Reefs, Scenic Drives, Restaurants, Waterfalls

Nearby Services

Medical Services, Babysitting
Floorplan
Picture Gallery Phuket Luxury Pool Villa Eden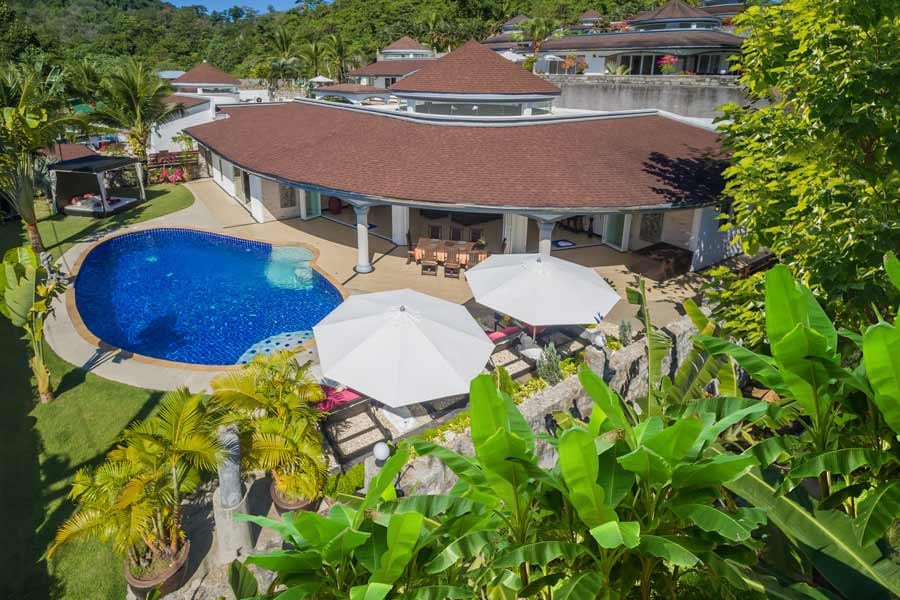 Guest Reviews Phuket Luxury Pool Villa Eden Bismarcks Paradise

Reviews for Phuket Luxury Pool Villa Eden
Bismarcks Pool Villas Selection
2, 3 & 4 spacious bedrooms: well-lit private luxury pool villas that are surrounded by landscaped tropical gardens and combine western quality building standards with Thai furnishings and handcrafts.