A real culinary delight awaits you in your very own villa kitchen, served by the pool.
Our well-qualified housekeeper buys the required ingredients for you and also cooks the dishes for you – as requested. The choice is sumptuous: more than 20 Thai specialities, various international dishes, breakfast as well as desserts. Several children's meals are also available.
Check out our In Villa F&B Menu further below.
Costs: Errand and Ingredients*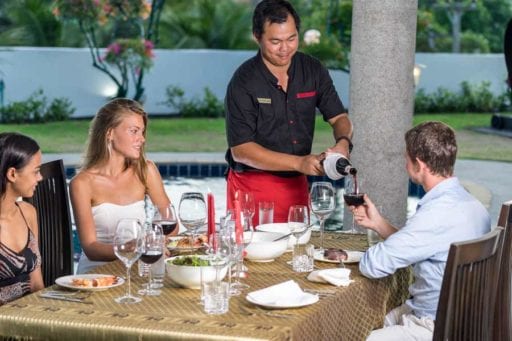 Dishes Selection from our Menu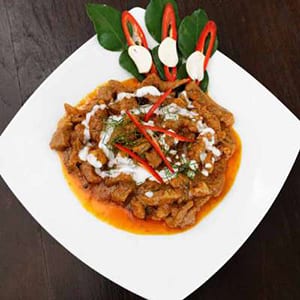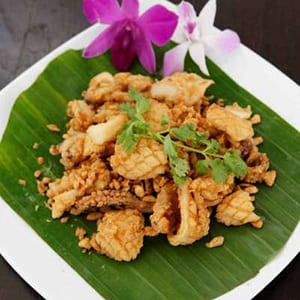 Deep Fried Squid & Garlic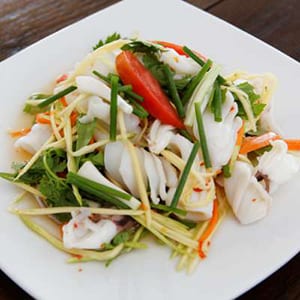 A La Carte In Villa Dining
Your maid may prepare the following dishes for you (the first part is Thai pronunciation)
In Villa Dining Menu
Gai Pad Prik
–> Red Thai curry with chicken, 125 Baht
Gai Tod
–> Fried chicken (wings/legs), 92 Baht (wings)
Pad Pak Luam
–> Mixed Thai vegetables, 130 Baht
Tot Man Gung/Bla
–> Fish/Prawn-cakes (minced prawn/fish meat), 215 Baht (prawns)
Pad Si You Gai/Gung/Blamuck
–> Chicken/prawns/squid fried with noodles in soy sauce, 105 Baht (chicken)
Lab Mu/Gai/Nuea
–> Salad from minced pork/chicken/beef with Thai herbs, 90 Baht (chicken)
Gung Chup Beng tod
–> Fried tempura prawns, 190 Baht
Pad Prew Wan Gung/Gai/Mu
–> Prawns/chicken/pork sweet and sour, 250 Baht (prawns)
Blamuck Pad Kratiam Prik Thai
–> Squid with garlic and pepper, 225 Baht
Som Tam
–> Salad from green papaya with dried shrimps. Order with less chili, 100 Baht
Gai/Gung/Blamuck Med Mamuang
–> Chicken/prawns or squid with oyster sauce and cashew nuts, 115 Baht (chicken)
Massaman Curry
–> Muslim Curry with chicken and potatoes, 130 Baht
Gang Jued Tao Huu Moo Sab
–> Mildly-seasoned Soup with Tofu and minced pork or chicken, 115 Baht (chicken)
Chu Chee Pla
–> Dried red curry with fish, shrimp, pork or chicken
Nuea Pad Khing
–> Fried beef, chicken, shrimp or squid with ginger
In Villa Dining Menu
Kao Pad Gai/Mu/Nuea/Blamuck/Gung/Pu/Pakruam
–> Fried rice with chicken /pork/beef/squid/shrimp/crab or mixed vegetables
Yam Blamuck/Gung/Bla/Gai/Mu/Nuea
–> Spicy Thai salad with squid, shrimps, fish, chicken, Pork or Beef, 225 Baht (shrimps and squid)
Pad Prik Thai Dum
–> Fish, chicken, pork, beef or shrimp with black pepper
Blamuck/Gai/Mu/Gung/Pak Tod Kratiam Prik Thai
–> Battered squid, chicken, pork, shrimp or vegetables
Phanaeng Mu/Gai/Nuea
–> Red curry with pork, chicken or beef
Tom Yum Gung/Bla
–> Thai soup with prawns or fish and Thai spices, 250 Baht (prawns)
Geng Kiau Wan Gai/Nuea/Mu/Gung
–> Green curry with chicken/beef/pork or shrimp, 110 Baht (chicken)
Pad Thai Gung/Gai/Blamuck/Mu
–> Noodles with prawns/chicken/squid or pork, 95 Baht (chicken)
Prewwan Pla/Gai/Mu/Blamuck/Gung
–> Sweet and sour fish, chicken, pork, squid or shrimp
Tom Ka Gai/Gung
–> Coconut milk soup with chicken or prawns, 170 Baht (chicken)
Pad Si You Moo
–> Noodles in soy sauce with pork,
Pie Gai
–> Chicken pie
Gluy Thud
–> Banana Fritter
Mango with sweet coconut rice
Vienna Palatschinken
Vienna Waffeln
Cooking Course
If you want, you can watch your housekeeper while cooking, or join her when purchasing the ingredients at the local market.
A personal Phuket cooking class in the privacy of your pool villa
BBQ
BBQ yourself or relax and let us do it for you.
You will be charged only for the food cost as per the price list below or relevant market prices.
This type of grilling, a unique system from New York with 800 degrees Celsius, is hard to find, even in Europe. For safety reasons, the Beefer has to be operated by our butler. A real delicacy for meat lovers, especially with dry-aged (treated for weeks) steaks.
Costs: Your food* and 500 baht cost-sharing.
* We worked hard to stock all the ingredients, as well as the meat for the BBQ. Please, see the supplies below.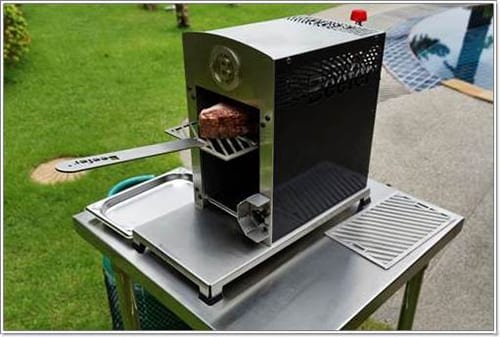 In your private Phuket Pool Villa, you will find:
Flowers
A selection of local fruits
Beverages (Sprite, Coke, Diet Coke, and Beer)
Butter, toast, jam, eggs, and 1kg rice
Drinking ice, milk, tea, and grounded as well as capsule coffee (1 capsule a day per adult)
Free basic kitchen equipment:
Soybean oil, sweet soy sauce, oyster sauce, sweet sauce, chili sauce, ketchup, chicken sauce spicy, Maggi sauce, sugar, salt, seasoning powder Chicken, vinegar black, olive oil – extra virgin, black pepper, barbecue sauce, sweet flour, palm oil, flour bread, white vinegar, tom yum paste, maple syrup, icing sugar, oregano, Parmesan.
Download In Villa Dining Food Menu
You can download the full In Villa Dining food menu, including preparation and ingredients, in PDF format below or from our downloads page.
You May Also Be Interested In