Tourist Attraction Boat Avenue, Phuket, Thailand
Lhen Si Gallerie in Boat Avenue is just 16.8 km (or 27 minutes) away from Bismarcks Paradise Phuket luxury villas resort.
Phuket is filled with art galleries and art stores where you can purchase drawings, oil paintings, charcoals, water colors and marker drawings. Lhen Si Gallerie on Boat Avenue in Cherngtalay (Choeng Thale) has a selection of each of these styles of painting for sale from their small store.
If you like, the artist on-site can draw a picture from your photo, or you could even sit and pose for him as he creates a sketch of you or your friends. The ideal way to commission a painting or drawing would be to hand over a large photograph with as much detail as possible, so the painting can be done quickly and to a higher standard. Commissioned paintings take from a couple of days to a week, depending on how busy the store is with orders.
If you are in the market for a nice watercolor painting, you should stop in and see what they have for you. During our latest trip, as you can see in the photo below, they had a nice selection of nature and Thailand cultural events represented in the artwork for sale.
Sadly, TripAdvisor and Google don't yet have any reviews of this art store. If you enjoy your visit, would you do them a favor and leave a positive review to let other visitors know what they can expect when they visit Lhen Si Gallerie?
To find Lhen Si Gallerie (Gallery), just head north from Patong Beach, past Surin and up to Cherngtalay which is before you'll reach the Phuket International Airport (HKT). The art gallery is on the road known as Boat Avenue – a little but busy shopping district in Cherngtalay.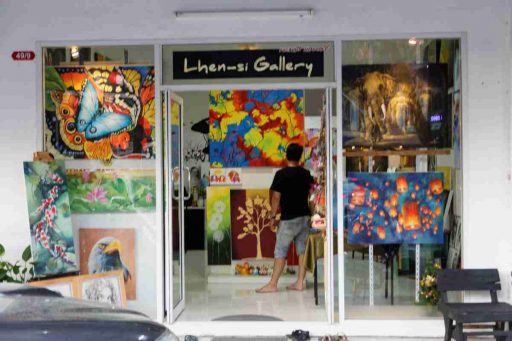 Lhen Si Gallerie Information
Distance From Bismarcks Paradise:16.8 km (27) minutes
Distance From Central Phuket:23 km (37) minutes
Telephone:084 185 8231
Facebook:Facebook from Lhen Si Gallerie
 
Lhen Si Gallerie
Phuket is filled with art galleries and art stores where you can purchase drawings, oil paintings, charcoals, water colors and marker drawings. Lhen Si Gallerie on Boat Avenue in Cherngtalay (Choeng Thale) has a selection of each of these styles of painting for sale from their small store. If you like, the artist on-site can draw a picture from your photo, or you could even sit and pose for him as he creates a sketch of you or your friends. The ideal way to commission a painting or drawing would be to hand over a large photograph with as much detail as possible, so the painting can be done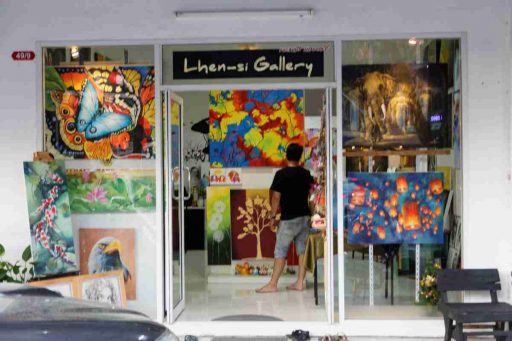 Travelers visited also these Boat Avenue Tourist Spots