Austrian Garden Restaurant
Tourist Attraction Patong, Phuket, Thailand
Austrian Garden Restaurant in Patong is just 31.7 km (or 52 minutes) away from Bismarcks Paradise Phuket luxury villas resort.
Austrian Garden Restaurant Patong
For lovers of the Austrian kitchen the Austrian Garden Restaurant @ Tai Pan Village is a great choice. Austrian Garden serves very tasty and authentic Austrian specialities as well as local Thai-Food prepared to please western tastes.
You will get reasonable portions and good quality for fair prices in a good atmosphere! This is one of the reasons, why the restaurant at the Austrian Garden Restaurant at Tai Pan Village is one of the most popular western restaurants in Patong Beach.
The open space provides 100 seats, indoors as well as outdoors on a large canopy terrace with garden view, in a beautiful ambience.
The successful open-kitchen concept has retained unchanged and our Austrian chef Robert Pagitsch (former Chef at K-Hotel Patong) will provide you with a balanced assortment of traditional Austrian, International and Thai food. A large variety of beverages and well-assorted wines top off the culinary experience.
Austrian Garden Restaurant integrated also a cozy, canopied Chillout-Bar, where they serve exotic cocktails, classic drinks as well as little snacks. In the afternoons, the Austrian Garden offers fresh pies, coffee and tea.
Austrian Garden offers also a daily set menu for only THB 250.– which usually includes a starter, main course and a desert. Click here to find today's special set menu.
Connected to the restaurant is a hotel with same name. Both are located around 300 meters from the main Patong beach.
More about the Chef Robert Pagitsch:
After the classical three years apprenticeship in Tirol (western Austria), he stayed in several tourism areas in Austria to gain more experience in his job. During this time he worked as sous-chef at hotel Bräuwirt in Tirol and as kitchen-chef at hotel Piuk in Carinthia. At the age of just 21 years, he cruised for two years as first-cook on board of the luxury Liner "Zenith" trough to the Caribbean seas. After that he went back to Austria and took over the position of kitchen-chef at the famous hotel Gotthard at the Arlberg for over two years. To gain more experience in the Asian cuisine, he planned to stay one year in Thailand and took over the kitchen of the well-known K-Hotel. This planed year was extended many years and so he stays meanwhile over 22 years in Phuket, 13 years as kitchen-chef and nine years as Manager. The family guy keeps himself fit with football and tennis, loves deep-sea-fishing, searching for mushrooms and being together with family and friends at a nice dinner.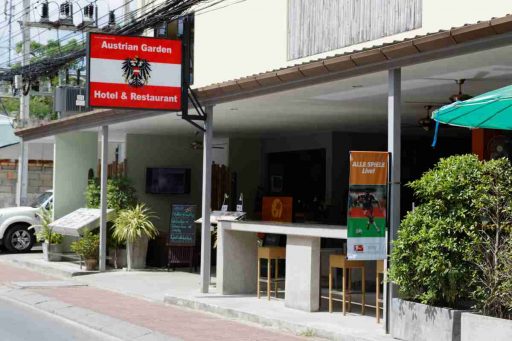 Austrian Garden Restaurant Information
Distance From Bismarcks Paradise:31.7 km (52) minutes
Distance From Central Phuket:13.4 km (35) minutes
Price Range:250 - 1200 THB
Number of Tables:14
Opening Hours:07.00 - 10.30 and 11.00 - 23.00, daily
Address:Tai Pan Village, 32/1 Soi E-Den Chaloemprakiat Road, Patong, Kathu, Phuket 83150
Telephone:076 340 350
Contact Email:info@austriangarden.asia
Food: Service:   Ambiance:
Austrian Garden Restaurant
Austrian Garden Restaurant Patong For lovers of the Austrian kitchen the Austrian Garden Restaurant @ Tai Pan Village is a great choice. Austrian Garden serves very tasty and authentic Austrian specialities as well as local Thai-Food prepared to please western tastes. You will get reasonable portions and good quality for fair prices in a good atmosphere! This is one of the reasons, why the restaurant at the Austrian Garden Restaurant at Tai Pan Village is one of the most popular western restaurants in Patong Beach. The open space provides 100 seats, indoors as well as o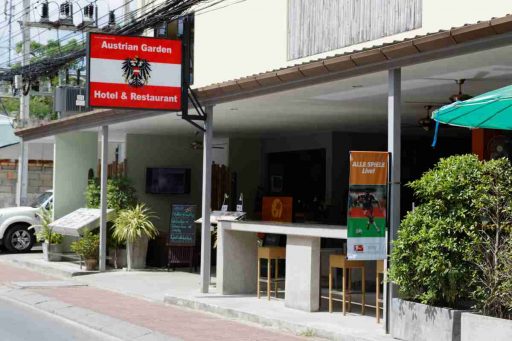 Travelers visited also these Patong Tourist Spots